Create a fully customizable free eCommerce website

The eCommerce landscape is witnessing phenomenal growth, with global e-sales surpassing 5.2 trillion USD in 2021. This underlines the importance of retailing online for business owners who desire to reach out to more qualified leads, cover uncharted territories, fuel brand growth, and sustain revenues.
Competition is intensifying, and your brand's survival will become difficult without an online presence. You need an eCommerce website to promote your products and attract targeted customers' attention.
This post explores the steps to create a customizable eCommerce website for free.
Create Your Ecommerce Website For Free
You need not be a coding specialist to build a functional eCommerce website. The task is simplified by online website maker tools that let you build and tailor the design of your website and start selling immediately.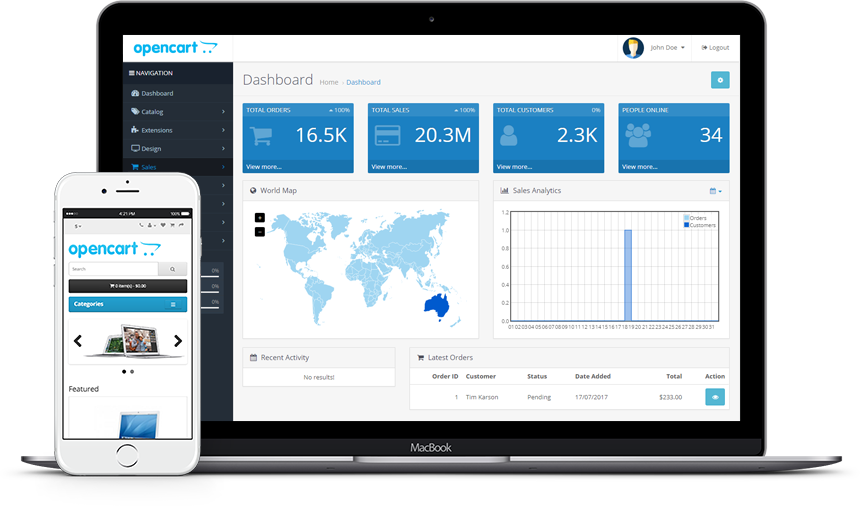 The actionable steps in materializing your online store plans have been discussed below to help you mint money quickly.
Choose An Appropriate Ecommerce Platform and Domain Name
Your online store's framework has to be built with a software application that offers ease of management and ensures optimal customer engagement. For a free and scalable website, you will need an 'Open Source' platform that offers the following features:
Free installation and unlimited customization

Free source code with a license to manipulate scripts
You can consider the Software as a Service (SaaS) platform that comes for a monthly subscription fee. It doesn't suffer any drawbacks and facilitates safe payment transactions and quick checkouts. Exercising creative control over a site's architecture becomes easy.
Some essential things are outlined below:
Proven uptime to facilitate optimum site availability

Makes product pages load quickly for the best customer experience

Capable of handling expected site traffic, particularly during peak hours or festive sales

Scalable to cope with future growth requirements

Mobile responsive with facility for geolocation

Offers maximum security for safeguarding sensitive information of customers and your site
After this, you have to select a marketable domain name. Remember the following things while choosing one:
Don't be extra creative with the domain name, as prospective buyers may find it difficult to remember your site's name.

The name should be easily spellable, making it easier for customers to recommend your store to others.

Make sharing your store's web address simple by avoiding numbers or hyphens in the domain name.

Avoid names resembling other brands, as the search engine may erratically divert leads to other sites with better SERP (Search Engine Result Page) ranking.

Keep the length within 6 to 14 characters.
Host Your Website
Your eCommerce site's data has to be stored on servers that can be hosted off-site (Cloud) or on-premise (business-owned). If you are on a shoestring budget, consider cloud hosting or managed VPS hosting offered by SaaS.
For a small fee, everything from site updates, security upgrades, and sufficient space provision to the application of patches shall be managed by the SaaS providers.
Hire A Seasoned Web Developer
An experienced web developer with a proven track record of delivering prestigious projects can leverage his technical skills to help set up your store in a tailored mode.
Communicate your vision and budget to the developer so that s/he can do perfect justice to your ambitions.
Select A Versatile and Customer Friendly eCommerce Template
Templates are readymade webpage themes that you can customize per your requirements and vision with almost zero coding. Some of the features that you must look for in a good template have been outlined below:
Intuitive user interface with ease of navigation facilitated by visual cues to help customers reach the desired product page.

Sufficient placeholders for including product images and videos, narrating your brand's story, and providing concise yet informative descriptions.

Tailoring option to sync the webpages' font, colors, and style with your brand's signature style.

Flexibility for changing product displays, embedding social media buttons, and integrating third-party apps to enhance the e-store's functionalities.

Functional shopping cart feature allowing for adding multiple products, wish list cataloging and jumping to the checkout page.
Start Adding Your Products
Set up your product pages by prioritizing the display of your new and premium products. Enhance the appeal of your products with the following elements.
(i) Informative product descriptions
Highlight the dimensions, utility, colors, textures, important details, place of use, and purpose of each product

Use simple, keyword-integrated, short-sentenced, and jargon-free descriptions for ease of understanding and indexing by search engine bots
(ii) Images and Videos of the Product
Use high-resolution multiple images and videos to showcase your product from various perspectives and enhance its visual appeal.

Keep the size of all pictures uniform and mobile responsive (adapts automatically to the dimensions of the viewer's device screen)

Walk customers through the mode of use and real-life examples of product usage with videos.
You can use a good video editor to convert product image to videos and make the product more tantalizing.
(ii) Product Categorization
Facilitate ease of search by categorizing products in groups based on common features or shared functionalities like electronics, home appliances, etc.

Provide ample filters to make it easier to sort products based on brands, prices, customer ratings, etc.
Set Up Payment Gateways
Use simple, secure, and widely used payment gateways to make it convenient for customers to pay for products in a shopping cart. Some important things that you must factor in have been detailed below:
Use merchant gateways that offer complete security (follow Payment Card Industry Data Security Standard and have an SSL certificate) for confidential and sensitive financial credentials of customers

Use in-page checkout functionality maximally to prevent customers from being redirected to a third-party site for payment

Use approved data encryption techniques if off-site payment processing can't be avoided

Inform customers of fees applicable for processing payments and refunds
Finalize Shipping Modalities
Post payment, your customers will want prompt shipping of purchased products. Spell out your shipping policy clearly by keeping the following things in perspective:
Shipping charges

Carriers entrusted with product delivery

Total shopping value to qualify for free shipping

Provision of shipping to offshore locations

Packaging policy

Confirmation email

Process of checking updates on product delivery

Your contact details and helpdesk numbers
Conduct Pilot Tests Before Launching Your eCommerce Website
Before deploying your e-store, conduct a test run to check if everything is working satisfactorily. Make pilot runs on various popular web browsers.
Ensure that the site's time zone, language, taxation details, etc., have been correctly set.
Launch Your Website
Your fully functional and well-customized e-store is now ready for launch.
Deploy it over the web and offer the best experience to all site visitors to increase your brand reputation, sales and profit.
How To Market Your Online Store Using Video
You can spread the word about your eCommerce site through video marketing which plays a crucial role in digital marketing. To optimize your site promotion, you can use the following:
'About Us' video in welcome emails sent to targeted customers

Social media videos to engage prospects and motivate them to like and share your content

Explainer videos to highlight your site products and how and where to use them

FAQ videos to address the pain points of customers

Customer testimonial videos to share experiences, reviews, satisfaction levels, and feedback from past customers

Reminder videos to motivate customers who had abandoned their shopping carts or who could not place orders due to a shortage of stock

Product videos to demonstrate the usage, functionalities, and specifications of products put up for sale
You can use a video editor to convert product images to videos for the best outcome.
Conclusion
You can easily create and launch your eCommerce website to optimally attract the attention of targeted customers with the steps mentioned above. Keep checking your hosting platform's analytics feedback to understand customers' responses and convenience levels. Tweak your page settings based on insights to optimize customers' browsing and purchasing experience.