Boost Your Sales to Asian Consumers by 70% with Yuansfer's QRC Extension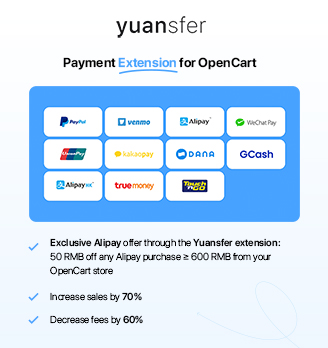 Today's eCommerce space is becoming increasingly borderless. Consumers around the world are gaining more spending power and demanding more accessibility to cross border purchases. To stay competitive, it's crucial to optimize your customers' shopping experience, from establishing brand awareness to payment processing.
· Have you noticed an alarming level of cart abandonment rate at checkout?
· Are incompatible wallets, high transaction fees, fraud, and chargebacks pain points in scaling your sales?
· Are credit/debit cards still the only available payment options at your online store, turning away customers who prefer to pay with other payment methods?
If the answer is yes to any of these questions, you should seriously consider modernizing your checkout process to include digital wallets and convert more of your site visitors into paying customers. Yuansfer offers just the solution with an extension that enables you to support over a dozen global wallets, connecting you with over 2 billion global users.
The suite of major global wallets included in the Yuansfer extension:
· Alipay
· WeChat Pay
· PayPal
· Venmo
· UnionPay
· KakaoPay
· Dana
· TouchNGo
· GCash
· TrueMoney
· Alipay Hong Kong
Alipay tops the list as the most popular digital wallet with 1.3 billion users. The Yuansfer extension easily opens up that revenue stream to you with an exclusive offer to attract Alipay users: 50RMB off any purchase of 600RMB or more from your OpenCart online store.
What is Yuansfer? Is it for my business?
Yuansfer is a payment platform that unleashes true cross-border growth potential for businesses of all sizes. Our extension is fully integrated with OpenCart and comes with all Yuansfer features right out of the box to create a localized shopping experience. It can be easily implemented to complement your existing checkout process to support a seamless payment flow. Our solution is built for growth and has helped over 2000 businesses streamline their payment operations and increase their revenue by an average of 25%.
1. Improve Checkout Experience, Reduce Cart Abandonment, Increase Revenue
Customers are more likely to complete the checkout process when they can proceed with familiar payment methods they trust. According to a HubSpot report, 59% of online shoppers abandon their cart if their preferred payment method is unavailable. Another study by Baynard Institute found that hesitation about sharing credit card information accounts for 17% of cart abandonment, and a complicated checkout process accounts for 23% of cart abandonment. Digital wallet payments are more desirable in comparison. Instead of inputting credit card and billing information, customers simply choose their preferred payment option and fast forward to submitting payment. It's also a more secure way to pay as transactions are encrypted, tokenized, and validated without storing and transmitting customers' sensitive information.
2. Improve Operational Efficiencies and Decrease Costs
Typically, traditional payment platforms charge merchants 2.9%+ $0.3 transaction fees for online credit/debit card purchases and up to 4.5% if they are international. Yuansfer's payment solution offers the lowest transaction fees in the market and faster settlement, thus improving your cash flow.
Yuansfer fees are as follows:
· Alipay, WeChatPay – 2.3%
· KakaoPay, Dana, TouchNGo, Alipay Hong Kong, GCash, TrueMoney – 2.5%
· PayPal/Venmo – commercial terms and pricing determined by PayPal upon sign up. Yuansfer charges an additional $0.05 per transaction
By accepting QR code wallets, you can eliminate costly international chargebacks and fraud payments, which average above 1%. Yuansfer also authenticates and validates each transaction while protecting sensitive data so that you and your customers can transact with confidence.
3. Boost Customer Loyalty and Spending
Accepting alternative payments allows you to stay connected with your customers through their wallets, retarget them with more customized offers, to increase stickiness and spending.
Ready to implement an all-inclusive payment process? We've made it easy for you. Simply follow the steps below to download the Yuansfer extension:
1. Log in to your OpenCart Admin panel
2. Go to Extensions
3. Select Payments from the drop-down menu
4. Click Install to add Yuansfer extension
5. Once the module has been added, edit the module settings with the pencil icon
6. Click "Connect to Yuansfer" and follow the instructions prompted
7. Select Enabled Status
8. Click Save
9. Sign up for a Yuansfer Merchant Account