Your new ecommerce store's built, sales are coming in steadily, your marketing campaigns are going well - now what? No matter how established your store is, you should always be on the look-out for new ways to improve your website.
Investing time into enhancing your ecommerce store can create a better user experience for your customers and, as a result, improve your sales and your brand's image. Of course, every store is different and will require different types of work, but I've listed four super easy strategies that every ecommerce store owner should put in place in order to improve their website.
Show Related Products
Cross selling your products is an effective way of encouraging your customers to purchase multiple items from your ecommerce store. Take advantage of your product images by photographing your products together as a set. Ikea are experts in cross selling through product placement and photography composition, and often show multiple items of furniture together as a collection; such as in a bedroom or a kitchen. Not only does this help your customers to visualise your products in their own home, but it also encourages them to purchase other items which look good with the product they were initially viewing.
Another way to cross sell your products is to include suggested or related products on each of your product pages. This works especially well with clothing retailers: help your customers create an outfit by suggesting other items or accessories that they could wear with the product that they're viewing. Whether it's related products, most popular, or recently purchased, it's essential to include links to other available products.


Shipping Deals
Attractive shipping strategies can be extremely effective when persuading your customers to make a purchase. If a customer feels that they are getting a good deal, they are more likely to be willing to pay a more for your products.
With more and more comparisons being made between rival companies, it's more important than ever that you offer a better deal than your competitors. Offer discounts and deals on your shipping, such as 'free shipping', 'express delivery', or 'free returns', to stand out from your competition and secure you an increased amount of traffic, customers and sales.

Psychological Prices
Psychological pricing has proven effective for many ecommerce businesses, both large and small, in a vast range of sectors. The first key psychological pricing strategy is to use .99 price endings instead of .00. If your product costs £19.99, rather than £20.00, your customers will see the smaller number first and remember that - making them believe that the price is a lot lower.
Other psychological pricing strategies include offering deals on your products, such as BOGOF (Buy One, Get One Free) or '20% more included'. Both of these techniques encourage your customers to make a purchase as they are receiving more of the product for their money.

Limited Time Offers
Limited time offers, promotions and discounts can be very effective in increasing the level of traffic to your ecommerce store and improving your sales. Promoting these offers across your social media networks,
Free shipping on all orders placed before midnight
One day flash sale - ends 10pm tonight
Students get 20% discount this weekend only
Only one day left to enjoy 35% off our entire collection
If you highlight the fact that your offer is only available for a short time, you can create a sense of urgency which will spur your customers into making a purchase to avoid paying more later. People will often purchase more than they usually would in order to get more value for their money.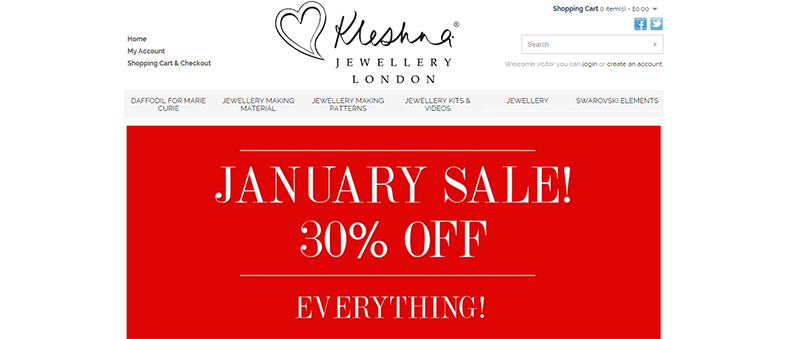 Do you have any quick and simple ways to improve an ecommerce store and boost sales? Share them in the comments!