Ecommerce is ranked third on the list of the most popular businesses in the world according to Inc.com. That's why, if you have already moved your business online, you are great, keep it up.
If you haven't, you should start now, because the Web is a qualitatively new market accessed by thousands of your customers. Well, they are not yours yet, but they will be when you launch your store.
Wonder if you can sell your wares online as effectively as you do via your brick-and-mortar store? Then check out our top-10 list of eCommerce businesses, each supplied with an OpenCart template designed specifically for it.
Fashion & Accessories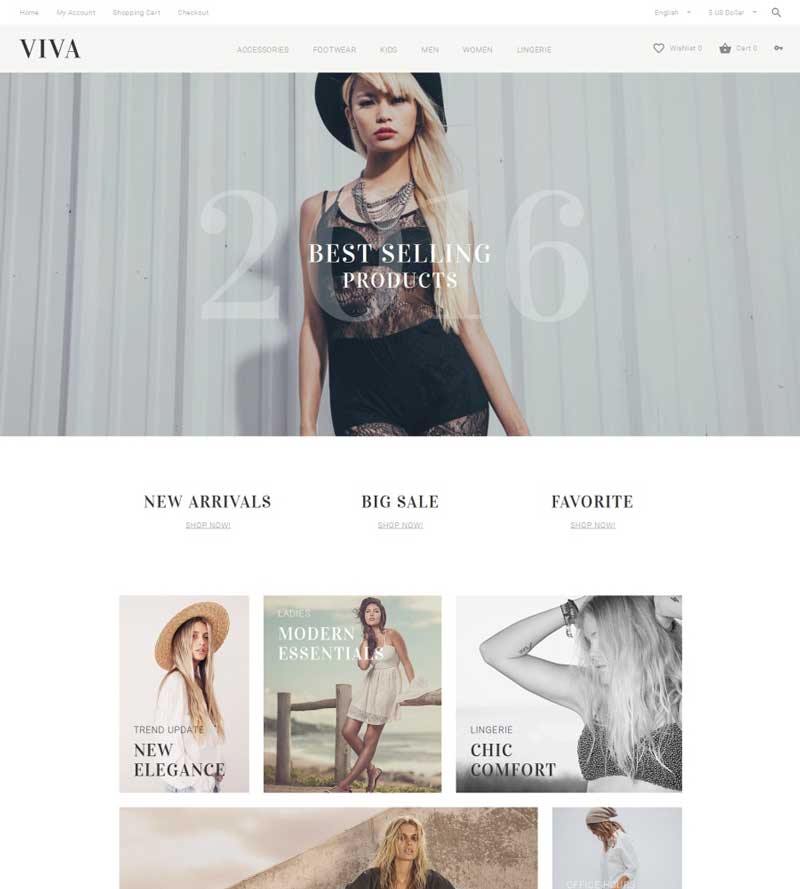 There are many types of clothing and, therefore, many types of clothing store designs. If you are planning to sell t-shirts, choose a dynamic design with a hint of anarchy. When selling business suits, keep everything simple and elegant, highlighting the high status of your products. Clothes for kids require a bright colorful design.
Today's example is an OpenCart theme for expensive brand clothes. Its graceful layout brings product photos to the forefront, surely grabbing your customers' attention. Soft colors and gentle animations create a sense of leisure and luxury.
***
Interior & Furniture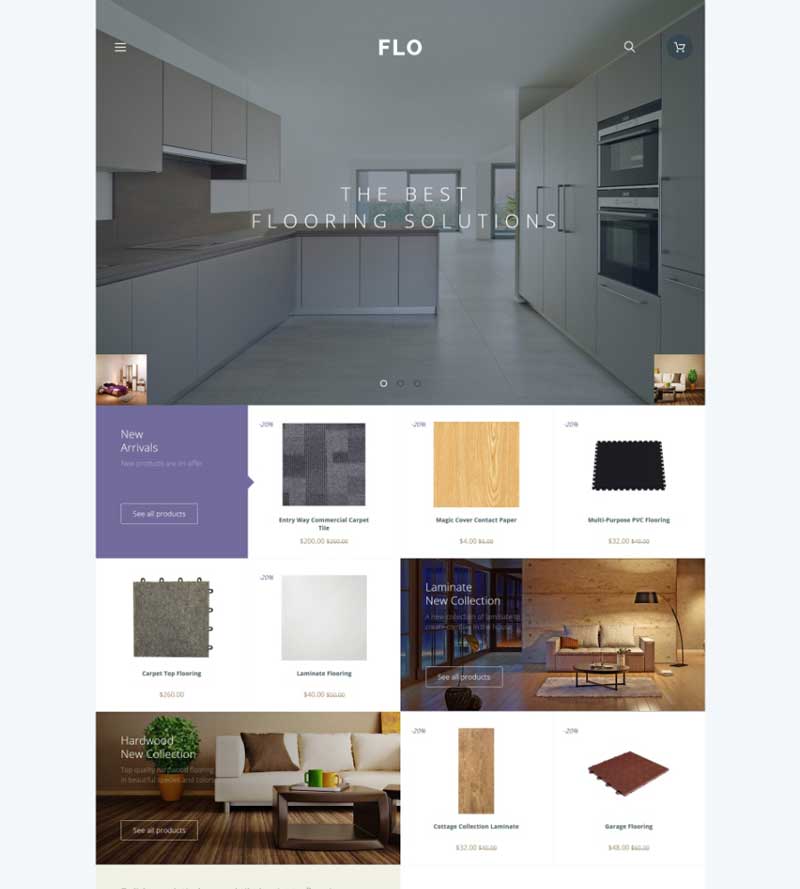 Basically, there are no common rules for interior design and furniture online stores, but if you take a look at successful websites relating to this topic, you will see that their owners tend to keep them minimalist and image-centric.
Flo, carefully designed by TemplateMonster, is one such template. It features a white background, large photography-based sliders and borderless banners.
***
Computers & Electronics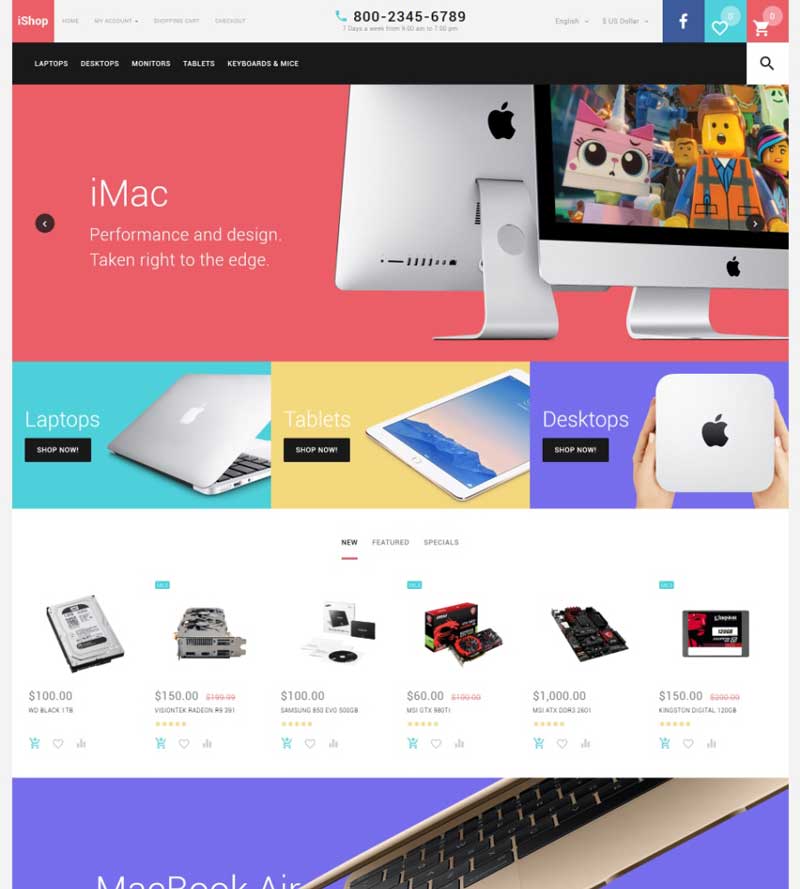 Now imagine a common brick-and-mortar store that sells computers, cell phones and other gadgets. What does it look like? Most likely, you see transparent glass showcases, clean grey or white walls and floors and, perhaps, some bright details that reflect the store's identity – like logos. Many eCommerce store developers adopt such an approach to theme design, because it allows them to display low-contrast black, silver, and – ahem – "space grey" devices more effectively.
… But not this time. If you really want to stand out, do it with style by using, for example, this Computer Store OpenCart template with cheerful flat design.
***
Cosmetics & Beauty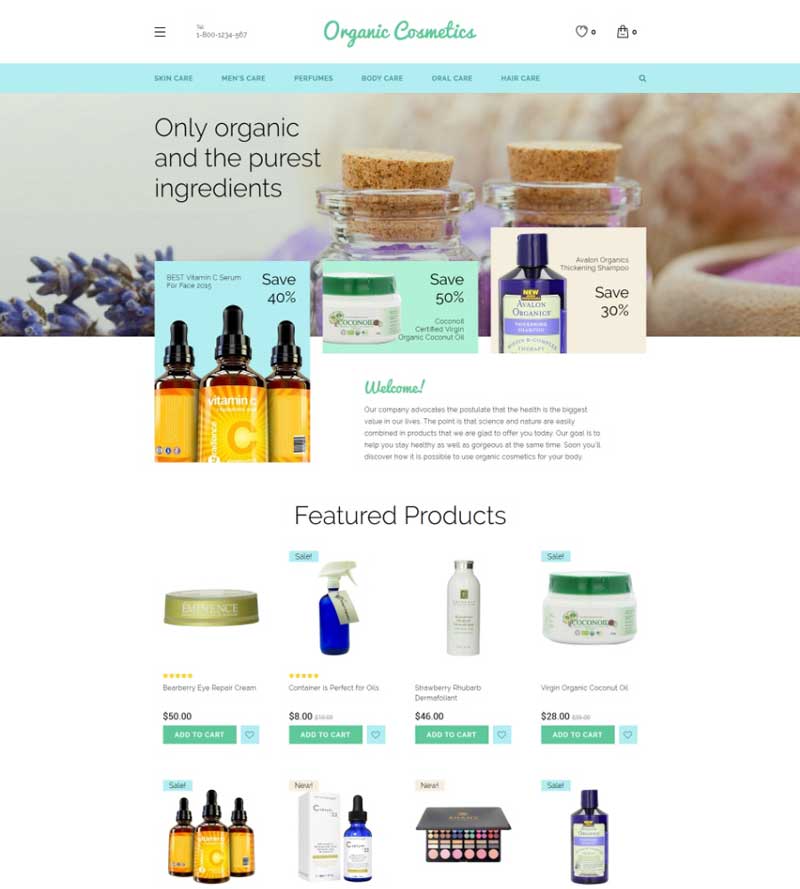 In terms of design, cosmetics and beauty online stores are something of a cross between a wedding and a medical website: more tender and feminine than medical ones, and more practical and product-oriented than wedding ones. Of course, you can just pick any medical eCommerce template, customize it a bit, and start selling cosmetics, but why do that when there are so many templates already created specifically for this purpose?
For instance, this Organic Cosmetics OpenCart Template boasts handwritten fonts, zoom effect and animated counters. It is already equipped with live chat and newsletter pop-up extensions to make the setup process run more smoothly for you.
***
Food & Restaurants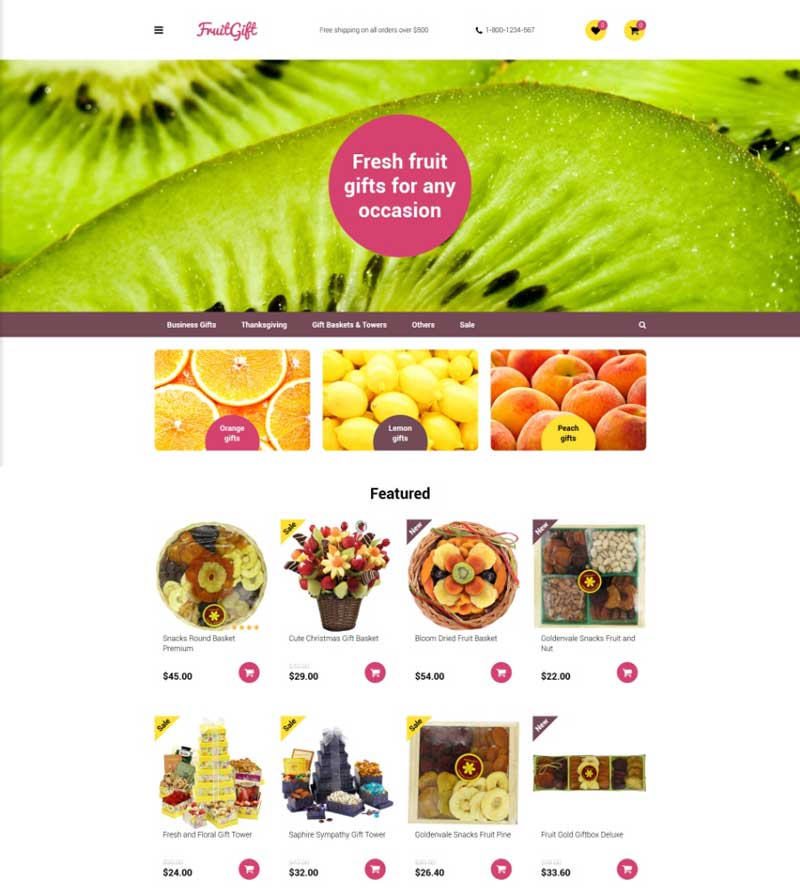 The success of food-related online stores is entirely about color psychology. Because there is no blue-colored food in nature, shades of blue are considered to be a bad choice for a food store palette. Always recommended are color schemes including yellow, orange, red, green and brown colors combined with mouthwatering product images.
This Fruit OpenCart template was designed using parallax effect, CSS-based hover animations and images with rounded corners. It is integrated with the newsletter pop-up widget, providing store owners with an effective email marketing tool.
***
Medical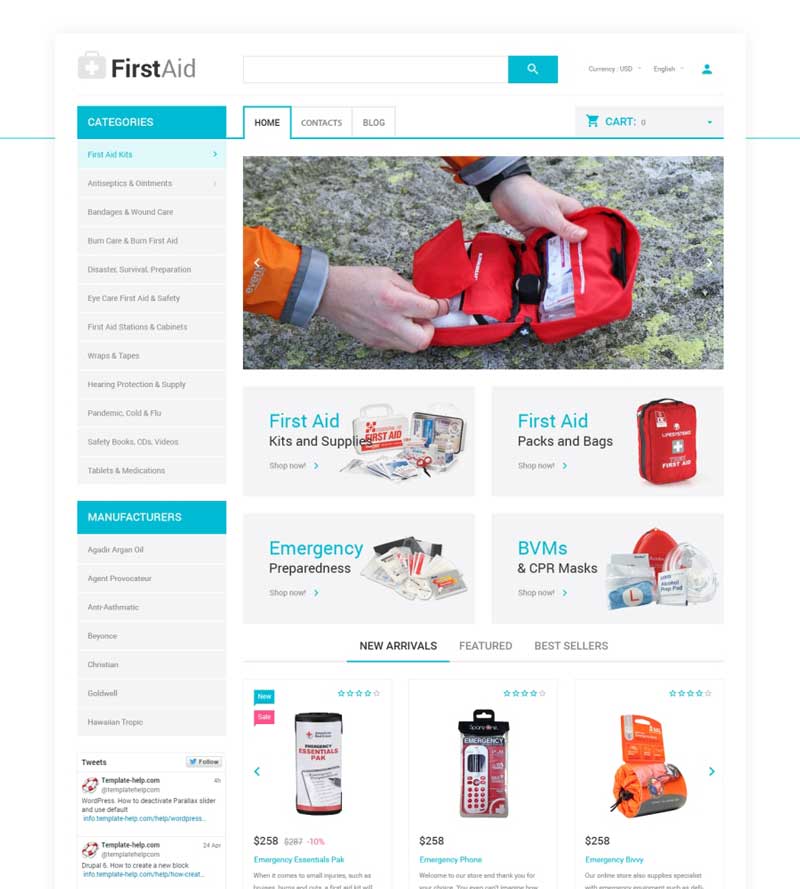 Any business dealing with medicines and medical equipment is subject to a high degree of responsibility. That's why credibility and trustworthiness are the core features that should be presented in both design and functionality. You should not only bring your customers a website with the appearance of sterility, but also provide them with secure connection via SSL, several payment options, and additional guarantees.
The classic look of this clean Ambulance OpenCart template is enhanced with powerful multilevel accordion navigation and extra large image previews with additional functionality. It also comes with integrated social media widgets displaying Facebook and Twitter feeds.
***
Tools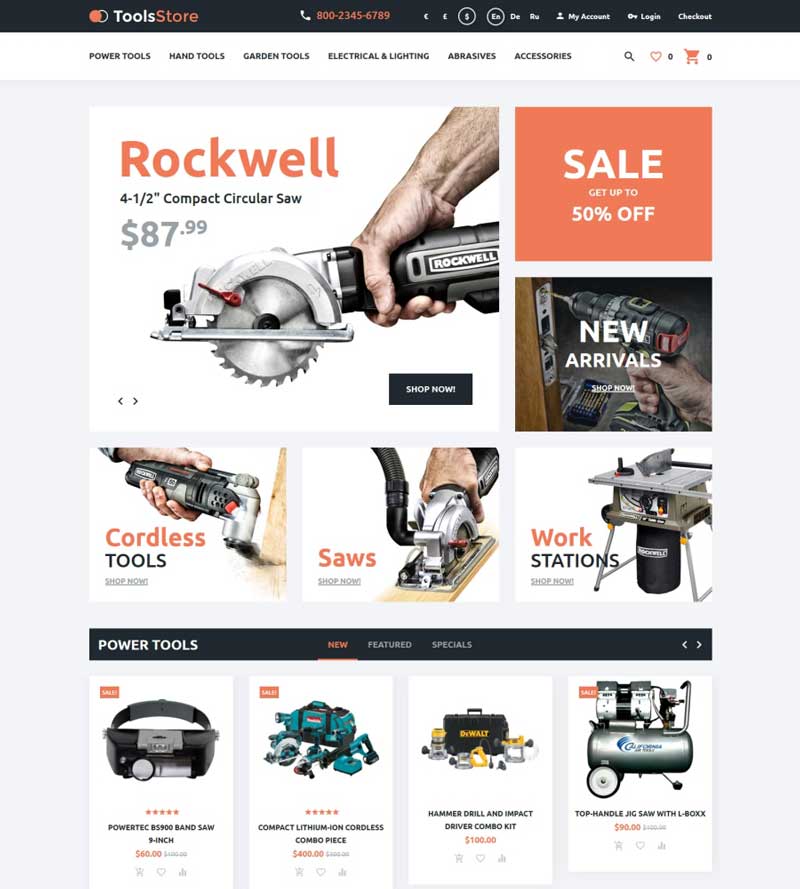 When we say "tools", we often imagine a muscular bearded man with an axe, a wrench, or a chainsaw. That's it - tool stores are fully oriented towards middle-aged males. This means that they must have no fancy bells and whistles in their design, and be, instead, as practical and straightforward as possible. OK author, shut up already, and let's get down to business.
And here we are. This Tools Store OpenCart Template is the quintessence of practicality. Its sturdy boxed layout with well-defined content blocks is just what you need to start selling tools, automotive parts and other purely manly stuff.
***
Sports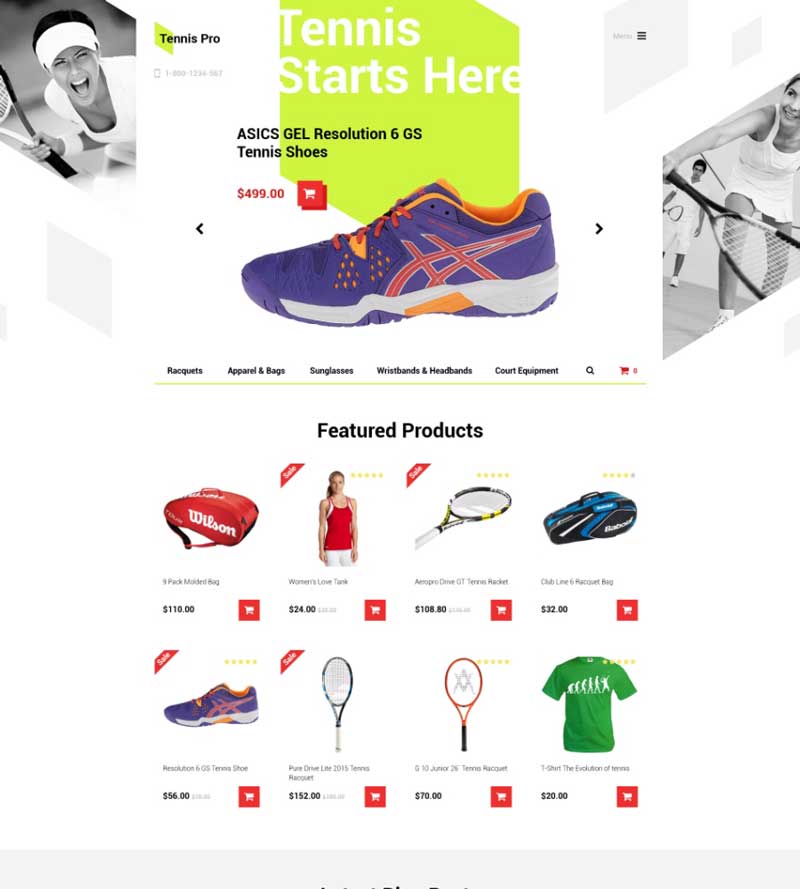 What is the main difference between clothing and sport online stores? Both of them sell stuff that people wear on themselves, right? The difference is that fashion clothing stores position their goods as apparel (mostly decorative clothing), while sports stores actually sell equipment. That's why sporting goods are often promoted in a vigorous environment with lots of juicy bright details.
This Tennis OpenCart template is a great example of a modern design for sport stores. Its layout utilizes sharp geometric shapes, large product images with transparent background and multicolored buttons.
***
Wedding & Flowers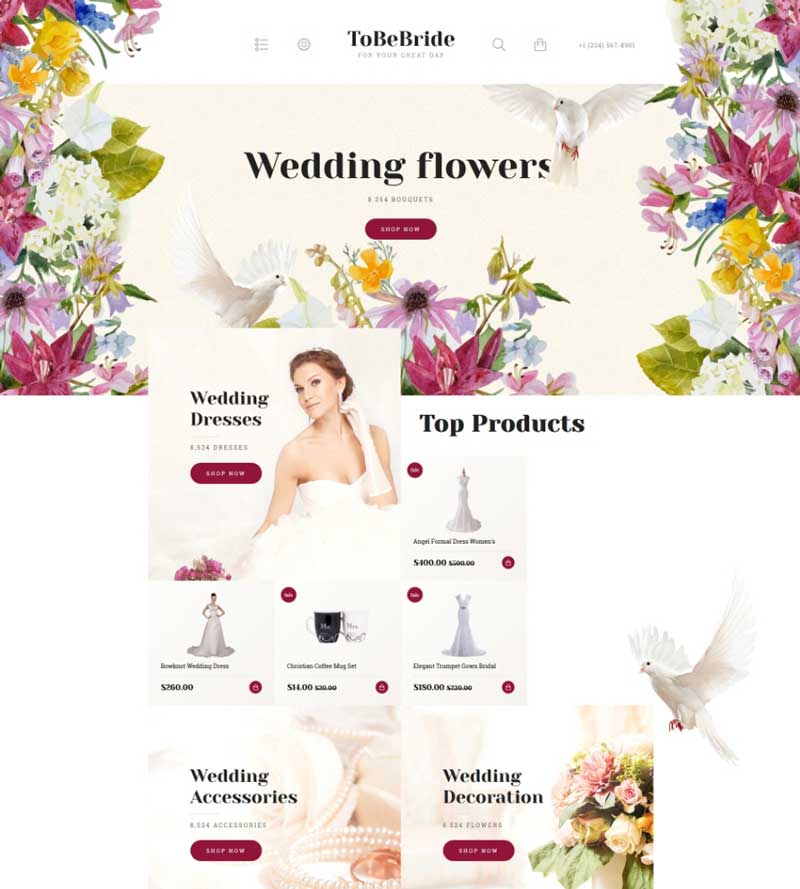 Wedding accessories are almost always overly expensive, that's why a website selling them must be pixel-perfect and aesthetically holistic. Nor should you forget about the color palette, which will serve as a background for the wares and services you provide. The most common hues for wedding stores are turquoise and pink – they successfully set off purely white products such as dresses and veils.
ToBeBride OpenCart Template is suitable for many types of online stores including wedding and flower ones. Among its features there are stunning parallax images (have a look at the pigeon in the lower part of its homepage), creative background patterns and tastefully selected colors.
***
Gifts & Trinkets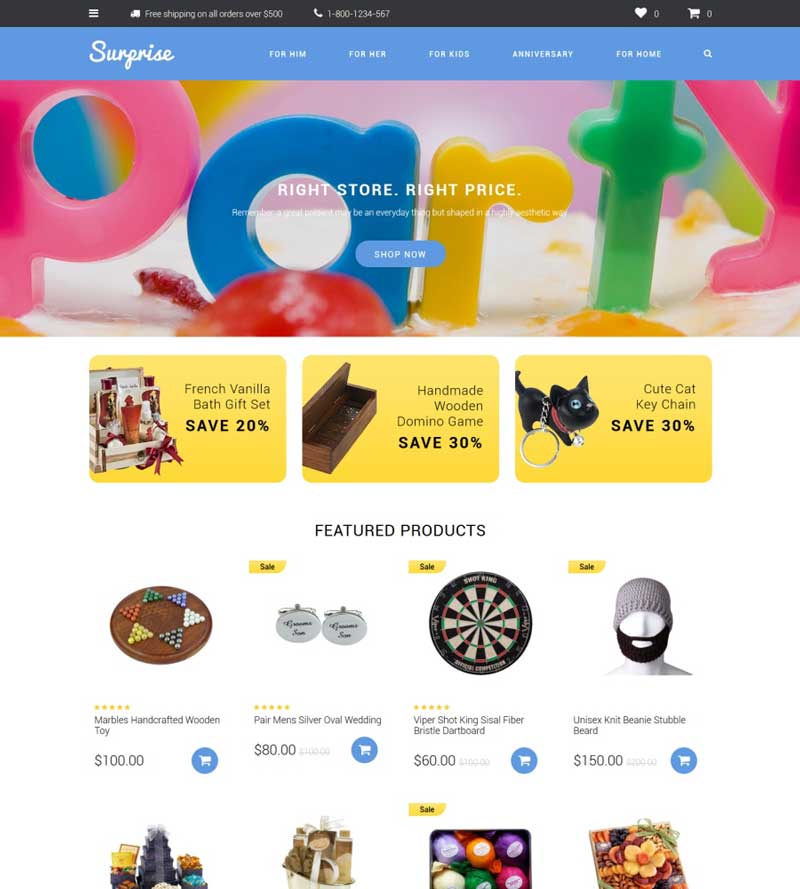 Gift stores can be of any style and layout, depending on the products being offered. Carnival masks and costumes are best presented on dark-styled websites, whereas light backgrounds will work well for flowers, toys and handcrafted souvenirs. Speaking of handmade goods, if you want to sell those, take care of the typography and supporting elements. They should look handmade as well, for a better effect.
Surprise OpenCart Template is intended for stores involved in selling products for parties and holidays. Its minimalist white background allows you to present your goods at their best.
***
OpenCart offers endless possibilities for eCommerce sellers thanks to its simplicity, and versatility of designs available for its users. Even if you want to sell something highly specific or uncommon, you will find a template to meet your taste and requirements.
This blog post has been sponsored by Template Monster. Please note that whilst OpenCart recommends Template Monster, all views and opinions in this blog post belong to Template Monster and are not those of OpenCart. OpenCart is not responsible for any opinions or claims made in this blog post.