ZeroBounce: Real-Time Storefront Email Validation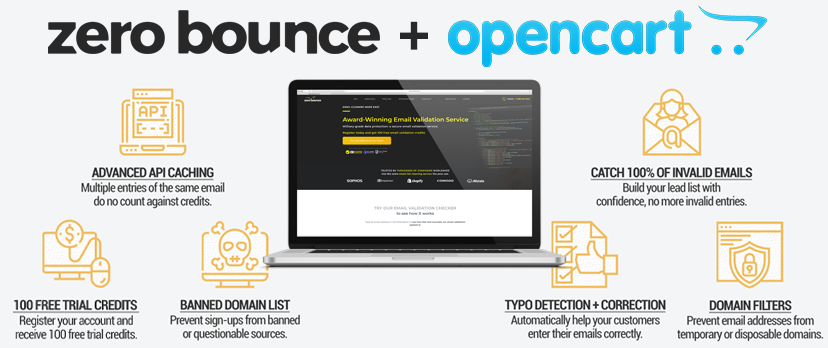 As a store owner, you rely on certain systems to aid in running your storefront as smoothly as possible. But sometimes your own customers are the reason you lose sales, leads, or return visits. Typo's, unwanted or invalid emails are some of the biggest issues you face in your effort to provide your customers with a complete shopping experience. If a customer misspells their email address, they'll never receive those all-important order and shipping updates. This leads to frustration on their part (through no fault of your own) and could lead to you losing return business. These types of errors cost you money and sales.
By installing the Email Validation Extension by ZeroBounce, your site automatically and instantly addresses these types of issues. Confirm your customer's contact email before they log in for the first time! Prevent your customers from accidentally entering the incorrect address, and malicious users from entering invalid or temporary emails.

ZeroBounce's API prevents your store from being penalized for sending emails to an invalid or expired email address. If your contact list is littered with these types of entries and you proceed to send a store newsletter, your unvalidated entries damage your IP reputation. This decreases your deliverability, reduces your open rate, and potentially marks your IP as a SPAM address. Lost leads from new customers, your monthly newsletters, and email blasts start becoming more and more ineffective because they don't land in the inbox, but instead are marked spam, junk, or not being delivered to some customers.
Some storefronts experience traffic from customers who use temporary (throw-away) email addresses. These temp-email services allow users to create accounts, access member-only content and dump your site. Then the email address goes bad/expires, but the customer account does not. When you send those temporary emails a promotion or newsletter, they bounce, harming your IP Reputation and flooding your database with bad accounts.

ZeroBounce's extension is a lifeline to store owners who are frustrated with their newsletter and email blast performance. By instantly validating or invalidating an email address, you're ensured to have users who enter only valid and deliverable addresses.
As most store owners know, a lot of fraud is caused from and originate from certain domains. Because they hide behind services that are encrypted and anonymous, these domains can damage your IP reputation. Now you can add these domains to your block list, so you can prevent them from signing up. The extension also allows you to filter out newly created domains. This allows you to define how many days a domain needs to be active for, before you allow a person to sign up from it.

The Email Validation Extension from ZeroBounce is an incredibly powerful tool that allows you to maintain a healthy and growing contact list. There is no other OpenCart extension that offers this many robust and dynamic features!