What is Opencart?
Opencart is an open-source ecommerce platform that can be used to create and administer online stores.
The program is written in the PHP programming language and has a MySQL database. It enables you to build and manage an online store in a very simple way. It also features full customer management, order management, product management, reporting and SEO compatibility.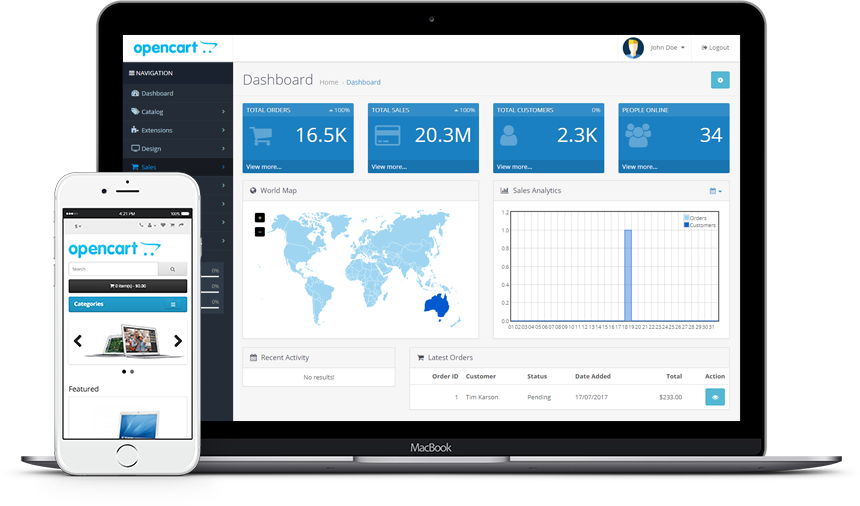 It is free for both personal and commercial use with some restrictions when it comes to functionality like the number of visitors at one time or the amount of storage space on your web hosting provider account.
Why Should You Use Opencart?
OpenCart is a free and open-source solution for e-commerce stores with the most popular extensions on the internet.
One of the reasons to use OpenCart is its open-source nature. This means that it's free to download and use without any form of payment or subscription.
You can also modify it as you please if you have a developer license. OpenCart has an extensive list of features that Magento doesn't offer out of the box, like multiple languages, multi-store support, and third party integration support for eBay, PayPal, Salesforce etc.
How to Build an Opencart Store with a Few Clicks!
This tutorial is a step-by-step guide to help you build an Opencart store with a few clicks.
You will learn how to:
In the Step by step tutorial above we start configuring your website and adding products and categories, then we install and customize the theme for our store. We then configure the checkout process and finalize the site's settings. Finally, we connect our store to Google Analytics and all is set to go live!
Alternatives to Opencart for Creating Your Own E-Commerce Site
Opencart is a free and open-source eCommerce platform that is available for download on GitHub or on the download page. It is an open source shopping cart software, which can be installed on any webserver or in the cloud. Opencart allows you to create your own online store, without any coding knowledge.
What servers can you host an opencart store on?
This article will answer the question of "what servers can you host an opencart store on?" When a merchant launches a new online store, they need to make a decision about where their server is going to be. The reason for this is that it's one of the most important aspects of running an online store.
Building a store on A2 Hosting
If you are an entrepreneur looking to start an ecommerce store, A2 Hosting has the perfect solution for you. A2 Hosting offers a variety of features that make it easy to get started and maintain your site. You can take advantage of our built-in shopping platform, cloud hosting, SSL encryption & more when you sign up with us.
Building an online store on Bluehost
Choosing the right web hosting company can be an overwhelming task. However, Bluehost has made the process simple for their customers. They offer a variety of packages so that customers can find one that fits their needs and budget.