Color psychology is a powerful tool, which, if used wisely, can drastically boost your conversion rates and the user experience of your eCommerce store.
In order to squeeze the most from OpenCart you should be aware of the color combinations that are suitable specifically for your business.
Today we would like to present to you 10 of the most usable hues illustrated by OpenCart templates, so you could launch (or redesign) your online store right now.
1. Blue
Blue is one of the most widespread primary colors used in web design (perhaps even too widespread). It is almost always present in websites related to water as a substance, or water-based activities such as fishing. It is also one of the default colors in the medical industry, as it is often associated with purity and cleanliness. But don't rely on it too much unless you want your website to look exactly like 90% of its niche competitors.
This Online Fishing Store template, with plenty of blue in its design elements, is a good choice for stores selling fishing and yachting equipment. Its dark background will make your website look and feel isolated, thus focusing the attention of your visitors on your products. It was
developed by TemplateMonster
, and can be found in their official marketplace.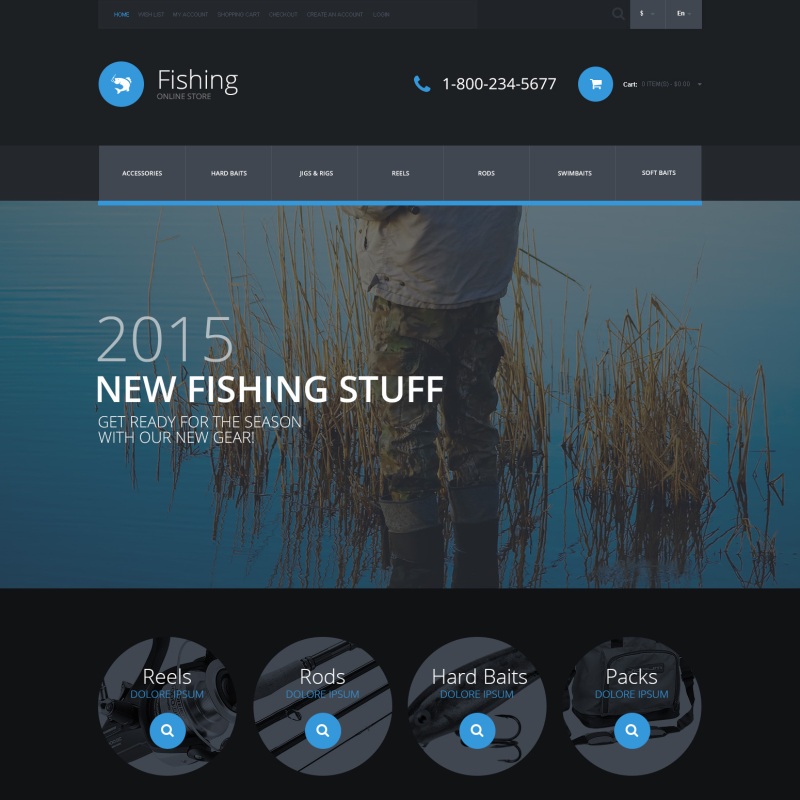 2. Green
Green is most frequently used to show the connection of a brand with nature. This peculiarity of the color green is highly beneficial for online stores selling organic food, 'green' devices, cars, and such. It is also an alternative color for medical websites, especially those selling bio additives and other medicines that are considered to be nature-sourced.
Organic Cosmetics is a minimalist and clean OpenCart template with responsive design. Its white background is supplemented with flat content blocks and other design elements displayed in various shades of green. The template is equipped with a live chat module, which can be used to provide support or answer your customers' questions.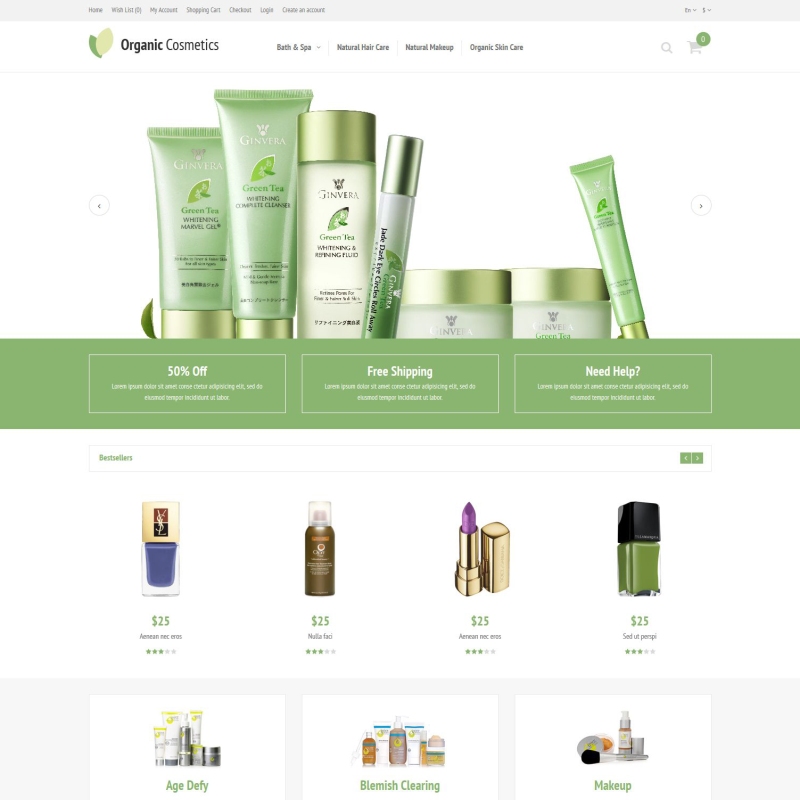 3. Red
The color red has a lot of applications in web design. The first and the most important of them for eCommerce is its use for call-to-action buttons. But if you've decided to make red the main color of your store design, you should know that it is best suited for fashion, sports, and dating websites. For a better effect, try combining it with more muted colors such as grey or navy blue.
Check out
this infographic
; in order to learn how to utilize the color red to the fullest.
This responsive OpenCart template clearly demonstrates proper use of the color red in a web site. Its color palette is well balanced with white and dark gray colors, so the design doesn't look garish. Unusual shapes and modern animations add a professional vibe to your website.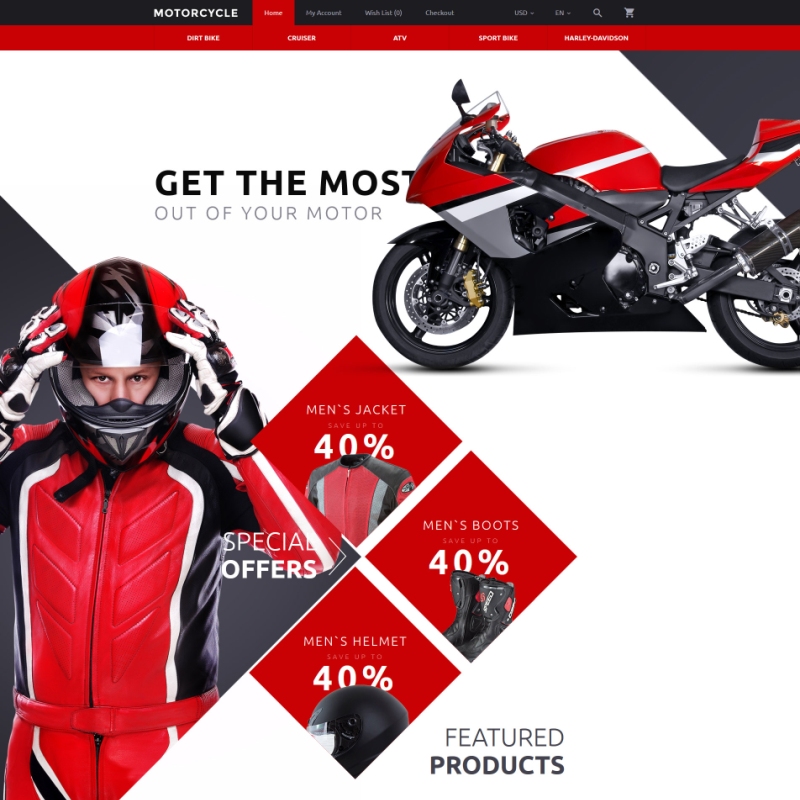 4. Orange
As a mix of red and yellow, orange possesses such attributes of the aforementioned colors as energy and cheerfulness, while not pushing them to the limit. Being something in between, it will work well for call-to-action buttons, as well as individual design elements. Just as with yellow, it is not recommended for use as a main website color, but rather as a supporting one.
In general, orange is not that popular, but it is totally worthy of your attention if your website is about toys, food, or travel. This infographic will show you in detail how to implement this color with maximum effectiveness.
This OpenCart template can be used for food stores. It features a wide slider, a boxed layout, and stylish category banners. This template also comes with integrated Google Maps and social media widgets, which are used to improve the usability of your future online store.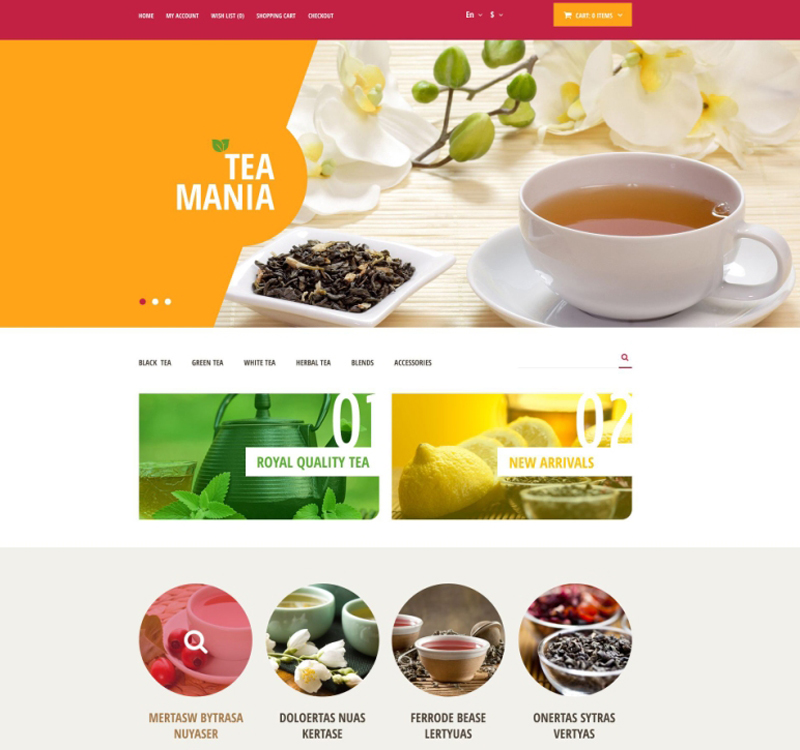 5. Violet
Although violet is not among the most popular web design colors, in some cases it can be a lifesaver. It indicates luxury, wealth and royalty, and that is why it can be used for online stores that sell exclusive (and expensive) products.
Don't forget to refer to this infographic when using shades of violet and/or purple in web design.
This responsive template is intended primarily for music stores. It utilizes parallax effect, CSS-based hover animations and transitions and other impressive visuals. This template is additionally equipped with a Facebook widget, a live chat module and a customizable newsletter pop-up window.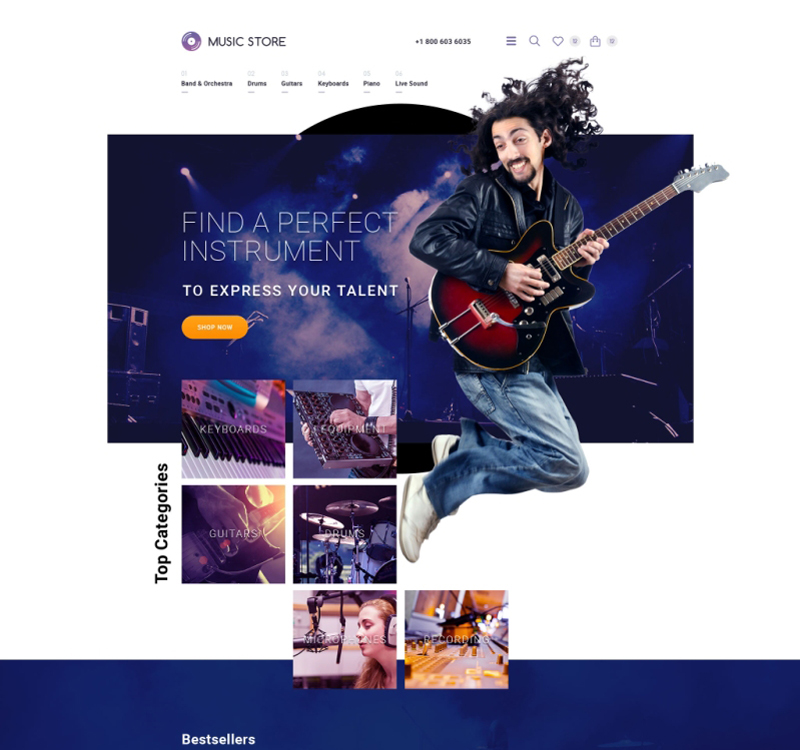 6. Yellow
Yellow is a very bright color, which is rarely used on its own. But when combined with black, white, grey or other warm colors (red and orange) it adds a cheerful energetic feel to the design. The most established color combination featuring this color is yellow/black; it is a good choice for companies dealing with tools, heavy machinery, construction materials and so on.
This Online Travel Store OpenCart template boasts a classic boxed layout with unmatched usability, and cheerful design. Golden yellow elements here are used in combination with orange and red ones. Its intuitive navigation is represented by a spacious horizontal menu with lots of options.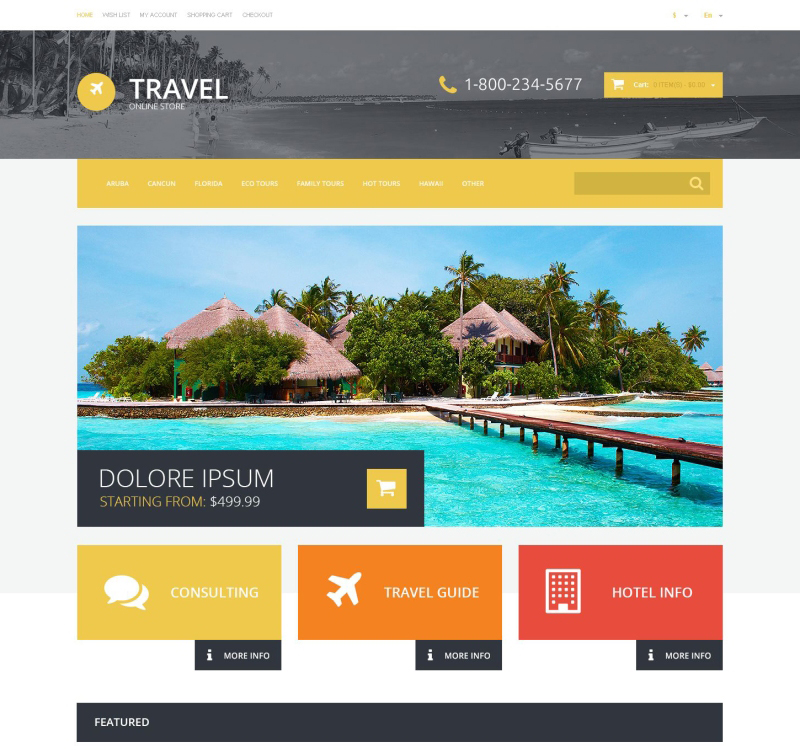 7. Brown/Beige
Brown is a warm, natural color associated with nature, home comforts, and classics. That's why it is a popular choice for websites dealing with coffee, antiques, books and tobacco. Its lighter shade – beige – is widely used for fashion stores. You can successfully mix dark and light shades of brown in one website design, or add bright accents of other warm colors - orange, red, or yellow.
This is an exquisite responsive OpenCart template suitable not only for coffee stores, but also for many other eCommerce businesses related to luxury food, drinks and accessories. With its help you can easily build a well-converting online store, and grow your customer base via the incorporated newsletter pop-up window.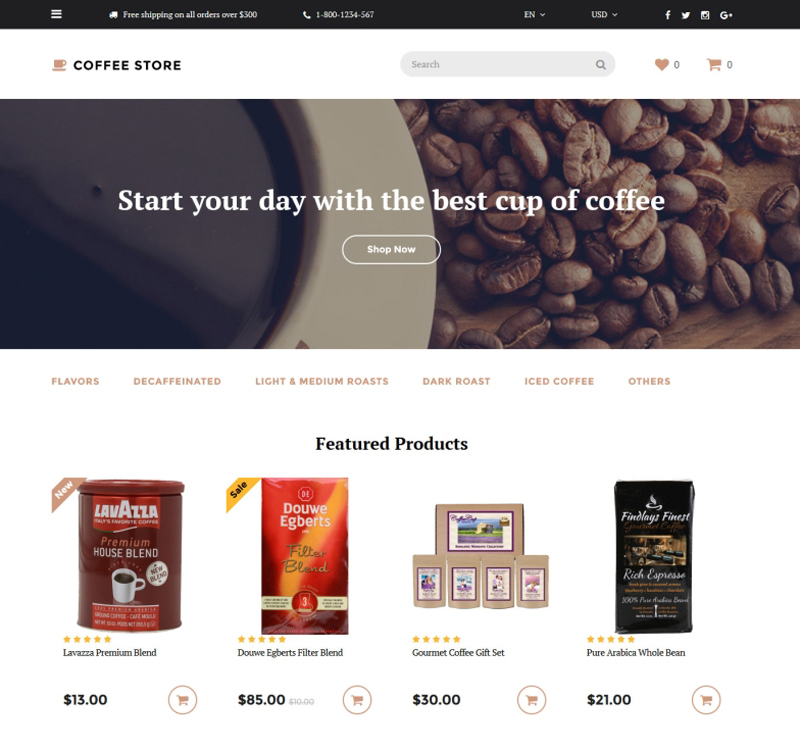 8. Black
Some designers say that black is not a color at all. But this 'not a color' has proven to be one of the most suitable ones for online stores that sell luxury clothes and accessories. Another great feature of this umm… color is that it can be combined with any other shade from the color spectrum – with no exceptions.
This multipurpose image-focused OpenCart template is a prime example of the fact that black is still viable for web design. Its entire top part is occupied by dark photos and menus, and tinted category banners. The lower part, however, is designed using light-grey and white colors. The template features integrated Google Maps, dynamic countdowns, skill bars and other useful options.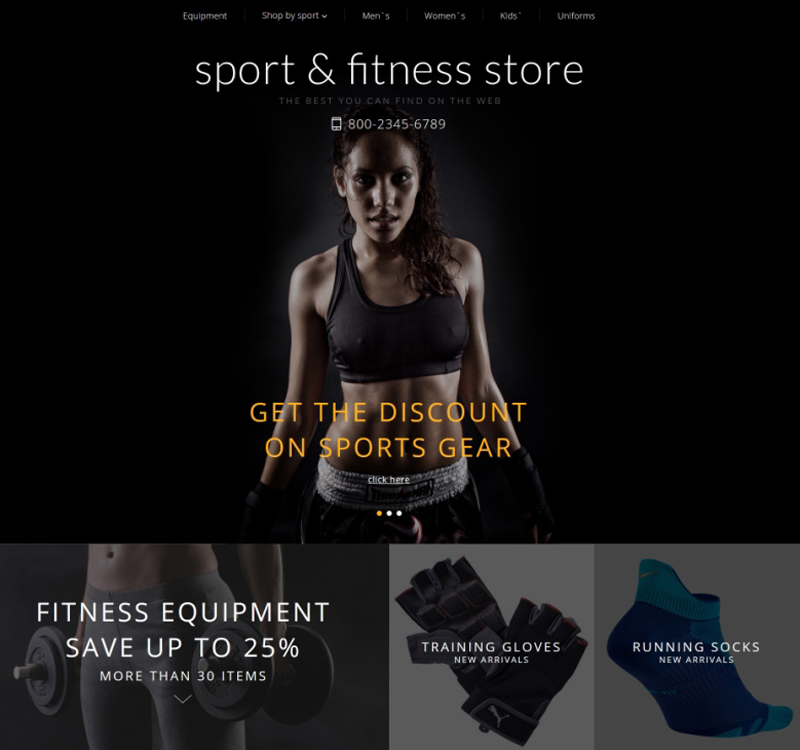 9. Pink
The most feminine of the colors, pink, is a default choice for cosmetics and beauty stores. Its pastel shade, along with turquoise, is the most frequent choice for wedding agencies. But be warned: there are only a few colors that are compatible with pink; these are white, black, grey, and to a lesser extent, blue and yellow.
This elegant OpenCart template with responsive design can be effectively applied to a wide range of online shops including ones that sell flowers, gifts, wedding accessories, cosmetics, and many other products. Its simple layout is just what the doctor ordered for small eCommerce stores.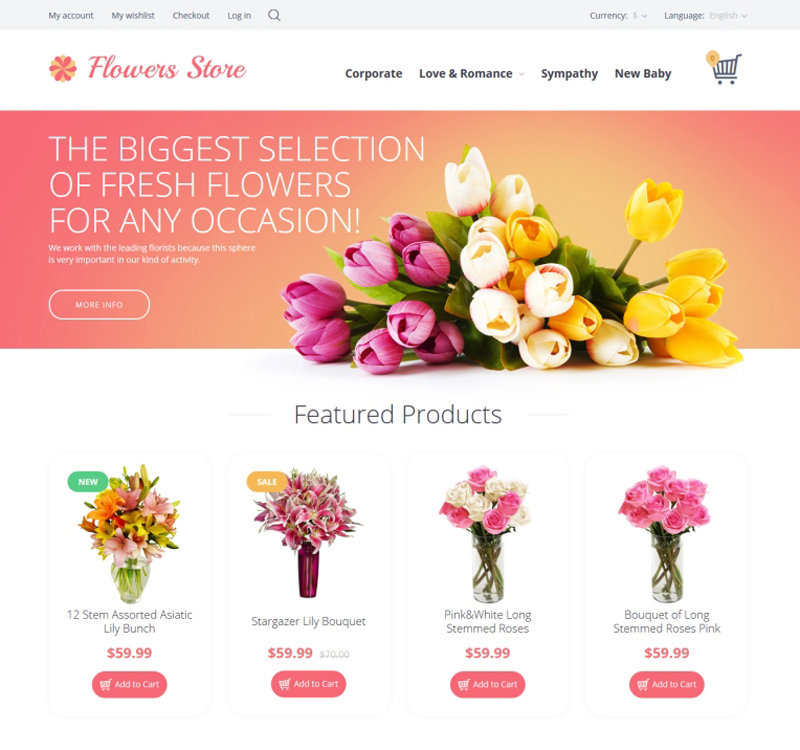 10. Teal/Turquoise
This color requires a special mention because of its wide scope. Depending on its hue it can be used for weddings, sports, IT, electronics, and many other website topics. Its lighter version – turquoise – is a great alternative to pink in feminine website designs. Teal is considered to be a color most pleasing to the eye, and that's why it is ultra popular nowadays. You can't go wrong by choosing it for your next website design (except for online food stores).
Existore is a great template, because it allows you to redesign your store simply by replacing the stock imagery with your own unique photos. Its design elements with beautiful visual effects serve as a foundation for your store, but it's up to you how to customize its look.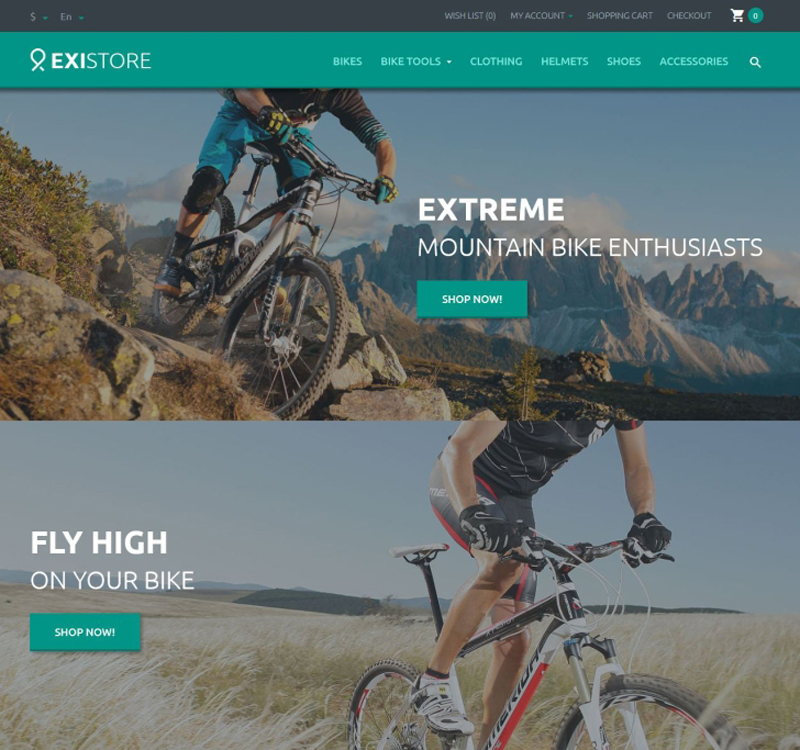 We hope you will put our advice to good use, and design a high converting online store that will become a steady source of income for you. Don't hesitate to share your thoughts with us. What color combination is your favorite when it comes to web design? Leave your answers in the comments below.
This blog post has been sponsored by Template Monster. Please note that whilst OpenCart recommends Template Monster, all views and opinions in this blog post belong to Template Monster and are not those of OpenCart. OpenCart is not responsible for any opinions or claims made in this blog post.