There are two types of people, i.e those who know how great Opencart templates from TemplateMonster are and those who do not. This article is mainly for the latter group. How so? We believe that everybody deserves the equal access to the information that can directly influence life choices. And today's news concerning OpenCart definitely belongs to this type of information. So, what is new in the OpenCart world?
News #1. The New Price for OpenCart is Coming
We at TemplateMonster are happy to announce an unprecedented price for OpenCart templates. We have decided to stick to simple solutions this time. So, no tricky percentage based discounts or promo codes. The price we are so happy to present is (wait for it!) only $49. Yes, you heard it right! And the cherry on the cake is that this is a price for all categories of OpenCart templates. Get ready to choose an online shop of your dreams at the reasonable price!
News #2. The Tech Support for OpenCart Buyers Remains Excellent
Probably, it is not an eye-opener for you if you have already got some experience in communicating with the Tech Support managers from TemplateMonster. What these managers offer is 24/7 professional help for any issues related to your OpenCart template. You can contact a tech support manager via a live chat or a phone. Also, to make your pre- and post-purchase experience even better, we have created a number of TemplateMonster Support resources to help you. Feel free to browse through the Online Help Center articles, have a look at FAQ, learn about the refund policy etc. So, choose the OpenCart at the best price ever and test out the solid backup from the TemplateMonster Support team!
News #3. The Assortment of OpenCart Themes is Growing
At the moment there are about 700 hundred OpenCart templates available on our website. This amount is more than enough to provide you with a professional web theme for your future online shop. To make your search for a perfect ecommerce template even easier, we have grouped OpenCart themes into 17 categories. Browse through these categories and you will sure thing find the OpenCart template that suits your online business niche.
Now, let's imagine for a moment that you do not see the OpenCart theme that you need on our list. Is there anything you can do in this case? Yes, there is. Feel free to go to Help & Support and submit a Wish Box. State in detail what OpenCart template you need and watch our web designers working miracles.
What is more, the web developers from TemplateMonster are constantly working on enlarging the repertoire of OpenCart themes. It is only logical as we are expecting more clients to choose OpenCart templates within the next few weeks. So, keep up with our developers to see how quickly the assortment of OpenCart themes will spring up!
Choose an OpenCart theme
Speaking of the assortment of OpenCart templates, it is high time to have a look at the ones TemplateMonster is so proud of. And yes, they all cost $49, just like we said earlier!
YellowBag OpenCart Template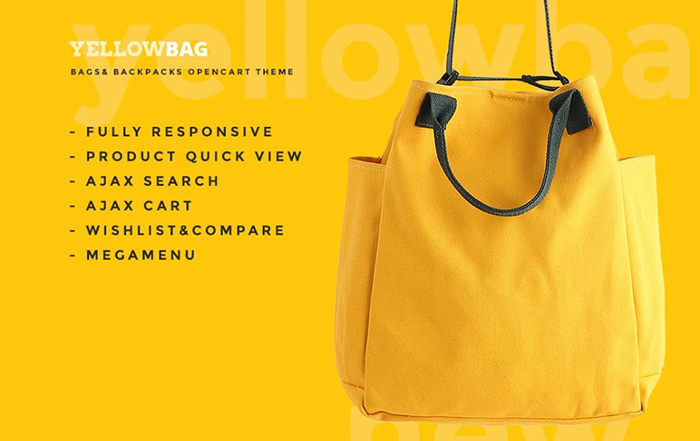 This theme was originally designed as a bag online shop. But the truth is that it can be used as a reliable platform for any other ecommerce website that deals with fashion. The attention-grabbing galleries you find in this OpenCart template can make your goods memorable for your clientele!
Home Decor Responsive OpenCart Template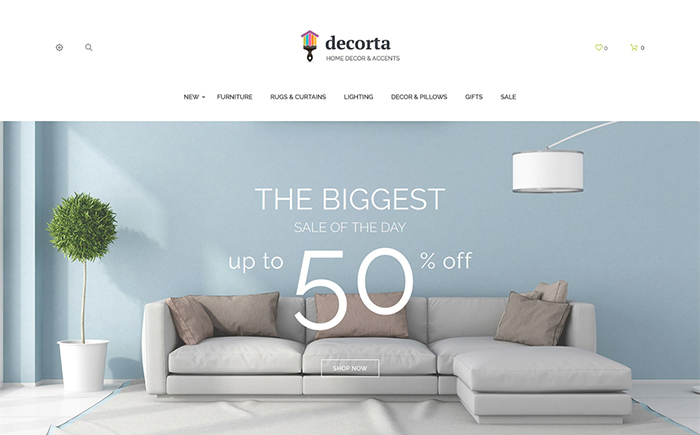 As more and more people are interested in turning their houses into homes, this OpenCart theme is a great investment. Aimed at shoppers for home decor, it is easy to navigate. Choose this responsive OpenCart template to guarantee that every single visitor converts into your loyal customer.
Building Materials Responsive OpenCart Template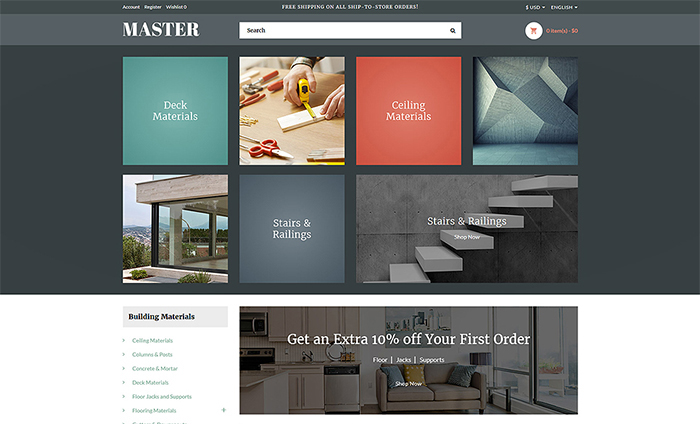 As we all know, people that need building materials can be very impatient. That is why if you want to launch a successful building material online store, there are two essential features that your store should have. The first one is a powerful search and the second one is responsivity. And guess what - all this can be found in the template that you are looking at right now!
Lighting & Electricity Responsive OpenCart Template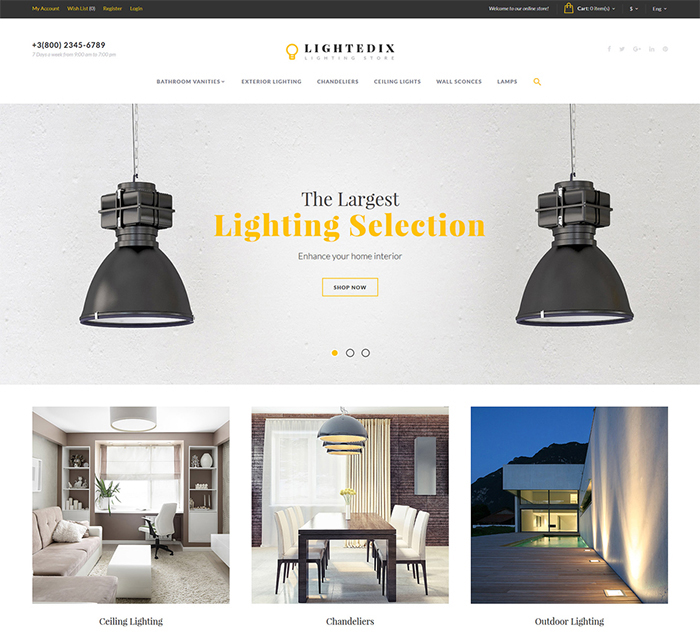 Selling lighting and electricity-related products has never been easier thanks to this OpenCart theme. Equipped with the Product Quick View, this theme is a must-have in the turbulent online world of the ecommerce.
Tobacco Responsive OpenCart Template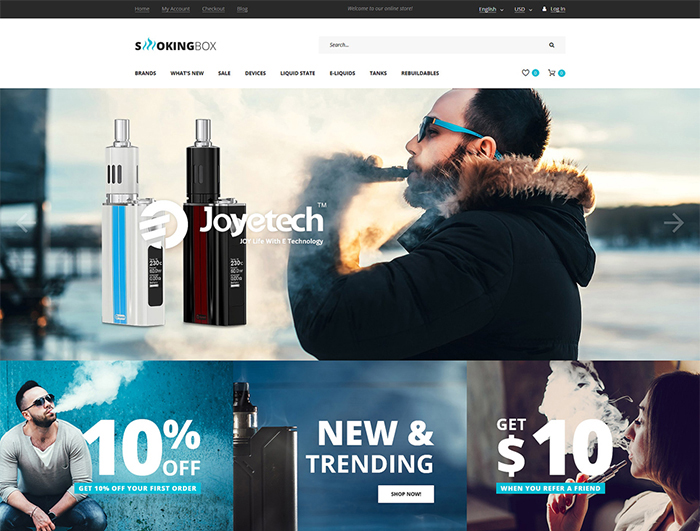 A vipe online shop is a great investment in the long run. That is why it makes sense to create the shop with the best ecommerce template, like the one you have in front of your eyes now. Help your clients choose a product wisely with a handy Online-chat and an informative blog.
Cosmetics Store Responsive OpenCart Template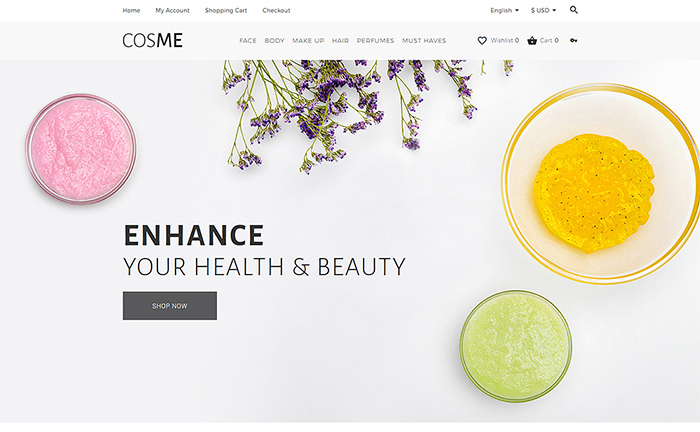 If you are planning to sell cosmetics online, remember that you need to win the credibility first. How do you do that? Very simple - encourage your customers to comment on your products with an effective commenting system of this OpenCart template!
Apparel Responsive OpenCart Template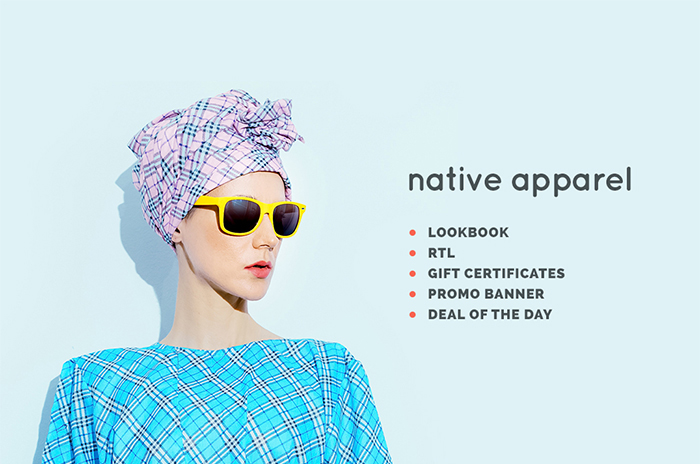 This exquisite Apparel OpenCart template is fully responsive, which is very important for any clothing online shop. Make sure that your products get enough attention on the social media due to the social options available in this template. And do not forget to use card certificated that your loyal shoppers will like so much!
Electronics Store Responsive OpenCart Template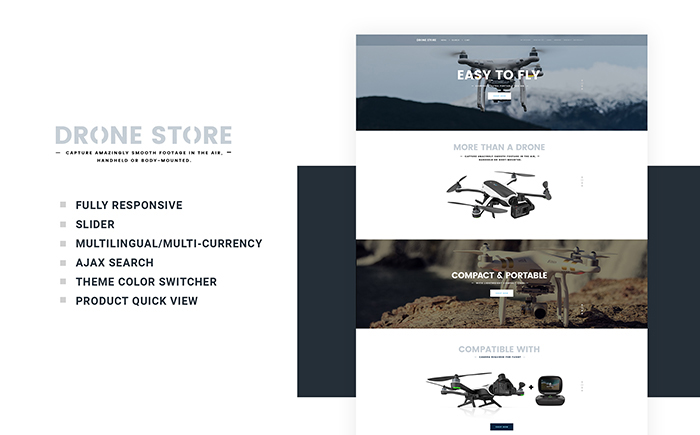 Help your electronics goods stand out on the market with this amazing ecommerce template. It contains pretty much everything you need to start selling your electronics tomorrow (if not today). Your customers will like the Sorting Options and the quick Search that this template contains.
Fashion Store Responsive OpenCart Template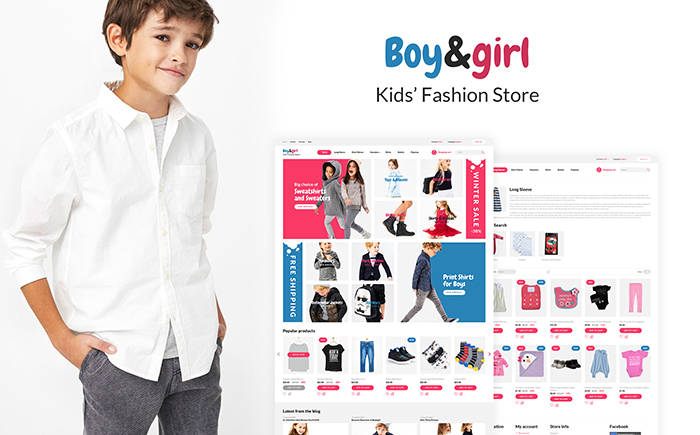 Help your clientele to keep up with the latest trends in the fashion world with this elegant OpenCart theme. Thanks to the bright and positive design, your little clients will be happy to assist their parents in the search for a perfect outfit!
Wholesale Store Responsive OpenCart Template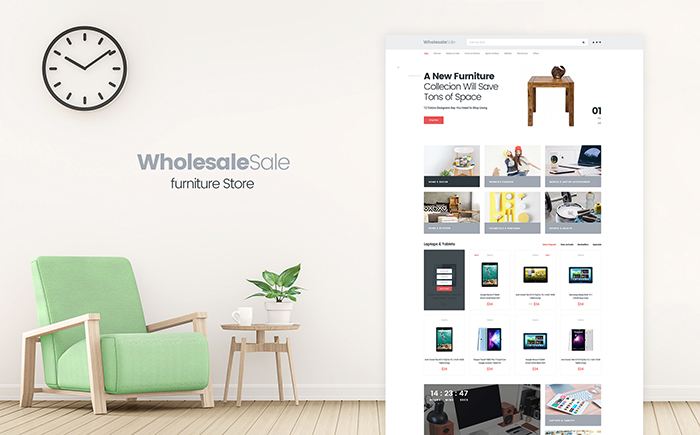 This OpenCart template can be of real help if you need a reliable platform for your wholesale business. We have added numerous features to this them to help you build a solid online presence. These features include widgets like Wishlist and Compare, as well as attention-grabbing product badges. This being said, you should not worry about your lack of expertise in the web design. This template is 100% manageable and easy to deal with!
Hair Salon Responsive OpenCart Template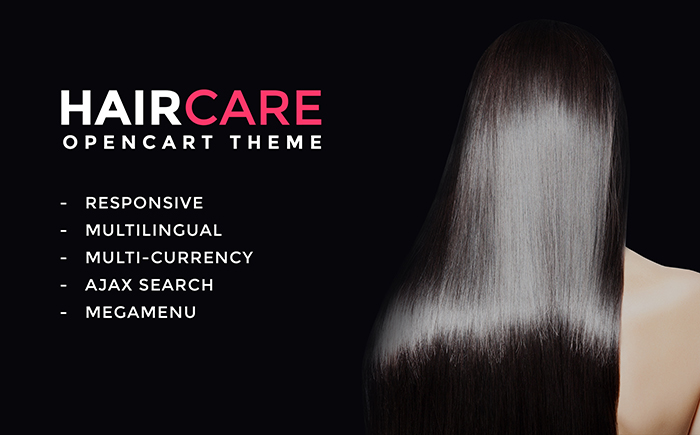 Professional hair care products are the in-thing these days. So, why not try your hand at selling them online? It is easy with the OpenCart theme that TemplateMonster prepared for you. Look how appealing the color palette is and remember that you can always customize it with the powerful Color Switcher.
Sports Store Responsive OpenCart Template
This website theme can be easily turned into a fully functioning online shop for selling sports-related goods. How much time will it take? Believe it or not, it does not matter whether you know anything about the web development. With the user-friendly admin panel of this sports store template, you will get to enjoy the fully functioning sports online shop within days or maybe even hours!
Book Store Responsive OpenCart Template
With this web theme for bookstores, your online business will flourish. Being 100% responsive, this e-commerce template offers you the outstanding functionality. Your loyal customers will appreciate the chance to browse through your rich collection of books with any advice and at any given time point.
Grocery Store Responsive OpenCart Template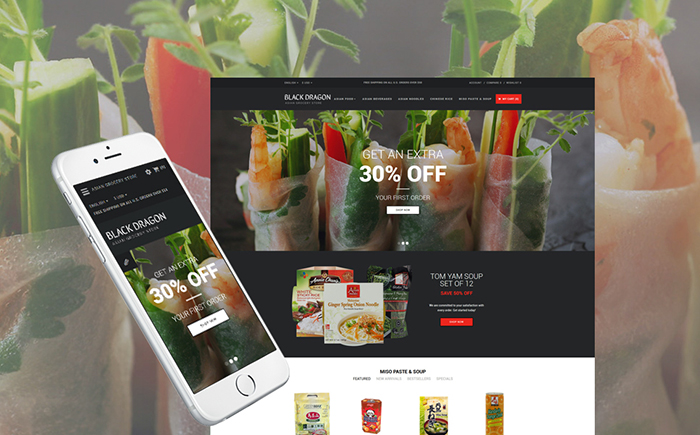 Being designed for an online store that sells grocery, this OpenCart template can be used for other food-related products as well. Choose it if you need a reliable ecommerce platform with multiple modules (banner, bestsellers, featured, latest, specials etc). Experience the advantages of the 24/7 free tech support. Get ready to enjoy customizing its flawless layout and the eye-grabbing design.
Сar Audio Responsive OpenCart Template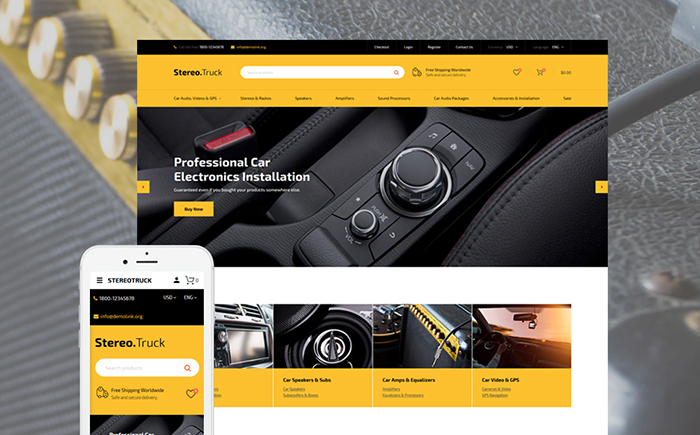 As there are more cars out there than ever, one should anticipate the growth of online shops that sell car-related goods, like car audios. Watch the Live Demo to see what amazing sorting options this template has to offer. It is as easy as ABC to change the product view from a grid to a list and back, pick a bestseller, or add goods to a cart with the Ajax Cart.
Love Coffee - Coffee House OpenCart Template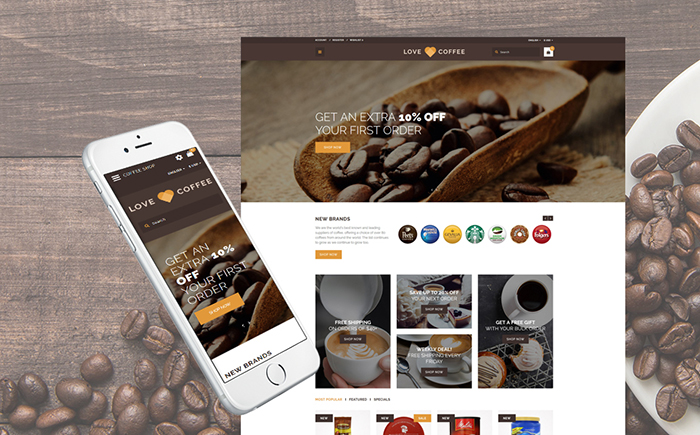 As coffee belongs to the favourite drinks of the modern era, the coffee online shop can be your best business idea in the long run. Offer your customers multiple sorting options to make sure that they find their sort of coffee within seconds. And do not worry about the technical aspect of launching an online shop. The installation and setup instructions, as well as 24/7 free tech support, will back you up when starting your own business online.
Agrilloc - Natural Products Store Responsive OpenCart Template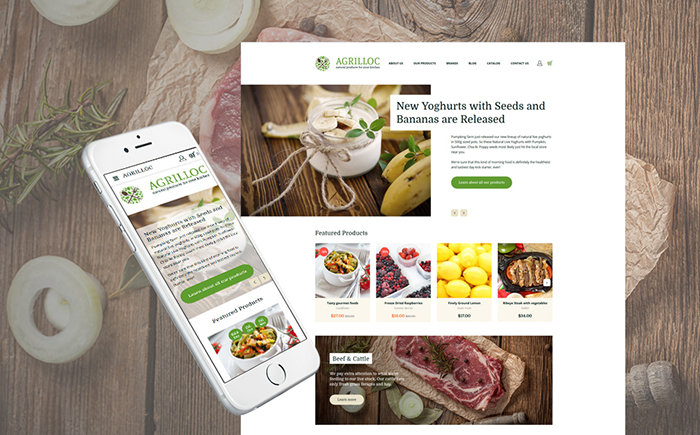 The fresh design combined with the memorable layout make this food store template your choice #1. Make sure that your products are presented in the best light thanks to the product badges, the countdown widget, and the star rating. Once your visitors come across your food estore, they will want to come back for more natural products of yours!
Wood Finishes Responsive OpenCart Template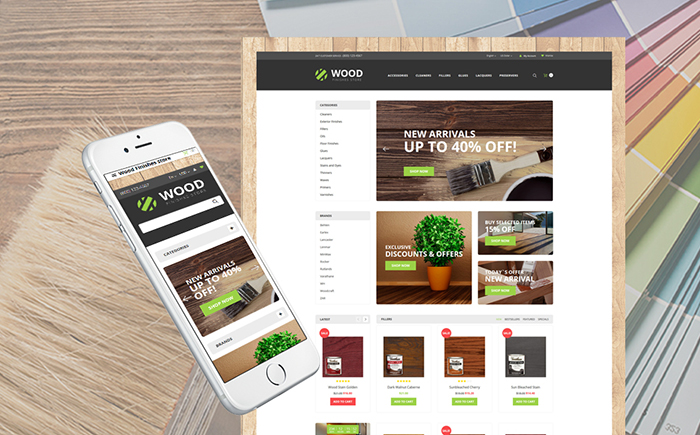 The enhanced navigation and the user-friendly drop-down cart guarantee that your shoppers have the best purchase experience possible. As wood finishes belong to products not everybody knows about, you will need to provide your customers with some sort of the help desk. This is exactly why we added the live chat option to this OpenCart template!
Fooder - Pizza Restaurant With Online Ordering System OpenCart Template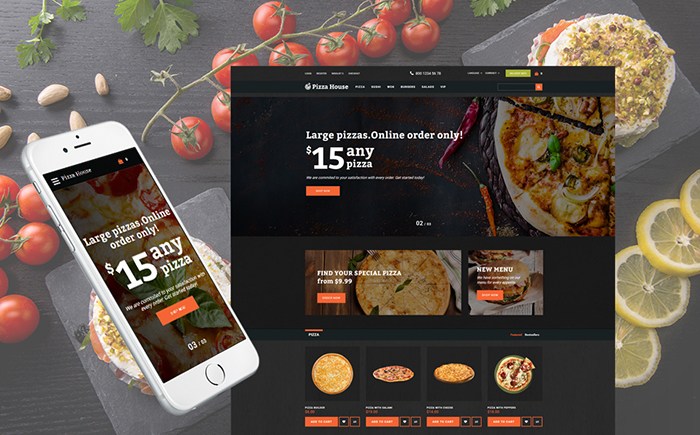 Ordering food online is what most people get to enjoy on the daily basis. It means that the profits of companies that provide this sort of services are on the rise. If you want to have your share of a pie too, start your online food business with this appealing ecommerce theme. Just take a look at the powerful Product Builder. It can guarantee the best quality and quantity of the foods you supply.
StoreFlex - Food Responsive OpenCart Template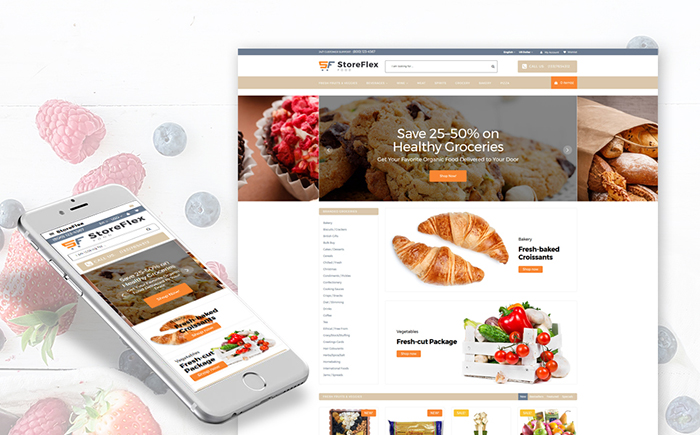 Being a part of StoreFlex family, this template contains a handy Layout Builder. This is a tool that can help you to find the unique combination of content blocks easily. What is more, you can always rely on this template when it comes to the best product presentation. Use options like Deal of the Day or the Quick View to attract new customers daily!
Now that you know that OpenCart themes have become much more affordable, there is no time for doubts. Take action and learn more about the best ecommerce platforms with our free ebook. Follow the OpenCart templates in 2018 and get ready to open new opportunities for your online business.