Expand Your Business by Getting Products to Your Stores Effectively & Efficiently By Knawat plugin
Running an e-commerce business involves lots of challenges, including but not limited to storing inventory, shipping, having enough funds to buy inventory up front, and most importantly, making sure an excellent customer experience and service. To avoid the headaches, many e-commerce businesses and entrepreneurs are turning to wholesale distributors and drop shipping platforms, expecting that all the areas mentioned above, will be taken care of smoothly and cost-effectively. However, it is not always the case. If you are an e-commerce entrepreneur, you should know that not all platforms will get you all the upside without any of the eCommerce headaches. But Knawat does!
The Problem
In today's highly competitive and digitally connected market, e-commerce businesses selling different products and services online, find it extremely difficult to ensure the best customer experience. This is because several intermediaries are involved in between these businesses and their customers.
The product source of most of the wholesale priced product distributing platforms is China, wherein the quality of the product may differ. If a customer orders any product from your website and your distributor has sourced it from China, you remain in doubt if your customer is going to have a pleasant experience. Then come three crucial factors; the shipping time, the shipping service provider, and the shipping cost. Long shipping timing is a key turn off for the customer. Most of the distributors choose an economical option of normal post as their shipping channel. However, in the end, it's your business that gets a bad hit since normal post takes much time to delivery. The shipping cost often gets higher as the majority of the distributors are unable to provide fulfillment service (fulfillment service we will explain shortly in a later section).
Being an entrepreneur running an e-commerce business, you must know that effective branding is one of the key ways to connect with your customers. Through branding only, the customers will remember your business at the time of using the product or service they ordered from you. With ordinary wholesale distributing platforms, you lose the opportunity to present your brand identity to your customers as these platforms don't include the retailer's branded packaging/invoices.
Lastly, no platform so far is providing a manual translation in different languages, for product descriptions. The translation is never added to the product package. Rather, the translation, whatever provided by the supplier, is added as-it-is.
Don't Let Your E-commerce Business Get Affected by These Problems
You are an e-commerce entrepreneur and surely need to pass through this process involving intermediaries.
So, what's the solution?
Why not hire a comprehensive and competitively featured wholesale priced product distribution platform that provenly and competitively takes care of all these pain points and saves yours from other intermediaries?
Welcome to Knawat!
With more than 600,000 Turkish and European wholesale products, Knawat.com makes one of the most comprehensive and largest wholesale distributors for your customers. If you are selling online, Knawat offers wholesale priced products with international shipping to your customers globally.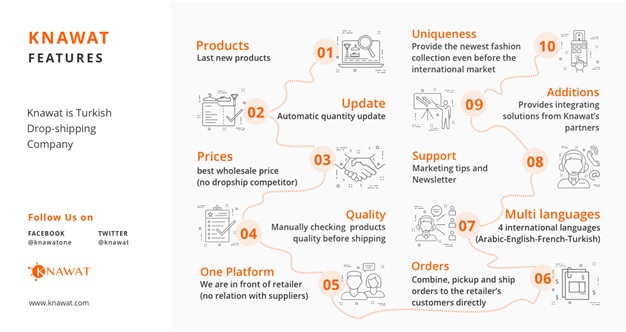 Knawat has been helping hundreds of e-commerce businesses, websites, and entrepreneurs in streamlining their online business and expanding it across the border. Unlike other platforms, Knawat practices a unique philosophy of helping existing small & medium as well as big eCommerce businesses to provide products with services.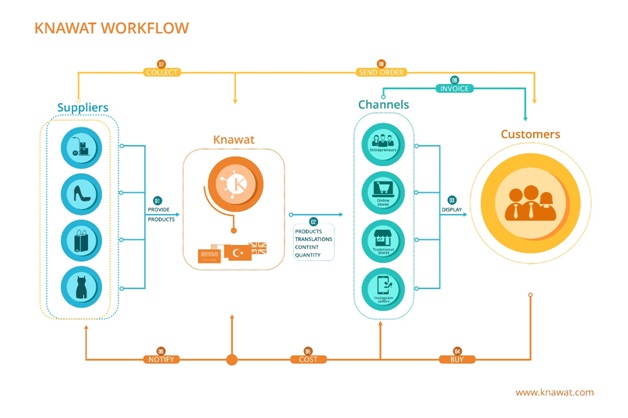 How Knawat plugin Solves All E-commerce Selling Pain Points?
ü Knawat lets e-commerce businesses have only one but a complete source for all their needs.
ü Knawat sources the products from Turkey; thus, guarantees quality and delivery.
ü Knawat shipping time is 3-10 days; much lesser than 20-60 days other platforms take.
ü Knawat uses TNT and DHL as a shipping carrier instead of a normal post, which enables faster delivery.
ü The shipping cost is minimal at Knawat. Just pay $11 as a fixed shipping cost. There is no shipping cost for over $80 orders.
ü Knawat's fulfillment service not only facilitates the provision of excellent customer experience but also saves huge shipping costs. Knawat combines items from the suppliers to make one single shipment to send to the customer. It means a customer receives the order at one time.
ü Knawat takes care of your brand identity and includes your logo as well as the invoice on the order package.
ü Knawat can be integrated with all existing stores.
ü Manual translation to English and Arabic are available. French and Spanish will be added soon. You don't get this service from others!
ü Knawat have integrated plugin for Opencart
ü many languages are ready (English -Arabic -Turkish ) and ( French- Spanish) soon
How Knawat Works for Your Business?
The Process is Simple!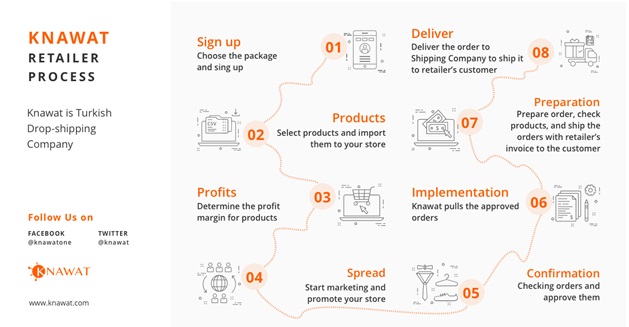 Knawat collects the product from the suppliers and ships these as a single package to your customers along with your branded packaging and invoice. With Knawat, you can sell on many mainstream e-commerce platforms like eBay and Amazon, as well as on all social media platforms. That's how Knawat helps you expand your e-commerce business faster.
The Best Part: You pay only after the sale!
Get a complete e-commerce package for your business at Knawat, designed exclusively for your needs, with diverse features including the latest products, direct shipping, auto-update quantity, multilingual product description, store integration, and worldwide shipping!
The extension page is : https://www.opencart.com/index.php?route=marketplace/extension/info&extension_id=36071&filter_category_id=19&filter_download_id=55