2015 is finally here!
The holiday season has come to an end (unless you're taking advantage of New Year's sales on your store) so it's time to start thinking about how your ecommerce store can grow and improve during the next year. No matter how well your store has performed over the festive period, it's important to remember that there is always room for improvement. Setting New Year's resolutions will motivate your staff and give you realistic areas to improve and targets to meet. No matter if you choose to take on one or all five of these resolutions, following these simple ideas will help to make 2015 your most profitable year yet.
Refresh your web design & product photography
You don't have to pay a fortune for a new, attractive website design. Small tweaks or a new theme can give your ecommerce store a modern, up to date look for the new year. Refreshing your web design can instantly improve your sales and give your store a professional feel. The better your product photography, the more sales you are likely to make. Generally, customers will make more purchases if a store displays multiple images of the product, offers large images and shows the product being used.
Urban Outfitters
are experts when it comes to product photography. By offering five different views of the top side by side the customer can instantly see what it looks like from all different angles. The blank backdrop and consistent sizing ensures that the page retains its professional, modern feel. For clothing retailers, showing a model wearing the product is a guaranteed way to increase sales.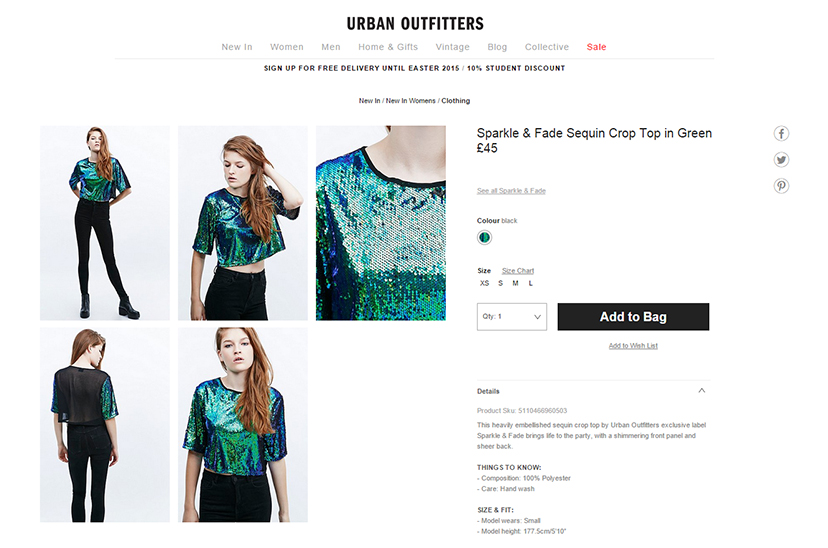 Reduce your response time
Customer service is key when running an ecommerce business. Online reviews of your store are more important than ever and can decide whether a customer makes a purchase or not. Aim to reply to all messages from customers within the first 24 hours of receiving them. Even if an issue will take longer for you to resolve, make sure to get in touch straight away and let your customer know that you have received their message and you are looking into the problem. This reassures your customers that they are valued and that the can relax whilst you find a solution. Remember to monitor all of your social media platforms as well as your website's contact form as customers will often use platforms such as Facebook and Twitter to contact stores.
Reward your existing customers
Generating sales isn't all about finding new customers. You're significantly more likely to attract repeat sales from previous customers than you are from brand new customer. Reward your customers for their loyalty through exclusive sales and discounts codes.
Online clothing retailer
ASOS
have developed their exclusive club, 'ASOS Premier' for repeat customers to use. For less than £10 a year, regular customers receive perks such as exclusive access to sales, a free monthly magazine, and unlimited next day delivery and returns. This affordable option encourages customers to return time and time again to the website and gives back to existing customers.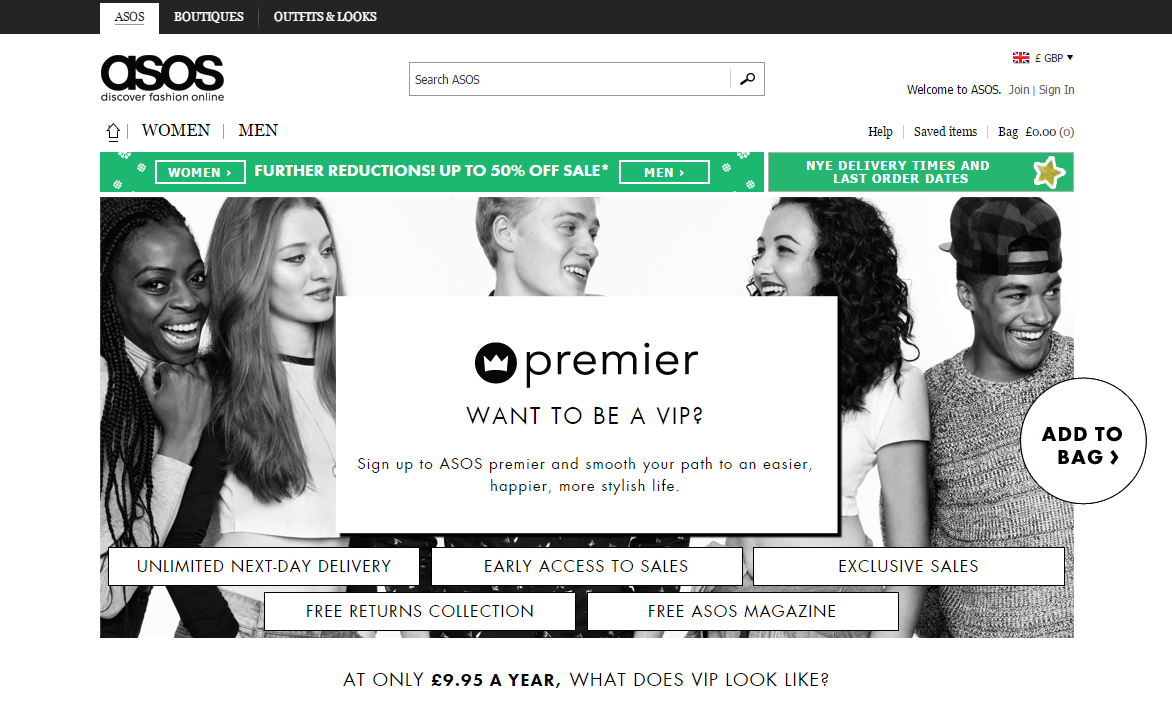 Use social media to create engagement
Social media is currently more popular than it has ever been, so it is the perfect time to use social media platforms alongside your ecommerce store. Particularly useful for clothing brands, image based platforms such as Instagram and Pinterest can be used by customers to show their purchases and share them with others.
Topshop
's have an excellent new feature on their website that shows a gallery of customers wearing their clothes. All you have to do is post an image on Twitter or Instagram using the hashtag #TOPSHOPSTYLE and your outfit will be shown on their website. This gives customers the chance to be featured on their favourite online store and increases the chance of their products being viewed by potential customers.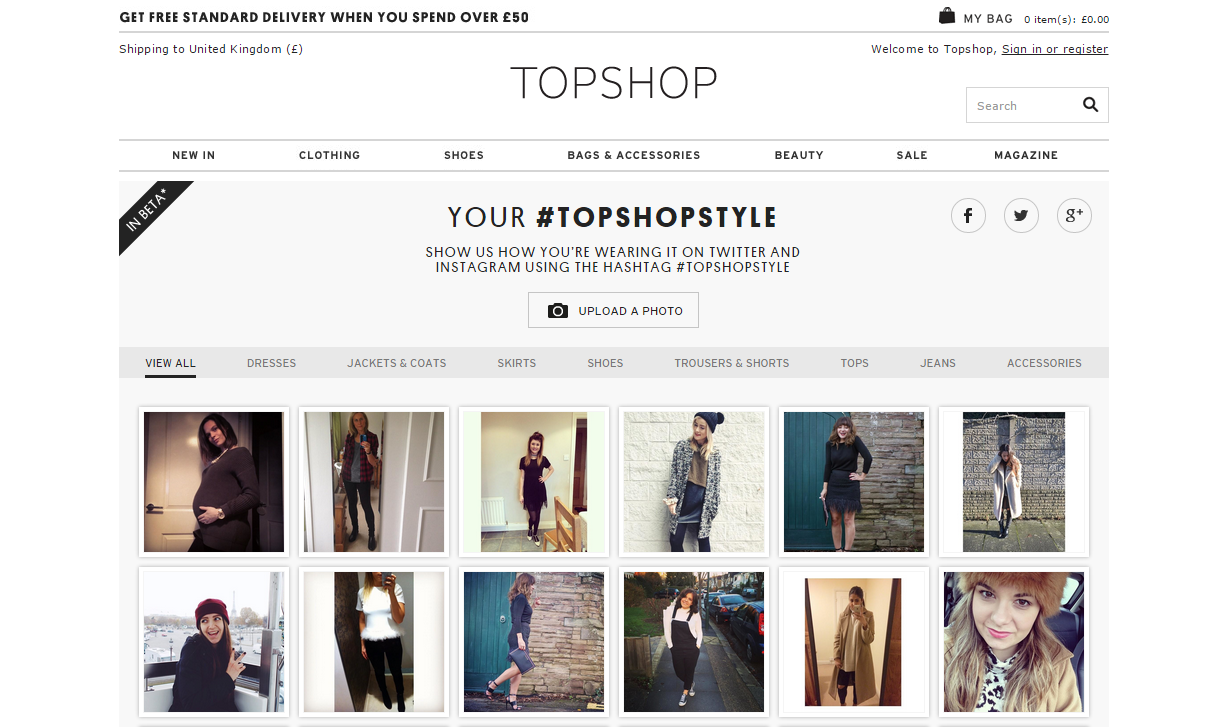 Get responsive
Every year we see a rapid increase in the use of smartphones and tablets when shopping online. If your ecommerce store is not yet responsive, it is vital that you make the leap into responsive web design as soon as possible. Although customers are still more likely to make purchases from laptops or desktop computers, many shoppers are now choosing to browse stores using mobile devices first.
Customers now expect all websites to be responsive and may choose a competitor over your store if they struggle to navigate your website on a mobile device. Making your store responsive isn't as difficult as you may think, so don't worry. If you aren't a developer, there are many recommended OpenCart development agencies listed
on our website
who will be more than happy to help you improve your store.
We'd love to hear what your plans for 2015 are. Leave your New Year's resolutions in the comments and we'll share our favourites on Facebook and Twitter.
From everyone at OpenCart, I hope you have a great New Year and wish you all the best for 2015!
Happy New Year!