Increase your traffic, sales and brand awareness with product reviews
Anyone that has experience in retail, be it online or offline, understands the power of word of mouth. Businesses that have succeeded in building a product or service that generates a lot of word of mouth is on easy street. Thankfully there is a service out there that can help even the small mom-and-pop shop turbo boost their word of mouth marketing and leverage user-generated content for massive returns. The service can be added to your OpenCart store within minutes. The service I'm referring to is Yotpo, the first truly social reviews solution. Yotpo is a free plug-and-play social reviews solution for OpenCart and many other e-commerce platforms. Yotpo helps online merchants generate tons of product reviews via an automatic mail after purchase email that is sent to customers a certain number of days after they have made a purchase. In this email is a form that customers can fill out in 1 minute which makes the process quick and easy and this results in tons of reviews being generated.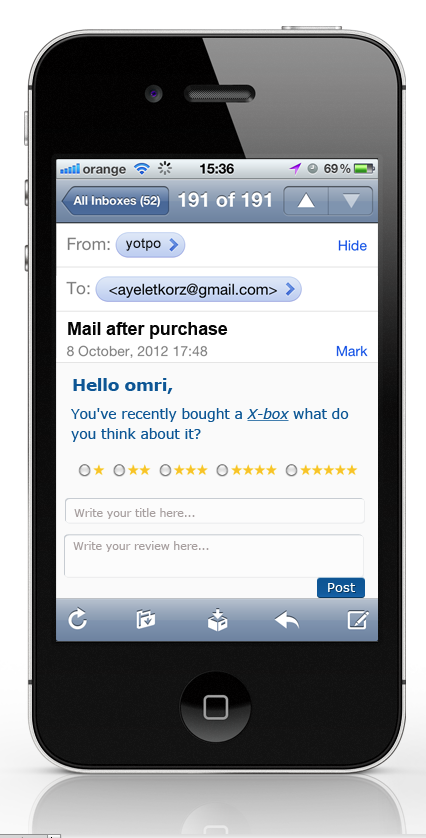 Example of Yotpo's mail after purchase email
Yotpo turns your customers into marketers
In addition to helping online store owners generate a lot of reviews, Yotpo provides a number of ways that users can leverage their reviews to drive more traffic to their sites and make more sales. Yotpo helps stores gain more social traffic and therefore more sales by prompting customers who write reviews to share their reviews on their social networks. Traffic which comes from these shares converts at a higher rate because there is already context between the new visitor and the product. Yotpo's social sharing feature allows you to connect your Facebook page and/or Twitter account to your Yotpo account. Once your social accounts are connected, Yotpo allows you to send reviews to your social networks automatically or manually. Depending on the size of your social communities you could increase your total traffic by over 8%.
Provide your visitors with validated reviews from past customers
Reviews generated with Yotpo are shown in a highly customizable widget that can be made to fit the look and feel of any website. Reviews which are generated through the mail after purchase email are displayed in the widget with a unique "verified buyer" badge. Reviews from verified buyers have the strongest effect on your visitors and will help increase your conversion rates, brand loyalty, and overall revenues.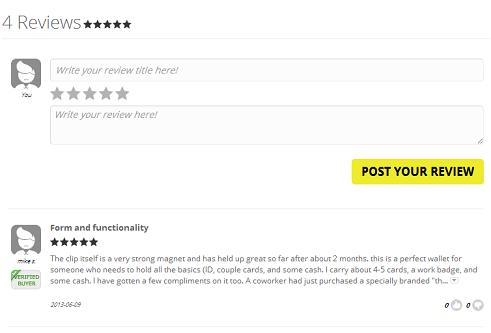 Everything from the stars of reviews to the color of the post button in the Yotpo widget can be customized to match the look and feel of any OpenCart store.
How to add Yotpo to your OpenCart store
In order for Yotpo to run, you will need to have vQmod installed. If you already have vQmod installed, you can skip this step. To download vQmode, click here. Download the latest version. Follow the install steps on the site and then return here.

Download the Yotpo add-on.

Unzip the file you just downloaded. Then copy the files from the unzipped folder, and paste them in the same folder path in your store. For example: copy the file from /admin/controller/module/yotpo.php and paste it to /admin/controller/module/yotpo.php in your store root folder. Now copy the rest of the files to their respective folders.

In your store's admin site, go to Extensions -> Modules. Here, find "Yotpo" in the list of extensions. Click "Install". Once the addon is installed, click on "Edit".

Create a new Yotpo account.

Enter your app key and secret in the fields on the Yotpo page in your OpenCart admin.

Disable the default reviews in your OpenCart admin. Yotpo has hundreds of OpenCart customers using the service. Register a free account with Yotpo and start making more money today.
About the Author:
Justin Butlion is the Content and Social Marketing Manager of Yotpo. Justin loves to blog about e-commerce, online marketing, web development and entrepreneurship. Check out his latest posts or contact him directly at justin@yotpo.com.