Adwords, Google's online ad system, is so user-friendly that merchants often choose to set up and run their ad campaigns by themselves, rather than using a marketing agency. Although AdWords ads are quick and easy to set up, a lot of beginners miss out on some essential and free features that can massively boost your campaign's performance.
Ad extensions - if you haven't heard of them before, listen closely; we're about to improve your campaign's click through rate by as much as 10%.
In this post we'll be looking at the 6 key ad extensions that you should definitely consider using on your AdWords ads. Ad extensions are additional pieces of information which can be added onto your existing ad to make it easier for users to find what they're looking for, promote your app, show your nearest store and even more. Not only that, but ad extensions also make your ad take up more room on the screen, giving you the opportunity to show a more eye-catching ad. Your ad extension may not be used every time your ad is shown and often only certain ad extensions will be shown at one time (this is down to Google's discretion) but enabling them is the first step towards a more optimised, more successful AdWords ad campaign.
Call Extension
If you take over-the-phone orders as well as online, the call extension is perfect for you. Your company's chosen phone number will appear with your ad; allowing users to call you in just one click directly from the search results. Call extensions have been shown to increase click through rate by 6% to 8% and cost the same as a regular click to your website does. Is your store only available to take calls between certain hours? No problem - AdWords allows you to choose the hours that you'd like to show your call ad extension and will not show it outside of those hours, even if your regular ad is still running.

Location Extension
If you have brick and mortar stores as well as your ecommerce store then you can show details about your nearest store, including:
Address of the store (with directions on mobile results)
Phone number (with a call button on mobile results)
Opening hours
Ratings
Showing your store location has shown to boost click through rate by 10% on average and can encourage shoppers to visit your store.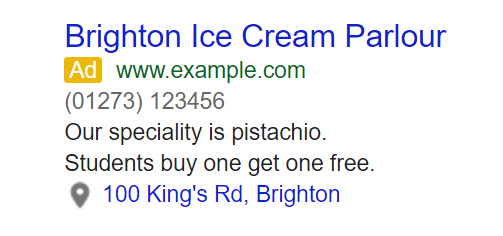 Sitelink Extension
Ever searched for something specific and then had to find your way through page after page of a website before you get to the page you initially wanted? Sitelinks make it quicker and easier for users to find the exact page that they're looking for by allowing you to show 2 to 6 (or up to 4 on mobiles) additional links on your ad. You can add titles and descriptions for your sitelinks, and even select specific mobile online links for your mobile shoppers. If you already have a large campaign set up and forgot to add sitelinks, don't worry: you can add them to existing ads by heading to the ad extensions tab.
Top tip: Add start and end dates to your sitelinks to help promote sales and offers on your store.

Callout Extension
Extend the size of your ad and add extra snippets of information about your store with callout extensions. These short and snappy bits of information are great for showing deal-making features of your store, such as free shipping or easy returns. Like other ad extensions, you can schedule start and end dates (making them fantastic for any sales you might be running) and you can create mobile specific callouts too. You can show 2 to 4 callouts per level (account, campaign or ad group), allowing you to experiment with a range of different options for your ad.

App Extension
If you also have a mobile app as well as your online store, app extensions are a perfect way to promote downloads and get more and more people using your app - clicks cost the same as your standard CPC too! Google's clever system also detects what operating system the shopper is using and shows them the right app (e.g. Android) for their device, making installing your app a hiccup free process.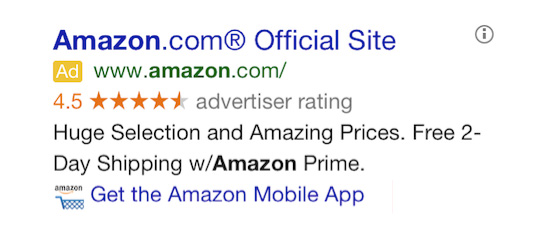 Review Extension
Fancy boosting your click-through-rate by as much as 10%? Easy - social proof has been shown time and time again to increase conversion rates on stores, so why not include those reviews in your ad too? Google's review extension allows you to enter quoted or paraphrased reviews from your customers (just make sure they have a viable source) to show under your ad. This not only increases your click through rate, but it can also increase trust in your store and boost sales.
Note: Review extensions are only currently available on desktops.

Do you use ad extensions in your AdWords campaigns? Share your tips and experiences in the comments section below!
Example images are provided by Google, find out more information on Ad Extensions at their
help site
.