The Ultimate Guide to OpenCart SEO - Part 3
First off, what is link building and why should you care?
Link building is the process of acquiring links to your website from other websites. Links are still one of the most powerful ranking factors within Google's search algorithm. The quantity and quality of links from other websites to your website can greatly impact your rankings and traffic within search engines. Just look at one of the key takeaways from
Moz's 2015 search engine ranking factor report
.
"Despite rumors to the contrary, the data continues to show some of the highest correlations between Google rankings and the number of links to a given page."
To say link building is important is an understatement. Link building is absolutely critical to improve your rankings and traffic from search engines. So what can you do to build links?
This article will answer just that and give you a few ideas you can use to start building links to your OpenCart store today. So let's get started…
Finding Relevant Websites to Acquire Links From
Before doing any outreach we first need to find potential websites to acquire links from. One of the easiest ways to find relevant websites is to search for a list of blogs. Why spend countless hour's manually finding individual blogs if someone has already done the hard work for you? Just search the following queries into Google and replace [keyword] with your specific industry or relevant topic.
Top [keyword] blogs
Best [keyword] blogs
List of [keyword] blogs
[keyword] blogs roundup
An online furniture shop, for example, would likely be interested in identifying interior design bloggers to reach out to. Let's search for "top interior design blogs" and see what comes up.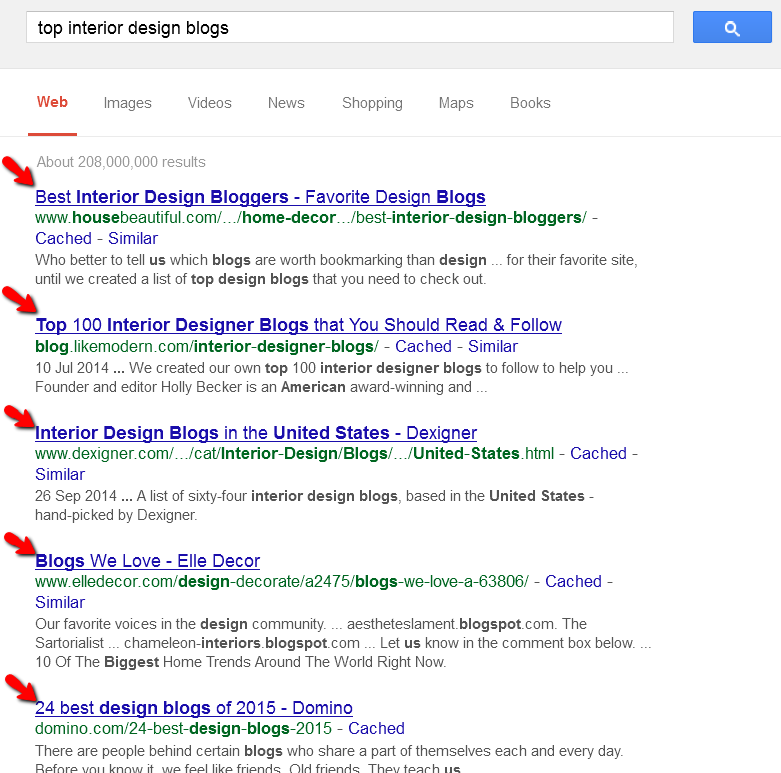 As you can see there are already plenty of articles listing the top interior design blogs. This allows us to quickly identify dozens of relevant blogs without having to spend time doing excessive research. The next step is to review each list and aggregate all the blogs into one long consolidated list. Excel or any other spreadsheet application can make this step very easy.
Some websites will provide more SEO value than others. You can easily check this yourself by using the
MozBar
to see the Domain Authority of a website. The Domain Authority is a score between 1 and 100 that shows how powerful the website is from an SEO perspective. The higher the Domain Authority, the stronger the impact it has on rankings.

This is a helpful metric when it comes to identifying which websites to reach out to first, or even which websites not to reach out to at all. As a rule of thumb, I usually only pursue websites with a Domain Authority of at least 30.
Okay so now you have a bunch of potential blogs you want to acquire a link from, what's next?
There are countless ways to get another website to link to yours. Some of which can be very effective while others might not even be worth their time. The web has plenty of great resources
listing nearly every link building strategy
imaginable but we'll just be focusing on the top 3 strategies that have proven to be the easiest and most effective for eCommerce websites.
1) Turn your Products into Links with a Giveaway
Product giveaways are an easy yet effective method for online retailers to build links. Many blogs are always on the lookout to provide value to their readers and online retailers need links to help with SEO rankings. Product giveaways are a win-win for everyone. So how does it work?
The first step is to email relevant blogs asking if they'd be interested in co-hosting a giveaway on their website for one of your products. This strategy usually works best for businesses that have products under $100 - $300 since the costs for high-end products can add up quickly. The larger the prize, the more interest you will receive from bloggers. You can either specify which product you'd like to use for the giveaway or leave it up to them.
Once the blogger expresses interest in co-hosting a giveaway it's time to setup and launch. Don't worry, it's easier than you think. Rather than trying to manually manage entries and everything else yourself you can use a free giveaway management platform such as
RaffleCopter
. These giveaway management platforms make it easy to get setup and handle all aspects of running your giveaway such as managing entries and selecting a winner.
How long should you run the giveaway for? I typically like to run giveaways for about 30 days before selecting a winner. Once the winner is selected just send the prize and that's it, you're done! These types of links are great for more than just for SEO. A successful giveaway on a blog with 1,000's of readers can result in a noticeable increase in referral traffic as well as additional email subscribers.
2) Discount Codes for Links
Another way to easily build links to your site is to offer a discount code in exchange for a link. Many bloggers are always looking to bring value to their readers and an exclusive discount code can be a great solution. This strategy tends to works best for OpenCart shops with higher margin products to account for the discount. Offering a discount in the 10-20% range seems to work best since bloggers usually don't find much value in any discounts below 10%.
The first step is to reach out to relevant blogs asking if they would be interested in a discount code for their website and readers. If the blogger agrees, you just have to create a customized code for their website.
For example, if I was approaching OpenCart with a 15% discount off all purchases I might want to create a code named "OPENCART15" or "OC15". This shows more value to the blogger and their readers since they are receiving an exclusive discount code. These coupon codes can be created in the admin dashboard by navigating to "Marketing" and then to the "Coupons" page.
One of the many benefits to OpenCart is that is has strong reporting capabilities and can easily show the number of times a coupon code is used. This report can be found in the admin dashboard by navigating to "Reports", then to "Sales", and finally to "Coupons."
Links from discount codes can also send referral traffic and direct sales when mentioned on sites with many engaged readers.
3) Leverage your Expertise with Guest Blogging
Guest blogging refers to writing unique articles on relevant blogs and is an effective way to build links to your website. In fact, the article you're reading write now is technically a guest post (thanks OpenCart!). Often times these articles include a link within the article content or author byline which can help improve search engine rankings. The effectiveness of guest blog posts have been debated in recent years since the strategy has been abused by spammers, but it is still a viable link building strategy assuming the following is true.
The article is unique, well-researched, and well-written.
The blog is relevant to the linked to website.
The blog contains quality content and provides value to users.
Low quality guest posts on blogs that cover everything from title loans to debt consolidation can get you into trouble. However, a quality guest post can be very effective in improving search rankings while also increasing brand awareness and sending referral traffic.
To get started guest blogging you first need to have potential blogs to reach out to. The Link Prospecting section above should have helped you uncover plenty of relevant blogs to target but we're going to take our prospecting a step further. Here are a few additional search queries you can use to find blogs which accept guest posts. This can save a lot of time during the outreach phase since it weeds out relevant blogs that don't allow guest posts. Just be sure to replace [keyword] with a keyword related to your industry or niche.
[keyword] "Write for us"
[keyword] "Guest post"
[keyword] "Infographic"
[keyword] + intitle:"write for us"
[keyword] + intitle:"contribute to"
[keyword] + intitle:"submit" + inurl:blog
inurl:guest-post + [keyword]
inpostauthor:guest + [keyword]
When pitching bloggers on a guest post there's a few things you can do to improve your response rate.
Provide a brief overview of your experience and qualifications. Let the blogger know why you're qualified to write on the subject.
Link to any articles you've written in the past. This helps show bloggers that you are knowledgeable and makes it much easier for them to trust you as a contributor to their website.
Propose a few topics that the blogger might find interesting. This can make it easier for bloggers to agree to your guest post request.
Keep it short and to the point. Many bloggers are very busy and get emailed all the time. If your email is too long they may just ignore it altogether.
Even with the right strategies and tactics, link building can still be a difficult process. Luckily, there are a few tools that can help streamline the process and save you time.
Boomerang for Gmail (Free)
Boomerang for Gmail
is a very effective tool with uses that extend far past link building. Assuming you're using a Gmail account or Google Apps for business, it allows you to easily set follow up reminders on your emails. This is critical when doing link outreach since many bloggers and webmasters won't respond to the first email. Often times it takes two or more emails before getting a response.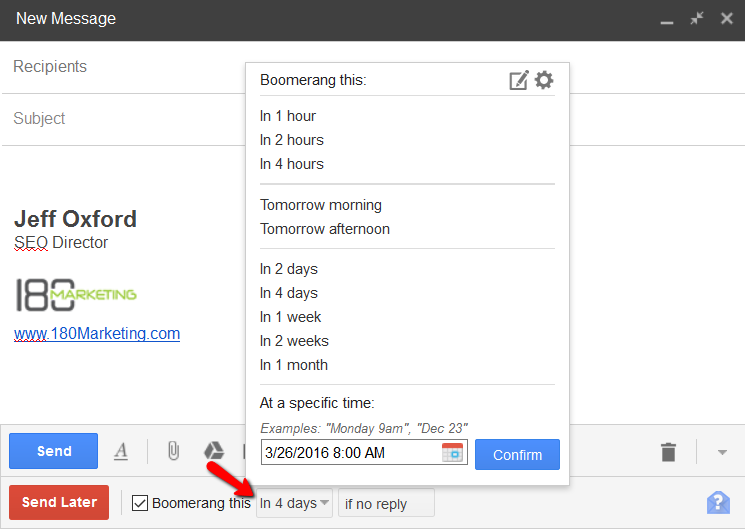 How does it work? Just check the box at the bottom of the message, set the reminder duration, and Boomerang will automatically pop the email to the top of your inbox if the blogger doesn't respond within the specified time. This make it much easier to follow up with bloggers and webmasters for links but many users also use it to follow up with employees, contractors, potential clients, and more.
Boomerang also has some other helpful features such as scheduling messages and even setting reoccurring emails.
One of the best ways to increase the response rate from link prospects is to personalize the email. Just a sentence mentioning something about their city, job, company, a recent tweet, or a recent post can go a long way. This is where
Rapportive
comes in.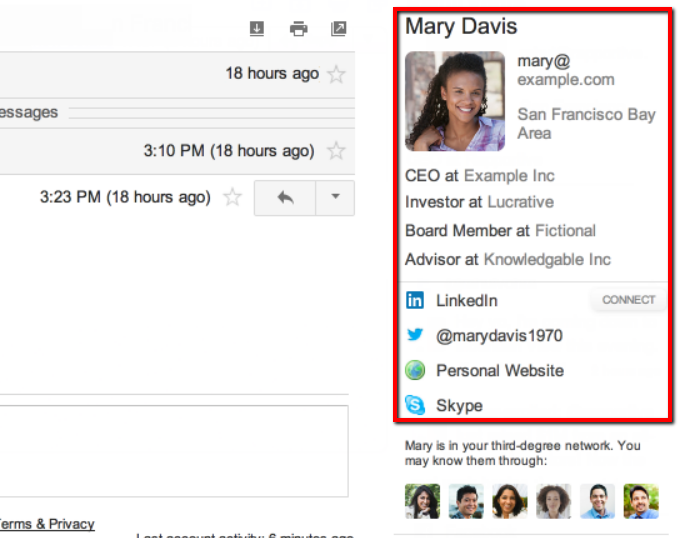 Once you enter the prospect's email address into the "To:" field, Rapportive will work its magic and automatically show you information from their LinkedIn, Twitter, and more. This makes personalizing emails a breeze and saves time researching prospects, especially when reaching out to dozens or even hundreds of prospects.
If you're looking for a simple tool to save you time from copy and pasting your emails then look no further than Canned Response. It's a simple tool that allows you to easily create and insert email templates right within Gmail. Just create an email template for each of your link building strategies (giveaways, discount code outreach, guest blogging, etc.) and then select them from the menu when you're ready to start your outreach.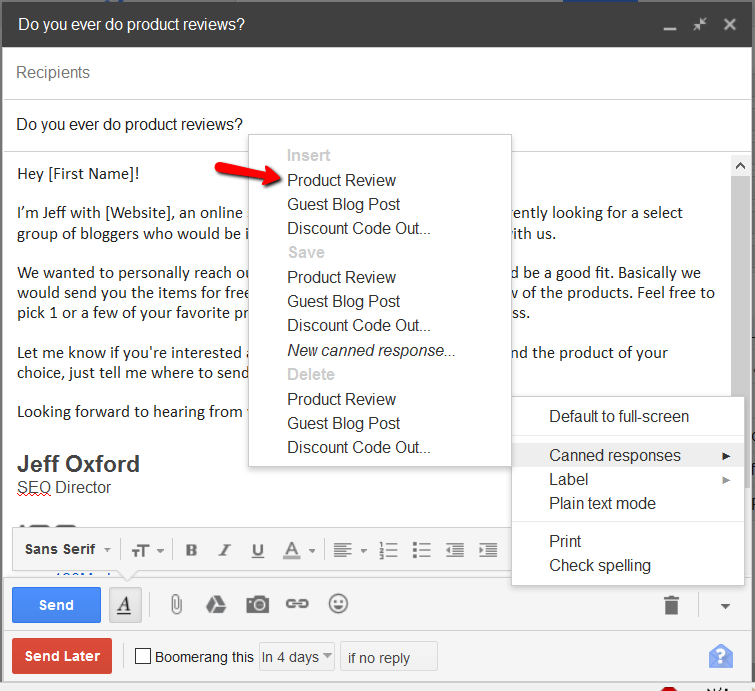 It might not sounds like much but this can be a huge timesaver when reaching out to link prospects, especially when emailing dozens or even hundreds of people. To get it, just click the "Settings" button in Gmail and navigate to the "Labs" tab. From there just look for "Canned Response" and select the "Enable" radio button.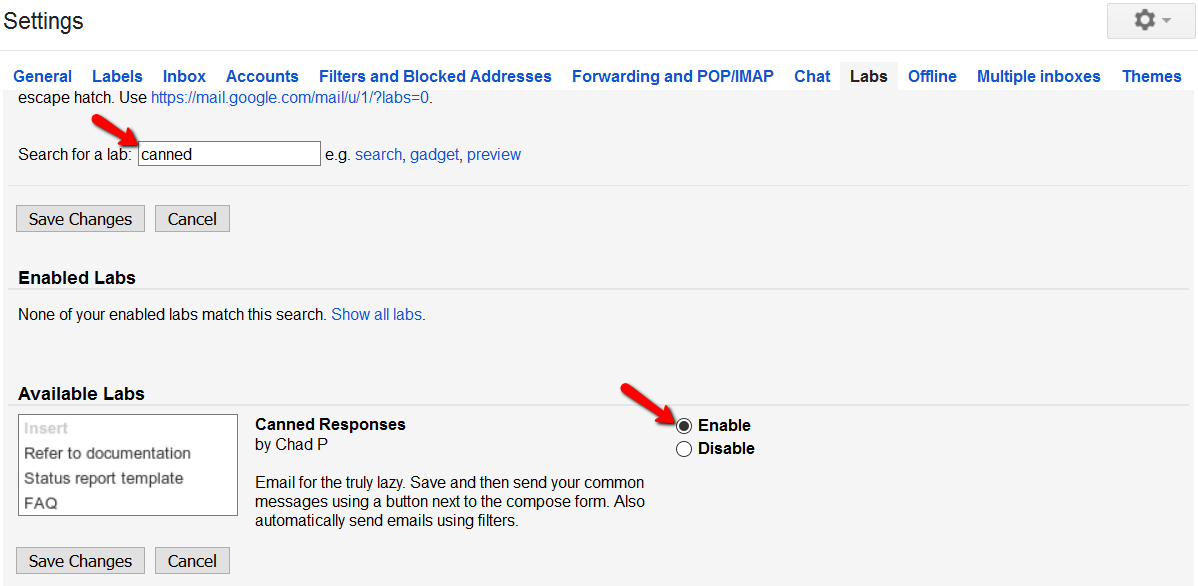 BuzzStream (Free Trial then $19+/mo)
What if you have multiple people doing link building? Or you don't want to overlap with the outreach efforts of your social media or PR team? Or maybe you just need something a little more powerful? Well
BuzzStream
might just be exactly what you're looking for.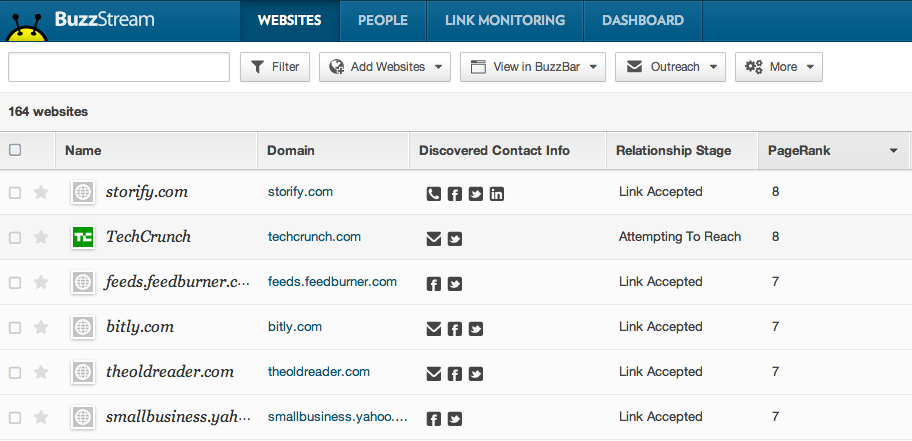 BuzzStream is an all-encompassing link building platform with a long list of features to make link building as efficient as possible. It combines the functionality of the previously mentioned tools while also adding many more. Here are some of the most helpful features that make it worth taking a look at.
Searches the web for link prospects based on your keyword(s).
Can automatically detect email addresses of potential bloggers and webmasters.
Ability to create and manage lists of link prospects. This is especially helpful when reaching out to different niches.
Send emails directly through BuzzStream. It has a convenient outreach mode that makes it easy to personalize and send lots of emails.
Create and store email templates. It also keeps track of the response rate of each email template.
Now that you're equipped with a few link building strategies and handy tools it's time to start building links. It might take some time and effort before the links start to come in but rest assured, the increase in traffic and sales will make it all worth it. Good luck!
Jeff Oxford is an eCommerce SEO expert who specializes in OpenCart websites. He has helped eCommerce businesses increase revenue through SEO for over 5 years. Find out how he can help improve your rankings and traffic by visiting 180 Marketing or contacting jeff@180marketing.com.
This guest blog post has been provided by Jeff Oxford. OpenCart holds no responsibility for any claims or opinions made in this blog post.