Today, many retailers market their merchandise online via the virtual marketplace. This tactic helps them promote their business in a more cost-effective manner and reach customers without any geographic limits. As the process of building an online store from scratch takes a lot of time and effort, the majority of merchants resort to eCommerce platforms. Endowed with various functionalities, these engines make it easier to create, run, and update e-stores.
Currently, you can find a multitude of eCommerce platforms meant for businesses of different sizes. If you own a medium or small-sized store, OpenCart is one of the most suitable choices to drive your site. Just install this open-source system for free, choose an appropriate template, add items to it from your inventory, and you will have a ready-to-use e-store. Any time you come up with a question, you will find useful advice in comprehensive documentation, forum discussions and video tutorials available on the web.
OpenCart offers a wide array of features that can help your e-store gain a competitive edge in the virtual market. To list some of them, the platform allows retailers to manage multiple stores from a single admin panel and supports an unlimited number of products, categories and manufacturers. With its aid, you can also set up different tax zones enabling international buyers to pay taxes officially imposed in their countries. Next, OpenCart comes with many payment gateways covering any requirement, e.g. PayPal, LIQPAY, PayPoint, Skrill, NOCHEX, and others. This and much more will be accessible to you if you choose this engine for your eCommerce site.
Where to Find OpenCart Templates
As soon as you complete the installation process, you will need to think about the design for your store, and there are two alternatives. If you have an unrestricted budget, you may consider the possibility of ordering a custom design for a considerable sum of money, but those of you searching for a more affordable option should consider using a ready-made template. There are multiple OpenCart templates on the web, but their quantity, quality and cost vary greatly. In this post, we would like to focus your attention on some of the most reliable sources of OpenCart designs. Please check them out below.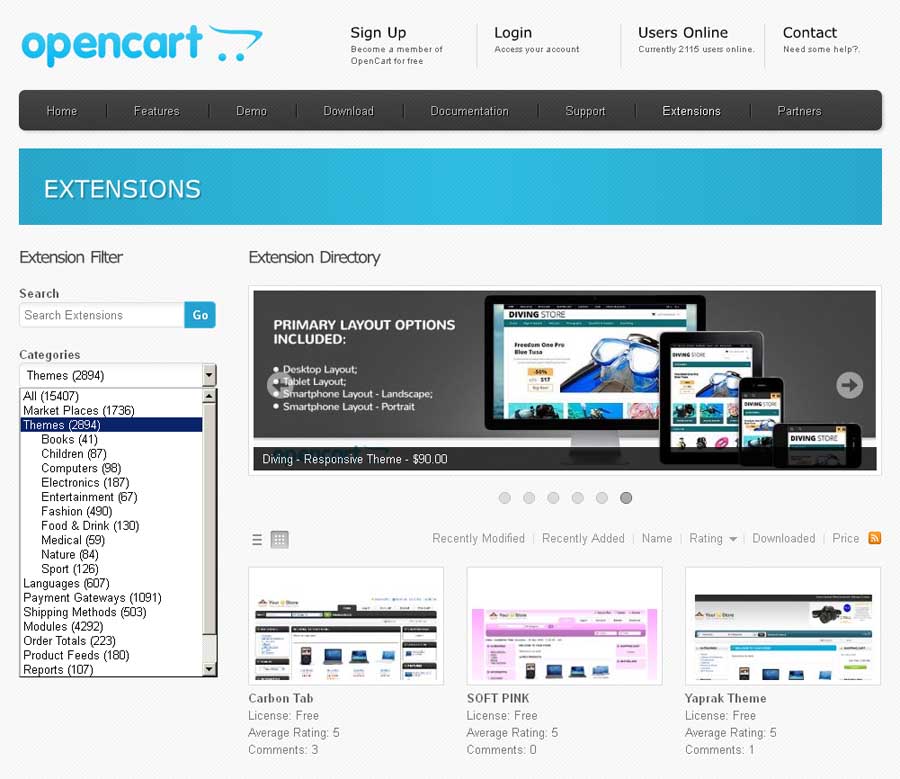 There is a huge selection of OpenCart templates on the official site of this platform. To be more accurate, right now, opencart.com contains more than 2800 options developed by different companies. Some of them are available for free, while others are premium, which means you can choose a template depending on your budget. To facilitate your search, it's possible to arrange items in the most convenient order according to the following preferences: price, rating, name, recently modified, and recently added. You can also filter them by the OpenCart version and see comments left by buyers. Enter opencart.com to check for yourself what this resource offers.
* * *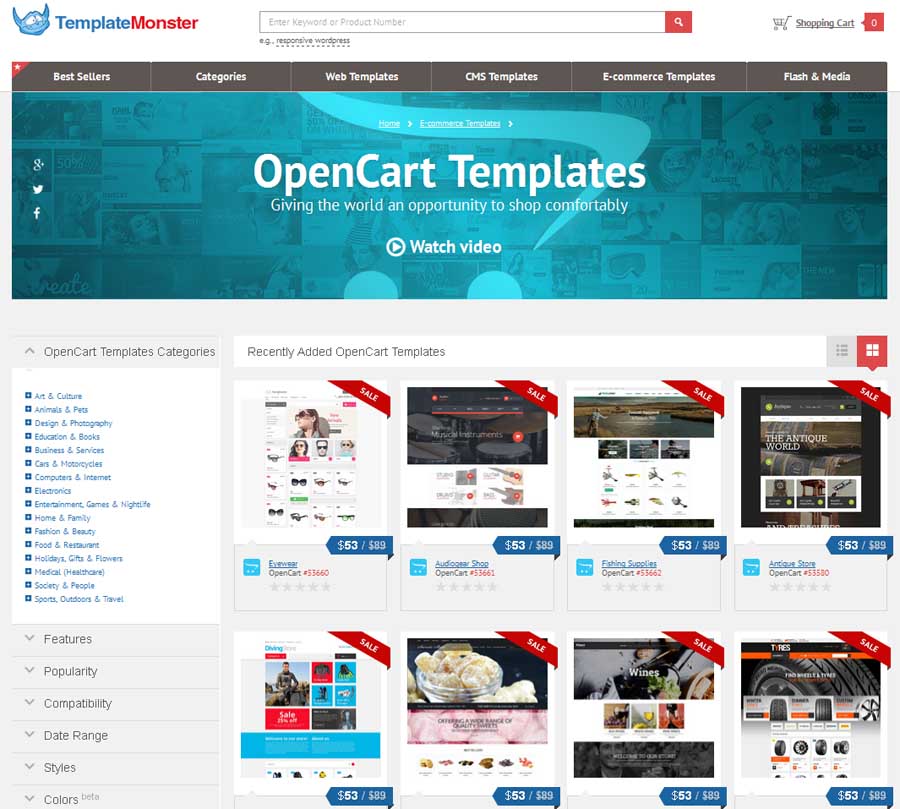 Another place to look for OpenCart templates is templatemonster.com. The company started developing them in March, 2012, and, since then, has built a rich collection of over 500 premium designs. They embrace a wide range of business fields (art, business, electronics, fashion, medical, etc) and styles (clean, flat, minimalist, retro, grunge, etc). In addition to the fields and styles, the templates can also be sorted by features, such as popularity, compatibility with OpenCart versions, colors and date. To give a general idea about TemplateMonster offerings, they are fully responsive, cross-browser compatible, optimized with a lazy load technique, and integrated with vQmod and social options. Proceed to templatemonster.com to learn more about the features of its premium templates.
* * *
20 of the Top Modules to Extend the OpenCart Functionality
OpenCart is a module-based eCommerce system, which means its functionality can be even richer than it is by default. There are a lot of tools out there to enhance your e-store with many more functional capabilities, so don't hesitate to look through our set of the 20 OpenCart modules covering different applications. As the number of old-school users of OpenCart 1.5 still competes with the number of modernists preferring OpenCart 2.0, we have included in our collection modules compatible with both versions of the platform.

Chatnox is a live chat system that is easy to set up, customize and use due to the multitude of functions. With their aid, you can see a list of your website visitors, send them chat invitations, allow them to rate your customer service, and get detailed statistics for your website activity. The plugin also has the option of mobile instant messaging and offline messaging, which will come in handy each time you are away from your computer. https://www.youtube.com/watch?v=gEuXpJOxA6w How to install a Live Chat system on the new OpenCart 2.0
* * *

Social Media Bundle can help you boost the conversion of your OpenCart-based store by integrating it with social networks. This pack comes with modules that let visitors log in via their Facebook, Google+, Twitter and Instagram profiles. These tools minimize the time required for customers' registration. There are also modules allowing people to leave comments on your site via Disqus, Facebook and Google+.
* * *

Enhance your e-store rankings on the SERP by means of this full-featured module. It comes with multiple generators of SEO-friendly data including URLs, custom titles, product tags, image names, meta keywords, meta descriptions and others. Moreover, there are rich snippets for both search engines (Google, Yandex, Yahoo, Bing) and social networks (Twitter, Facebook, Pinterest).
* * *

Advanced Product Review Manager allows buyers to evaluate different criteria of your merchandise, delivery time, and customer support. They can also add their own pictures of the acquired items, set star ratings on them, as well as list their pros and cons. What' more, this extension makes it possible to sort reviews, recognize them as helpful, and even share them in social media. If a certain review has foul language or some other unacceptable content, you can easily edit it.
* * *

Smart Search provides you with an opportunity to make your website search more accurate and deliver the most relevant results to its visitors. By means of this OpenCart module, the search of products is carried out in 4 stages: items with an exact phrase, all the keywords spelled correctly, all the misspelled keywords, and any misspelled keywords. There is an option to choose product fields for searching, e.g. name, description, model, location and many others.
* * *

When your website search doesn't bring any results, this extension will help you retain shoppers on your eCommerce site. It is meant to show them a list of some other products from your inventory, which considerably increases a chance of a purchase.
* * *

This pro OpenCart extension with an advanced user interface allows for creation of shipping rates. You can calculate them based on the following factors: quantity, weight, volume, total, distance, and dimensional weight. The tool can also enable you to limit shipping costs to certain geographic areas, postal codes, stores, and groups of customers.
* * *

Here is a module to create a large menu panel, with items arranged in different columns. Once your website visitors click on the mega menu, they will see a lot of information including product images in addition to website links. This navigation tool can greatly improve the usability of your e-store. Supplied with many configuration options, it will also help you create a menu incorporating the desired parameters.
* * *

Use this module to add smart deals, promos, and offers like "Buy One, Get One Free" to the site of your store. You can display them anywhere throughout its pages and create an individual page so that customers could explore all of them in one place. The tool features options to compliment promos with images, banners, descriptions, terms and conditions.
* * *

iAnalytics is a lightweight yet advanced module that will help you keep track of customers' actions on your eCommerce site. Integrated with Google Analytics, it provides an insight into conversion rates of your store, most searched keywords, most found items, queries that brought no results, and much more. All the info is displayed on clear-cut charts and can be accessed with only one click.
* * *

When shoppers see that a desired product is out of stock, they just leave a store, and a retailer loses a sale. Using this extension, you can keep customers informed about new arrivals of the products they wanted to obtain. Once a certain item is in stock again, the tool automatically sends them a notification about it via email or SMS.
* * *

Advertise your inventory to foreign buyers by means of this OpenCart module. It detects visitors' locations and, based on their IPs, shows the content in their regional language and currency in their country's monetary unit. When people enter your site, they will also see a popup at the bottom, which will let them fine-tune language and currency settings manually.
* * *

Incorporate Brainy Filter into your e-store functionality to help shoppers find desired items faster. This module will allow them to sort products by keywords, manufacturers, attributes, prices, rating, and availability in stock. It has been tested on devices utilizing such operating systems as Android, iOS, and Windows Phone.
* * *

Enable this module to facilitate the procedure of authorization for both new and regular customers. With this Ajax popup, people can register on your site or log in to their existing accounts right on the page where they are at that moment. In that way, they can avoid an unnecessary move of proceeding to a new page and then returning to the target one.
* * *

Let your customers spread the word about your online store and its merchandise by sending a recommendation letter to their friends. Once you install this extension on your site, visitors will see a popup form in the middle of the browser window. They must add their and the recipient's emails to that form and can also optionally mention their names, specify the letter's subject and write a brief message.
* * *

It is a common practice among online shoppers to fill their carts with multiple items, but for some reason they just leave them in the end without making a purchase. Thanks to this module, you can send them a reminder about their abandoned carts and, what's more, add a coupon there. Such a strategy will help you motivate people to buy the desired products more effectively.
* * *

Do you want URLs of your product and category pages to work properly each time you change their SEO keywords? Then, this extension is just the job for you. With its aid, you can embed URL redirections in your e-store via the OpenCart admin panel. The tool is easy to use and requires no technical knowledge to create URL redirections.
* * *

Here is another cool module designed to improve shoppers' experience on your eCommerce site. Using it, you can create the list of orders with an extra column featuring the products that a certain customer has already bought. There is also a handy option to sort orders by the acquired items.
* * *

If you'd like to represent yourself as a knowledgeable person in your business niche, a blog is definitely a must-have for you. And you can introduce this functionality into your e-store using this module. It features a flexible admin panel and user-friendly layout with a lot of space for articles, comments and tags.
* * *

The last OpenCart extension listed in our collection can automatically apply both image and text watermarks to your product pictures. The module provides customizability, which will let you choose a desired font and color for the watermark as well as placement and rotate it the way you like. You can also set it on all the product images or only on those belonging to certain categories of your e-store.
* * *
We hope you will find our info about template marketplaces and modules both interesting and informative. As you see, OpenCart users can benefit from multiple opportunities to enhance their e-stores, so don't overlook them. Do you know some other useful OpenCart resources? Then, don't hesitate to share your knowledge with us!
This blog post has been sponsored by Template Monster. Please note that whilst OpenCart recommends Template Monster, all views and opinions in this blog post belong to Template Monster and are not those of OpenCart. OpenCart is not responsible for any opinions or claims made in this blog post.