The growth of ecommerce over the last decade has made shopping easier than ever. Customers can now order gifts from around the world and complete their Christmas shopping without even leaving their sofa. No seller will be surprised when I say that the next three months are going to be the busiest of the year, so it's an ideal time to expand across multiple marketplaces.
With your competitors simply a click away, your customers can browse multiple websites in search of the best deal. The introduction of large online marketplaces such as eBay, Amazon and Etsy has given customers a group of perfect shopping comparison platforms.
Amazon, eBay and Etsy have quickly become household names and are often the first websites that customers head to when looking for a gift. Their popularity places trust in any sellers on their marketplace and encourages customers to complete a purchase. With this in mind, many ecommerce store owners are choosing to run Amazon, eBay and Etsy stores alongside their OpenCart store. It's simple: the more exposure your products have online, the more likely it is that they will be seen and purchased. This increased exposure will also benefit your brand awareness and drive more traffic to your store.
If you already have your products listed on multiple marketplaces, you will know how time consuming and stressful manually updating stock levels, adding products and processing orders can be. As the holiday season draws closer and your stores get buiser, it's extremely important to keep your stores up to date. Running stores on multiple marketplaces can be surprisingly easier than you think.
OpenBay Pro
, an essential multi-marketplace tool for OpenCart, gives you a single dashboard for managing products and monitoring sales across all marketplaces.
The seamless link created by OpenBay Pro ensures that your orders and stock levels are automatically synced across all shopping platforms. This dashboard lets you view all of your items and orders from your OpenCart, eBay, Etsy, Amazon EU and Amazon USA stores directly from your OpenCart store's admin area.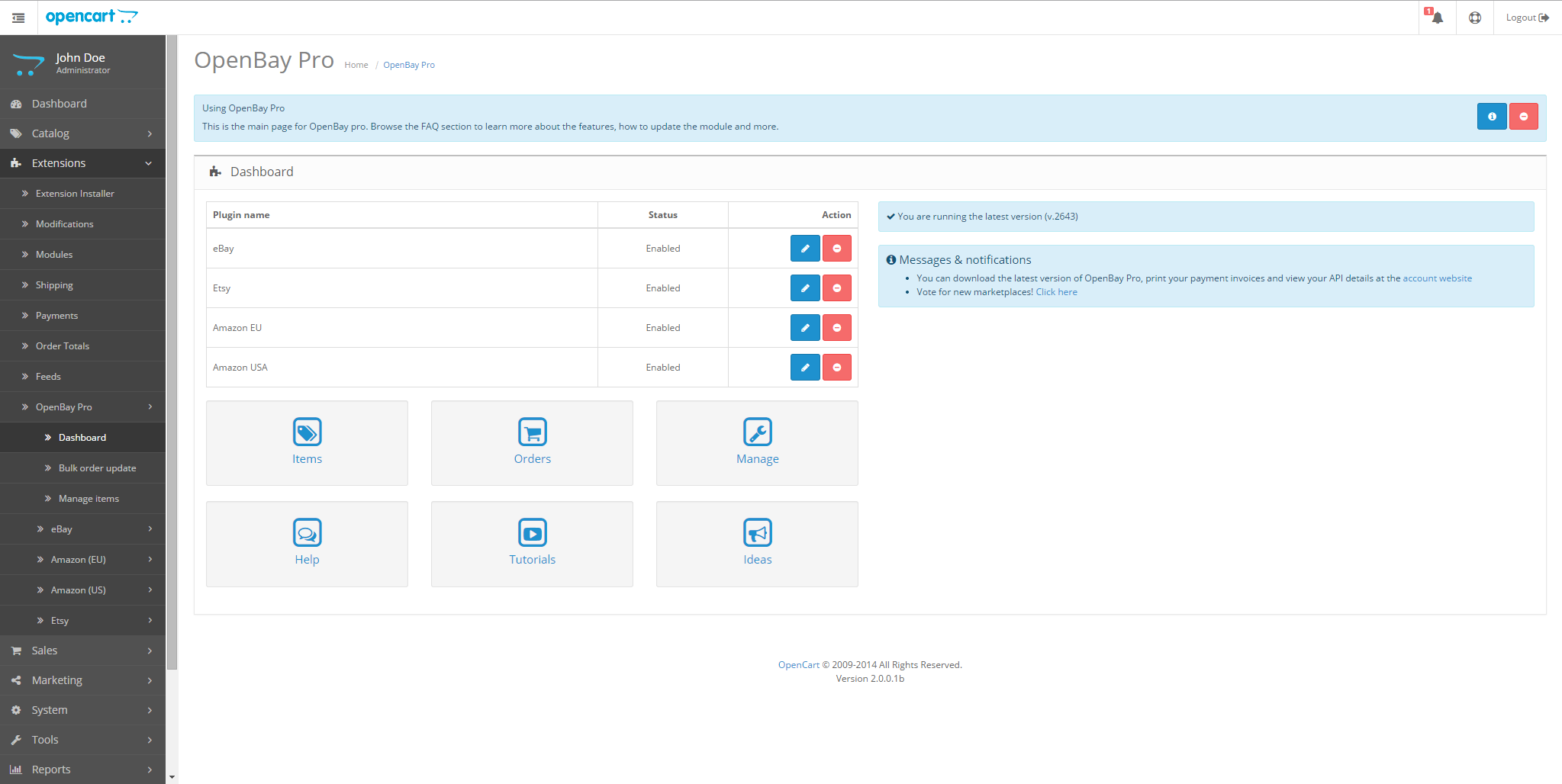 OpenBay Pro has been designed to save OpenCart store owners time and make selling across multiple marketplaces as efficient as possible. Simply list your products once, on OpenCart, and push your products to the other platforms - it's as easy as that.
If you're using a new version of OpenCart (1.5.6 or above) then OpenBay Pro is already waiting for you in your store's admin area. For OpenCart 1.5.1.3 to 1.5.5.1 users, you can
download OpenBay Pro for free
from the extension store.
Choose a plan
that is perfect for your business and you'll be up and running in no time at all.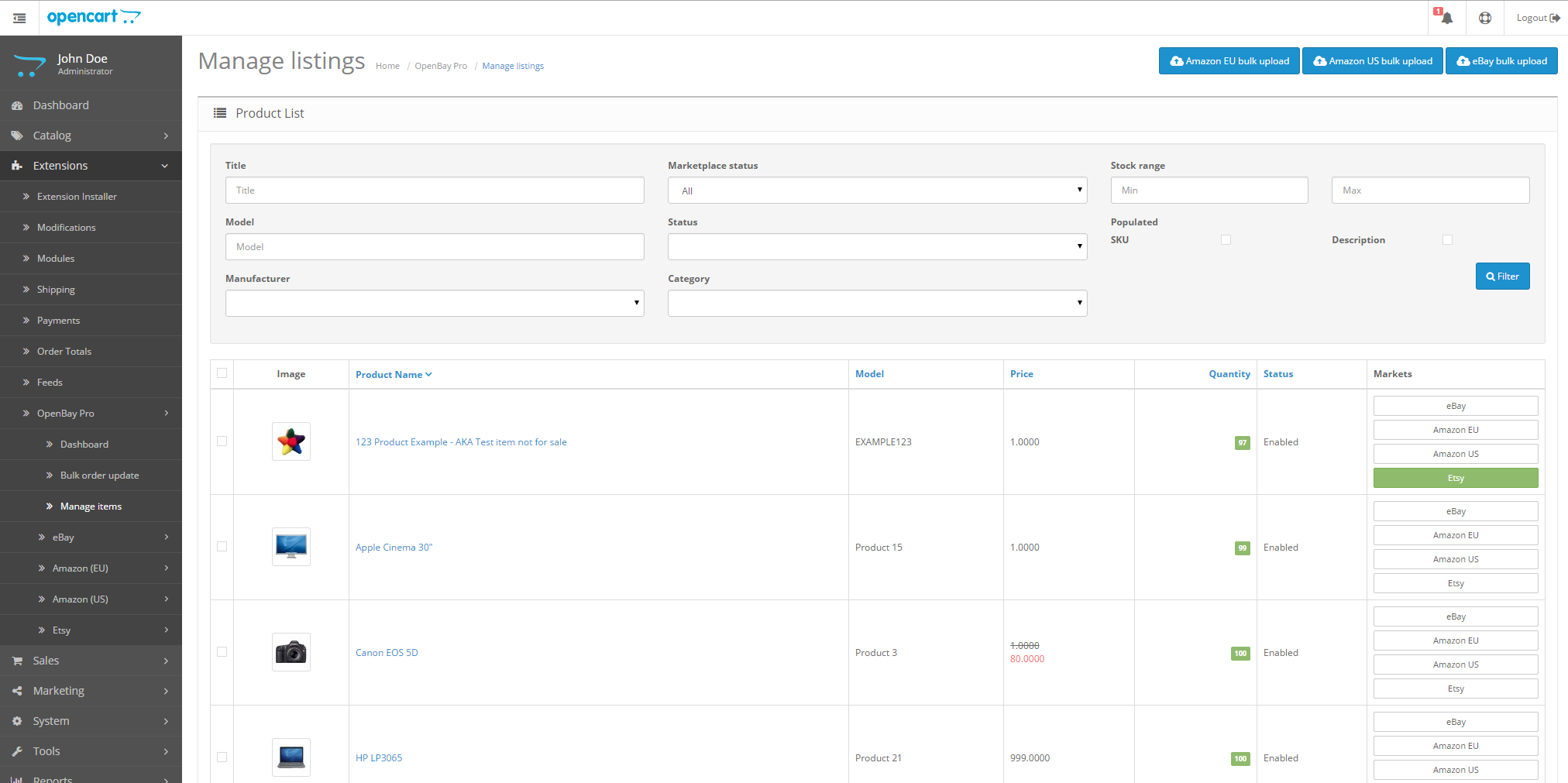 New for OpenCart 2.0, you can now link your OpenCart store to Etsy; the fourth marketplace to be included in OpenBay Pro. Etsy, one of the fastest growing marketplaces available, is particularly useful for businesses who sell craft products, vintage and handmade items, art, or homeware. The extremely user-friendly store design and listing process makes this marketplace perfect for both new and experienced sellers. Selling across multiple marketplace is a guaranteed way to increase your sales, and the OpenBay Pro team are here to help you through every step. Sign up for OpenBay Pro now to make selling over the holiday season easy and stress free.

This blog post has been sponsored by eCommerceHQ.
Please note that whilst OpenCart recommends eCommerceHQ, all views and opinions in this blog post belong to eCommerceHQ, and are not those of OpenCart. OpenCart is not responsible for any opinions or claims made in this blog post.
*This voucher entitles you to 50% off OpenBay Pro eBay subscription fees for the first three months of your subscription. Full price fees will resume after 3 months. Valid until 31.12.14. Voucher only valid once, one voucher per store. Only for use with OpenBay Pro eBay - this voucher is not valid for use with OpenBay Pro Amazon. Valid only with OpenCart. This discount is valid across all OpenBay Pro plans & is valid for new customers only. Voucher cannot be used in conjunction with any other offer. This voucher cannot be sold and has no monitory value. OpenBay Pro reserve the right to discontinue or refuse this offer at any time.