Why not make 2018 the year that you really kick your online business up a gear! Find the right OpenCart theme and the possibilities are endless, but where to start? Just for you, we've put together a run-down of the top 20 OpenCart themes for transforming your online business in 2018. Take a look and find the one that's right for you:
#1.Sellegance - Responsive and Clean OpenCart Theme
Great for online stores of all kinds, with its clean design and well thought-out shopping cart, Sellegance promises to convert browsers to buying customers, giving them a great experience from start to finish. Built with mobile users in mind, it also looks stunning on desktops and tablets. Sellegance is stress-free for you, too, as no HTML/CSS knowledge is required to get started. No hassle, just straightforward elegance.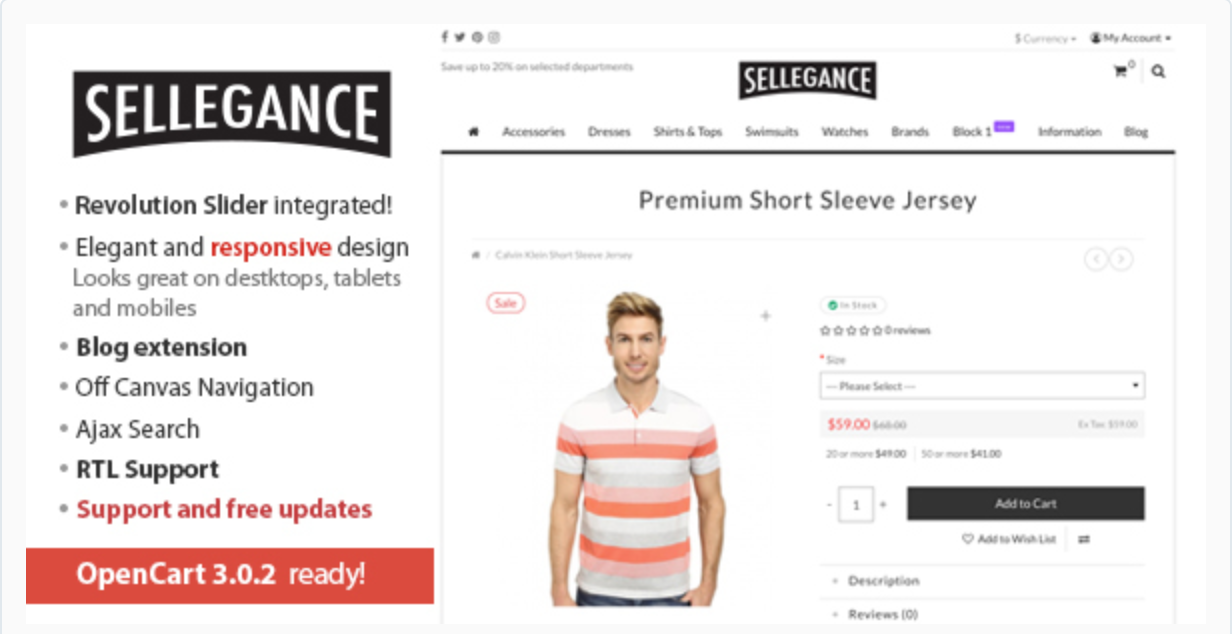 #2. Sellya - Multi-Purpose Responsive OpenCart Theme
If full creative control is what you're looking for, this is a stand-out choice. Sellya offers over 300 custom build options at your fingertips, without any knowledge of HMTL or CSS. The vast range of colors, background patterns and fonts invites you to build a great looking site for any online store, and you can be sure that your design will translate well across desktop, tablet and mobile.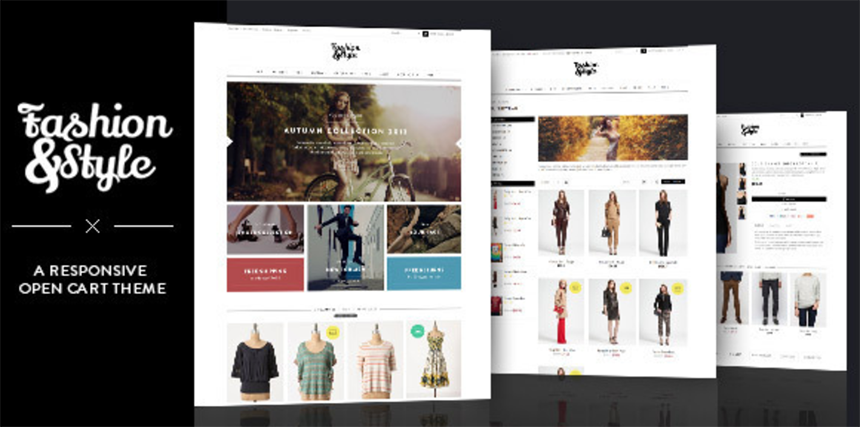 #3. Pav Fashion - Responsive OpenCart Theme
The clue's in the name – Pav Fashion is an ideal theme for clothes and shoe retail sites. Its combination of colors and textures and its logical structure culminate in a glamorous and elegant appearance. Fully responsive, customizable and simple to use, Pav Fashion offers unlimited theme profiles and is a great choice for presenting your fashion collections on any device.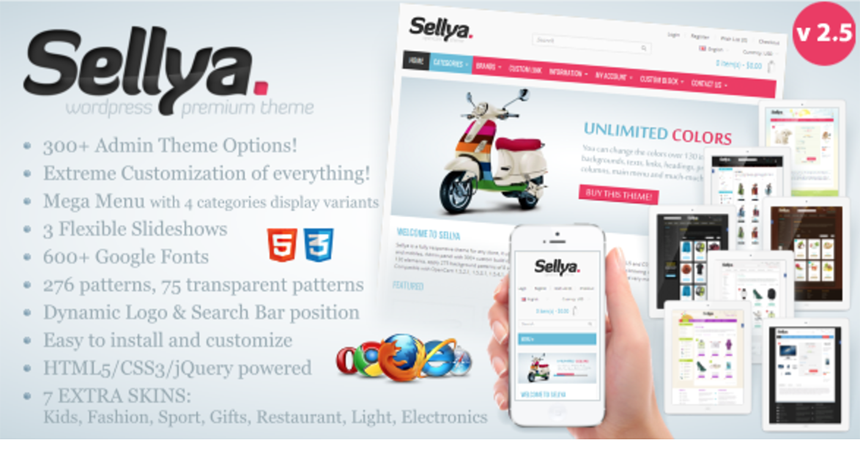 #4. OXY - Multi-Purpose Responsive OpenCart 3 Theme
This theme is all about attention to detail. Very popular for its usability, OXY is easy to install and configure, with a comprehensive admin panel that offers over 1000 features, options and settings. This is a modern, fully responsive theme, with 17 modules, allowing a high level of customization for any type of online store.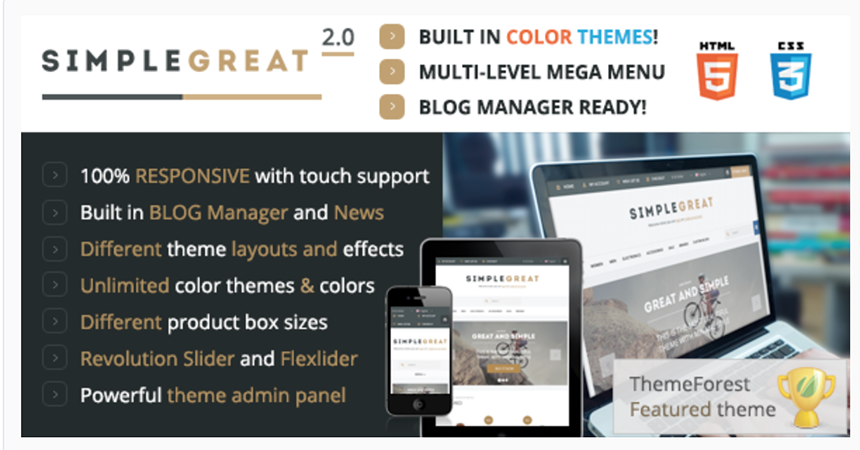 #5. SimpleGreat – Premium Responsive OpenCart Theme
SimpleGreat is a versatile and comprehensive theme. It gives you over 300 configuration options, including hundreds of theme settings and effects, and over 500 fonts. One of the real selling points of SimpleGreat is its intuitive admin panel, making the building and maintenance of the site almost as enjoyable as the shopping experience!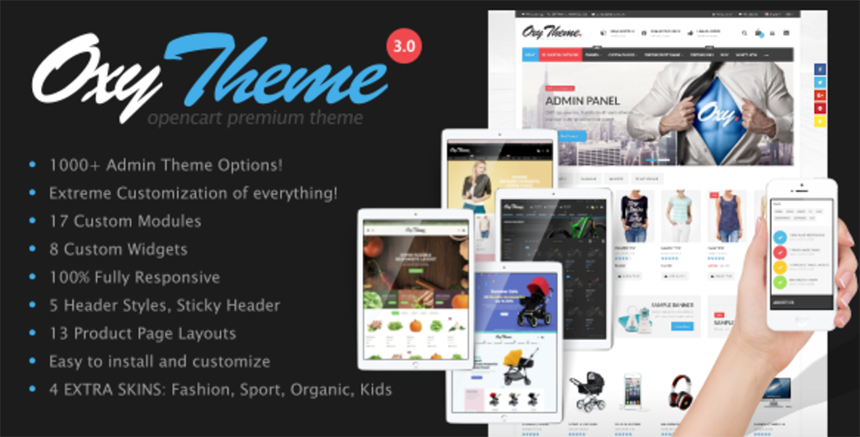 #6. NaturalFood - Responsive OpenCart Theme
NaturalFood gives you the tools to create a professional e-commerce site in no time and, despite the name, it doesn't restrict itself to online grocery and produce sales. With a good choice of styles already available, and even more in the pipeline, NaturalFood offers unlimited colors and fonts, customizable blog page options, and a range of layouts to improve the customer experience. Its flexibility makes it much more than just a grocery store theme.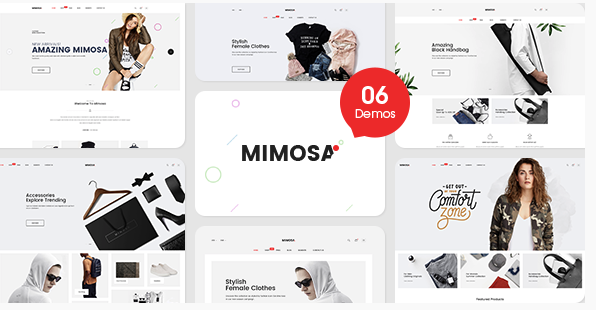 #7. Mimosa - Responsive Fashion OpenCart 3 Theme
This is a great choice for your online fashion store, especially as it looks fantastic on mobile devices. Mimosa includes six beautiful home page layouts and a whole load of customization options, inviting you to build a clean, no fuss site that beautifully presents your products. You can also add and remove modules without touching the code. Installation is quick and simple, and the intuitive admin panel makes configuration super easy, so you can start selling today!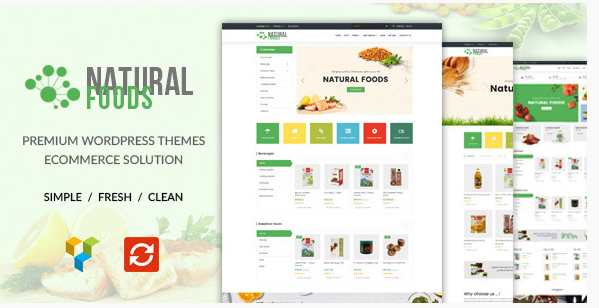 #8. Bigone - Responsive OpenCart 2.3 & 3.x Theme
The big win with Bigone is its menu structure, which translates a huge volume of information about your products into clean, navigable menus, using Mega Menu and Vertical Mega Menu. Bigone is a powerful OpenCart theme that has been designed for digital and tech shops, to show off your products at their best and make it easy for your customers to find what they're looking for. It offers eye-catching advertising banners, great animations, and in-built testimonial and blog pages to boost customer interaction.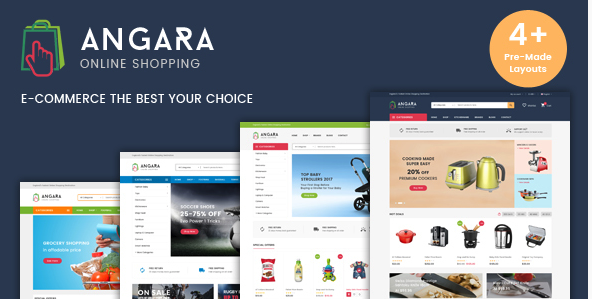 #9. Angara - Responsive OpenCart Theme
Although it is certainly a multi-purpose theme, Angara has been designed with online kitchenware, baby, sport and food stores in mind. It incorporates some unique effects and its static blocks create a clean and modern feel. Smooth functionality makes managing Angara easy, and it offers some excellent in-built features (including a newsletter subscription pop-up) to enhance the customer experience.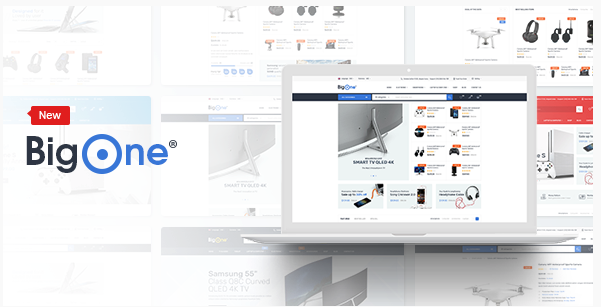 #10. Oregon - Responsive OpenCart Theme
The creative design and advanced features of Oregon make it an ideal multi-purpose e-commerce theme for anything from digital products to food, kitchen equipment or furniture. Oregon comes with four great home page layouts, sophisticated design content and helpful extensions. The Category Tabs Slider module, in particular, offers an elegant way of displaying a large range of products and a vast array of categories.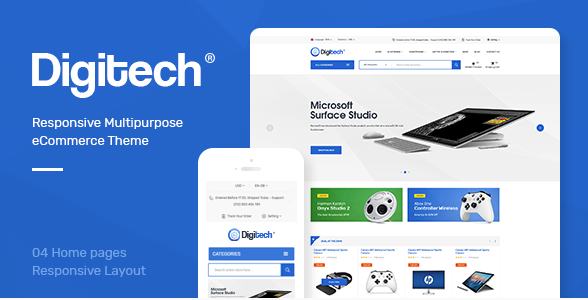 #11. Digitech - Responsive OpenCart 3.x Theme
Digitech is a flexible and attractive technology theme, with plenty of innovative features and a logical layout. Easy to install, Digitech includes a range of customization options, as well as cross-browser compatibility. The clean and contemporary scheme, eye-catching labels and intelligent layouts make this a great choice for an online tech store looking to increase sales through ever-changing deals and featured products.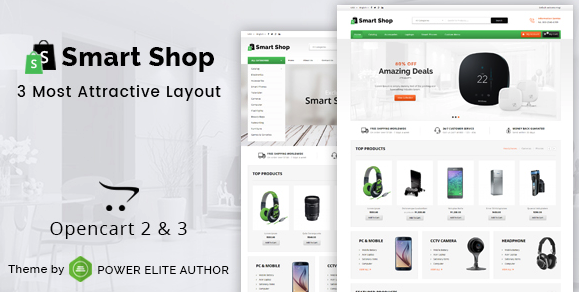 #12. Smart Shop - Multipurpose OpenCart 3 & 2 Theme
Originally designed for electronics and computer stores, Smart Shop is also popular with restaurants and tool sellers as it offers a clean and professional look, with the option to customize all home and sub pages. It boasts a new smart and responsive product grid and offers a range of useful modules, including a blog and unlimited banners and sliders. Well-structured code means it's simple to use, and to make your own.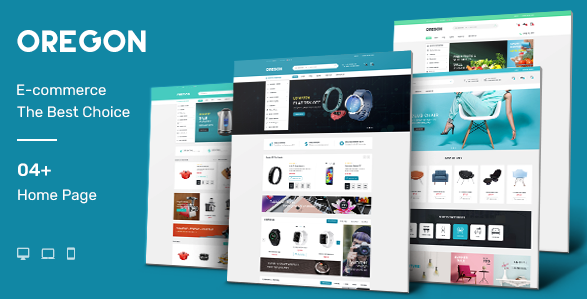 #13. HandArt - OpenCart 3 Theme for Handmade Artists and Artisans
The standout feature of this artistic theme is its full-screen photo homepage, which is a stunning way to welcome potential shoppers to your online store. HandArt harnesses the power of the drag and drop page builder, and CMS blocks and banners, to make it easy to visualize, create and curate your page content. Mega Menu helps you to organize a vast array of products and gives customers a stress-free shopping experience. All in all, this is a really attractive theme with some great features and beautiful effects.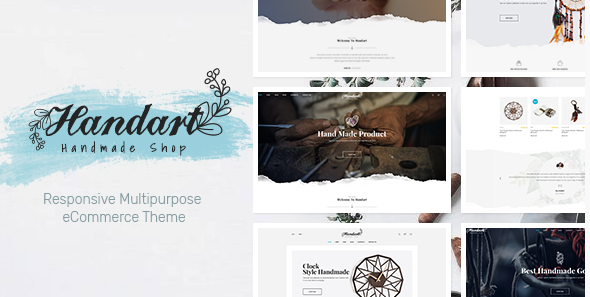 #14. Kid Toys - OpenCart 3 Multi-Purpose Responsive Theme
Kid Toys is designed not just for kids' products and toys, but also for fashion, stationery, food and accessories stores. It offers attractive color combinations and a professional edge. With custom backgrounds, columns and layouts, you have full control over how to present your products, and added effects and transitions give you even more opportunity to be creative. From the full-width slider and product image rollover to various Mega Menu, drop-down and sticky menu options, Kid Toys is great to look at and easy to use.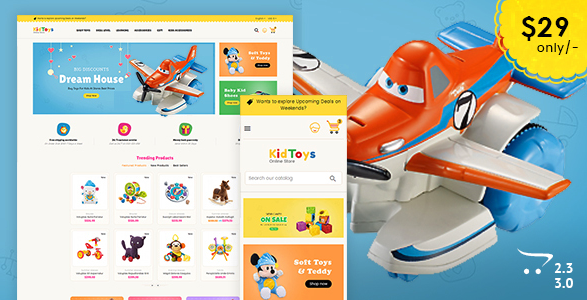 #15. BeFASHION - OpenCart 3 Multi-Purpose Responsive Theme
Designed for fashion and accessories stores, BeFASHION makes for an appealing and professional-looking site. There is plenty of scope for customization on every page, including options for Featured, New In, Special or Bestselling product blocks. Shoppers can easily add products to their own wishlist, and you can add Social Share buttons to get customers doing your marketing for you by sharing the products they love with their social circles. In terms of value for money, BeFASHION has got to be up there.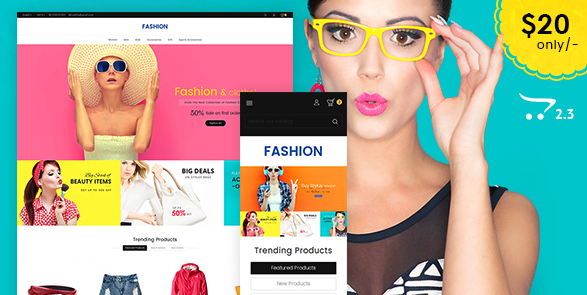 #16. Pav Towner - Responsive OpenCart Theme
Offering four color variations, a stylish template, full creative control over menus, Google Fonts, and over 50 modules, Pav Towner has everything you need for a fashion, craft, food or luxury products website. Over 100 slideshow animations, 200 effect transitions, carousels and banners create an engaging visit for potential customers, with a powerful shopping cart solution to maximize conversions. This responsive theme works perfectly on wide-screen, desktop, mobile or tablet.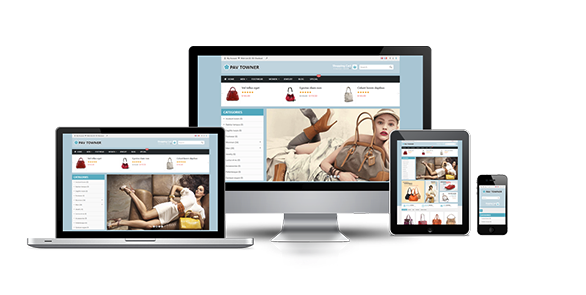 #17. Mozar - Responsive OpenCart Clothing Theme
An excellent choice for fashion and accessories stores, this responsive OpenCart clothing theme works hard to help you advertise, manage and promote sales more effectively. There are four different home page layouts, and a selection simple extensions, which create an elegant feel. The jewel in the crown of Mozar is its large slideshow, displaying beautiful images with attractive fonts and eye-catching effects. The logically arranged sliders and countdown timer are also nice touches.
#18. Logancee - Premium OpenCart Template
Logancee is a versatile theme that works really well for e-commerce websites of all kinds, enabling you to create a fully functional and good-looking online store in minutes. The 12 pre-built basic templates are beautifully clean and contemporary, and great for getting you inspired, and each one is fully customizable. Logancee uses the latest trends in coding and offers a large number of in-built features, saving you money on add-ons further down the line.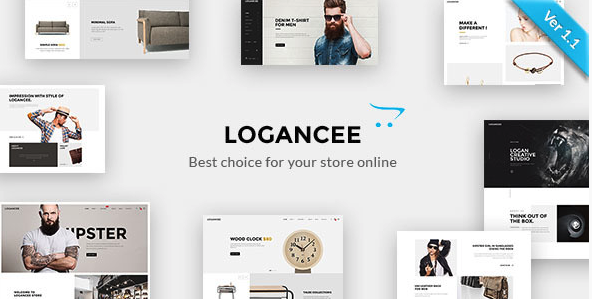 #19. Furnished - OpenCart Responsive Theme
Furnished is an attractive theme that has been designed for furniture, home decor and antique stores in particular, but it works for a range of purposes and is ideal for small to medium sized online retailers. All of the pages are customizable and allow you to create a clean, fresh and professional online store. Furnished offers an extensive range of features, including a newly added product grid, and supports multiple currency exchange so that you can reach customers far and wide.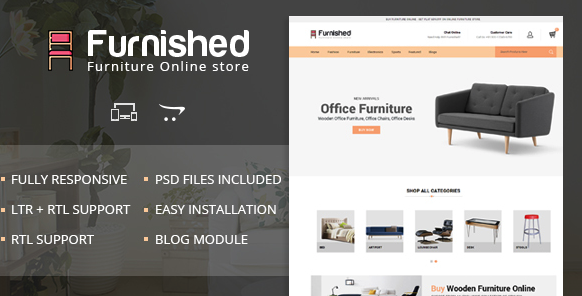 #20. Coolbaby - Original OpenCart Responsive Theme
Highly rated by users for its design quality, customization options and flexibility, Coolbaby is all about being fresh and original. Designed to challenge the status quo and offer something new and exciting, this responsive theme includes 12 templates, live chat, and multi-language support, along with a host of other great features. If you want a store that stands out from the crowd and takes your customers by surprise, this is a top choice!
So there you have it! When it comes to finding an OpenCart theme that works for you and your customers, these are our top picks for 2018. Whatever your business, now's the time to give your online store a boost with a feature-packed theme that is designed for optimum usability and a seamless shopping experience. Find your perfect match and see your online business thrive.