Whether you house your own inventory or utilize dropshipping partners, shipping should be a serious consideration in your OpenCart store. Along with deciding what carrier you will use, whether or not to create an unboxing experience, and how often you will make shipments, you need to decide what to actually do with your store's shipping.
OpenCart comes jam-packed with amazing functionality for running an online store, but the shipping options included don't allow for a very customized approach to setting up your store's shipping rates. An added bonus of using OpenCart is the Marketplace. In the OpenCart Marketplace, you can purchase extensions to expand your store's functionality, which often add features that allow you to increase your sales. One such extension is OpenCart's top rated shipping extension, Intuitive Shipping.
Shipping as a Marketing Tool
An overwhelming amount of ecommerce entrepreneurs classify shipping as a general overhead expense, not recognizing that shipping should be a key player in their marketing strategy. These same business owners will spend money on AdWords, Facebook ads, and a killer site, only to have the customers they spent money on obtaining decide that the shipping cost is too high, ultimately deciding not to make a purchase.
Over 60% of shoppers have abandoned their cart due to shipping costs. You read that correctly – shipping costs are such an integral part of the purchase making decision that over half of online shoppers decided that the shipping costs were too high to complete the checkout process.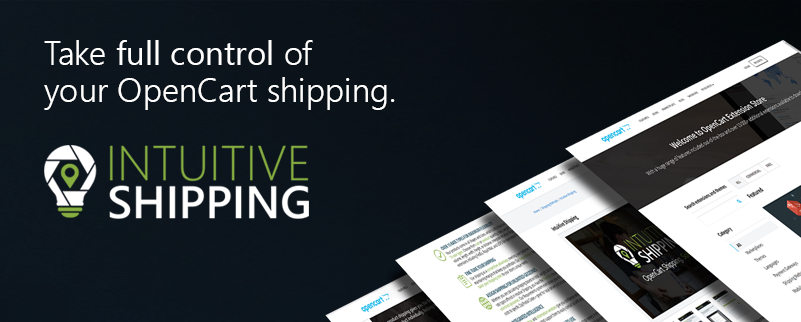 A Dynamic Approach to Shipping
No matter your business type or margins, there is always a way to utilize a more strategic approach to shipping. Intuitive Shipping, available in the OpenCart Marketplace, is your tool to start using shipping as a competitive advantage. Using Intuitive Shipping, you can create unlimited shipping rates based on over 15 Rate Types including; cart or product quantity, total, weight, dimensional weight or distance, or integrate Intuitive Shipping with other shipping extensions installed on your site such as FedEx, Royal Mail, and USPS.
Take your shipping customization even further and use our dynamic Requirements system to fine-tune your custom rates to maintain and grow your margins. Want to create free shipping on domestic orders over $75, within the continental United States, excluding two specific products, and only have this rate available on weekends? With Intuitive Shipping, you can, and setting it up is a breeze with its user- friendly interface.
A New Approach in Your Store
Your store's shipping strategy requires careful consideration and a deliberate approach. By reviewing your analytics, analyzing the competition and keeping your margins in mind, you will be able to design a shipping strategy that works perfectly for your store.
Want to find out More?
You can learn more about Intuitive Shipping and try the full demo here.