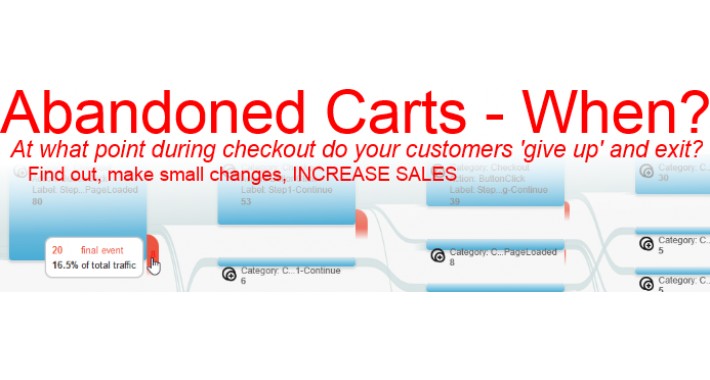 BONUS – read on to find out more - Includes ONE SIMPLE LITTLE TRICK THAT HALVED MY ABANDONED CARTS. You can implement this TODAY.

Abandoned Carts – When?

Updated - v1.1.0 - Now track every click of 'Add to Cart' as well.
Updated - v1.1.1 - Now Quick Checkout Module is supported.
Updated - Support for OpenCart 1.5.6

Do you know exactly when your customers give up paying for their cart of shopping? No, perhaps you should. If you can't answer any one of the following questions, then you are missing out on increased sales through your existing OpenCart website(s).

Abandoned Carts – When will allow you to answer these vital questions.
1. In the last 30 days, how many customers left my website when they got up to the 'Billing Details' part of checkout?
2. What percentage of customers load the checkout screen, but don't click 'login' or 'continue' to start the checkout process… in the last 30 days, last month or last week?
3. How many customers get to the Payment Options part of checkout, then give up and leave the website… in the last week or the last 30 days or last month?
4. What percentage of customers get to choosing a shipping option, and don't continue with the checkout… in the last week, last 30 days or last month?
5. How many customers complete all the details, and don't press 'Confirm Order'?
6. NEW – How many customers clicked 'Add to Cart'? How many times? Etc.

With very little effort, you can increase sales simply by reducing the number of customers that add items to their cart, but don't pay for them.

Abandoned Carts – When will answer all the above, and provide you with a means to measurably improve your website(s) by increasing sales. Abandoned Carts – When integrates with your existing Google Analytics account, allowing advanced user's to setup goals, filter data and all the usual things you do with Google Analytics.

With Abandoned Carts – When you will make more money from your website with very little effort by simply 'closing' the sales your website is already generating, but maximising the potential a customer will actually complete the checkout process. But if you can't answer the above questions, how do you know what changes to make?

BONUS-

Practical, actionable advice on what to do with the information from Abandoned Carts – When. From years of experience and reading up running my own Opencart website, I tell you the secrets and information I've found that increase sales at the checkout page. Complete with what to do and how to do it in Opencart (includes additional vqmods where needed).
For example, if too many customers are leaving just before they click 'confirm order', I share with you the reasons I've found for this, and what you can do about it, and how to do this in Opencart. I cover this for
EVERY STEP IN THE CHECKOUT PROCESS.

Final Note: You do need Google Analytics for Abandoned Carts – When to function, if you don't have Google Analytics setup on your website, please just send a support email and I'll send some links/instructions on how to do this after you've purchased Abandoned Carts – When.

FAQ: Look under the Documentation tab.