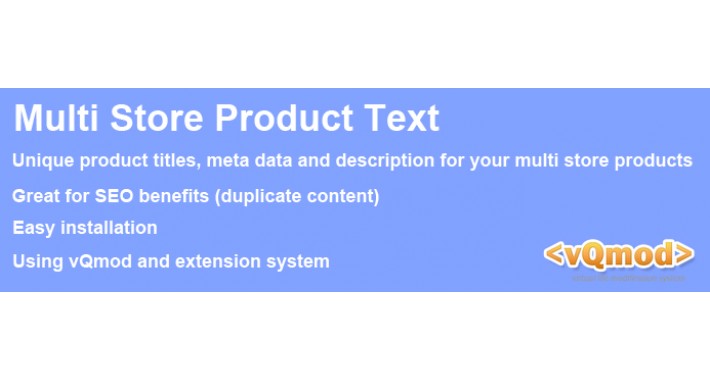 *** DO YOU HAVE A MULTI STORE SETUP? THEN THIS EXTENSION IS A MUST HAVE ***

What does it do?
This extension creates a new tab in the product create and edit form so you can add a different product title, meta description, meta keywords and description text for your other stores. The extensions also has language support.

For SEO benefits this is better because you don't have any duplicated content between your stores when you have unique title, description and meta data.

Very easy installation, just upload and install the extension using the module section of the admin.

Always backup your database before you execute the installation of any extension!

Demo
Here you can view the demo of the plugin:

Store 1: http://www.ecomext.net/admin (demo/demo)
Store 2: http://www.ecomext.nl

Installing this extension will update two SELECT querys using the vQmod extension. If you encounter any problems due to other extensions please let me now.

Older versions
I am planning to make this extension available for older versions of OpenCart.