Smart Antispam Shield
is the
NEW extension
that
blocks
any attempt of spambots to create fake accounts on your shop.
Smart Antispam Shield
protects the following pages:


Account Registration page / Account Forgotten Password

Checkout Registration page for regular users and guests

Product reviews form

Contact us Module

Returns Module

Affiliate Registration page / Affiliate Forgotten Password

Smart Antispam Shield is fully compatible with
Opencart 1.5 and 2.0
.
The regular price of
Smart Antispam Shield
is
49$
,
buy it now
and
SAVE 15$. The Promotion ends TODAY
.
What is a spambot
Spambots are softwares designed to assist in the sending of spam. They scan your website pages to find forms to fill out. Spambots usually create fake accounts and some of them try to exploit your contact forms in order to send unsolicited emails to other users.
Why you must stop spambots


Spambots are a potential risk for your website security.

They fill your database with fake information.

They garble statistics about the number of real registered users at your website.

Stop Spammers with Smart AntiSpam Shield
Spam can cost your business
time and money
. To fight spam, many websites put captchas in their registration forms. Traditional captchas stop spambots from spamming the site, however, captchas can also stop users from filling out your form!
According to a recent academic study conducted by the researchers of Stanford University,
the traditional text-based captchas have a 25% registration abandonment rate!
And this is the last thing you want when you're running a business.
A better user experience
Smart Antispam Shield is invisible to users
! It uses a
non intrusive approach that stops spambots only
while humans will still be able to create an account without need to fill out any captcha.
As result, you will significantly reduce the abandonment rate compared with traditional captchas and increase sales while Smart Antispam Shield takes care of your shop security.
Advantages of Smart Antispam Shield


The extension Stops Spambots ONLY;

It is Invisible to users;

Your customers don't need to fill out any captcha;

It increases your conversion rates. Users will not be discouraged by traditional captcha systems, often too complicated and hard to read.

The extension uses vQmod,
doesn't replace any core file
and it is
100% compatible with any Opencart template
.
FREE Technical Support Guaranteed
. Any questions? contact us!
You may also like:


Remove Captcha, that removes the default captchas from the pages "Contact us", "Reviews" and "Returns".

Custom Registration, that simplifies the registration process and includes the extension Smart Antispam Shield!

You might also be interested in the following bestselling extensions
: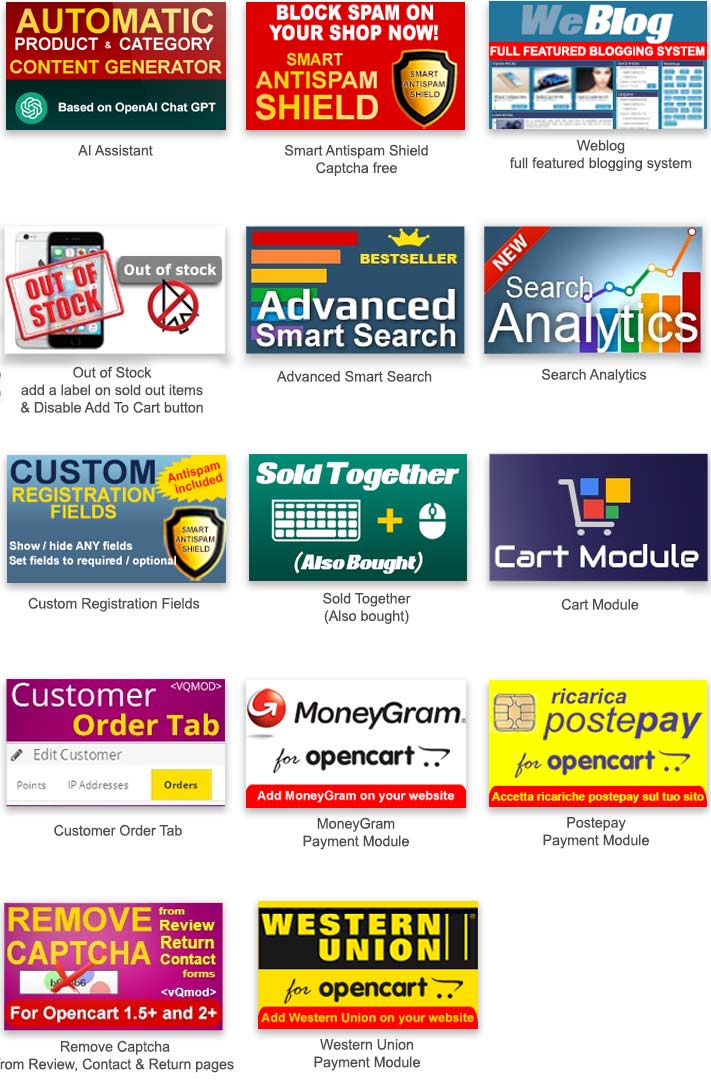 What customers say about Smart Antispam Shield - Captcha free