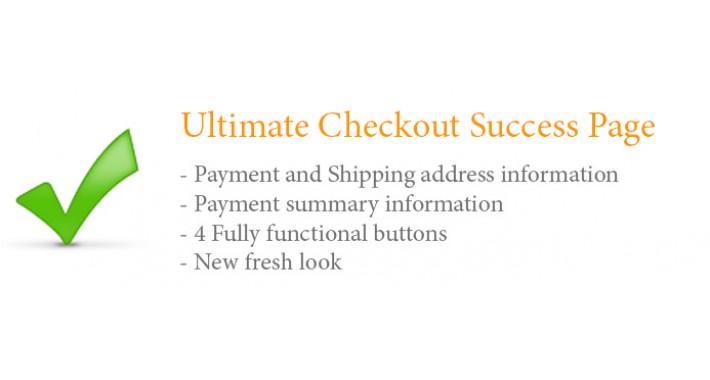 ------------------------------------------------
ULTIMATE CHECKOUT SUCCESS PAGE
================================================

VQMOD - 100% NEW FILES

DEMO

http://shopix.me/new_test/upload/ - register and select bank trasnfer to see the registered checkout success page. Order like a quest to see the guest checkout page.

Registered - http://imageshack.com/a/img34/5791/1n3.png
Guest - http://imageshack.com/a/img834/876/2b2r.png

1. Introduction

Ultimate checkout success modification brings to your customers the best experience after finishing the checkout process.

It displays the customer shipping address, payment address and order summary including used gift vouchers, shipping cost, bank transfer information, vat, total cost and all
the information from the checkout page regarding the cost. This information is available only for registered customers.

The menu on the left is fully functional with 4 buttons that are useful for the customer after finishing the checkout process.

- My Orders
- Make a Gift
- Tell a friend
- Contact Us

* for guests the "My orders" button will be replaced with "Create Account" button

* The modification "Tell a Friend" is created by "best-byte" and it can be downloaded from here http://www.opencart.com/index.php?route=extension/extension/info&extension_id=4348
Its also included in my extension archive (version V1.4) but i recommend to download it from the provided page to receive the latest updates etc.

** Works with all custom themes.
** Multilanguage - If you have problems with translating the module i will assist.

If updating just replace all the files and enjoy.
If you asked me for some custom changes, please contact me before updating.

* Installation instructions included in the archive.

Enjoy!