What is Popup Login ?
Why use that ugly un-inviting login of OpenCart? Try Ajax Popup Login! This module replaces the default display with a nifty and neat popup for login and registration. Plus, it solves that redirect annoyance at having to come back to the homepage after logging in. It's simple yet awesome!
Features?
Keep on current page login.
Count false login times (New)
Doesn't add any js script
Easy setup with VQMOD && manual install document
Compatible with all themes
Custom style for popup login form
supports multi language



You may also be interested in: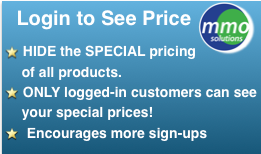 PLEASE rate our product if you loved it. Just go to your admin page, and click on "Rate Your Downloads" on the right. Many thanks!
***PLEASE NOTE:
The COMMENTS section below is not monitored frequently; it is for leaving comments about the mod, not for questions! WE ARE ALWAYS HAPPY TO HELP: just click on the
SUPPORT AND QUESTION bar just up above!

Installation document for Ajax Popup Login