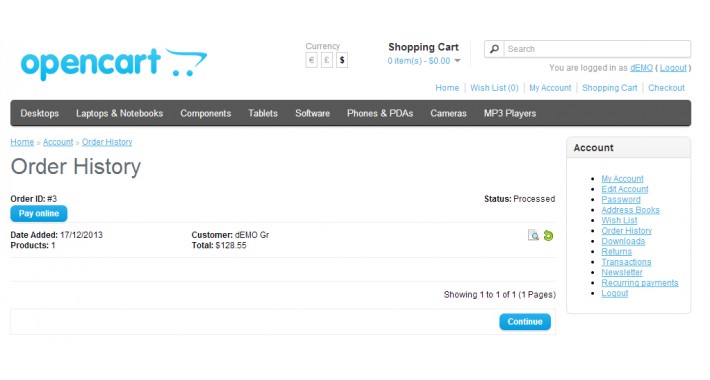 PayPalPay
Module for online payment only after the manager will contact the client and ensure the availability of goods or any other factors, then , and only then the customer the opportunity to appear online payment from your account .

DEMO
http://ashap.besaba.com/
Admin panel
http://ashap.besaba.com/admin
login: demo
pass: demo
for test card enter
MASTERCARD
Card number 5223410589058347
expiration date 12/2018

Work order .
The client creates an order, choose payment method PayPal. Order is created with the status specified in the module settings . Store manager sees order and assigns the status of the order (eg Awaiting payment, adjusted in the module settings ) , then the client button appears in your account , order history pay online. If a user makes a request without registering , modifying the status of your order and a check mark to notify the buyer , the customer is sent a letter with information about the change order and a link to pay online . After payment record is created for making payments to the admin panel and order status is changed to another (eg Payment is accepted, setup in the module).