PLEASE use one of our newer extensions , this Restful API is an old, outdated version.
The RESTFUL API extension adds the ability to remotely work with the OpenCart via the REST API
FULL LIST OF FEATURES (PRO VERSIONS):
CLICK HERE to check versions and features list
Opencart REST API NEW VERSIONS ARE AVAILABLE!
Do you need shopping cart API, check our Opencart REST API v2 extension:
Opencart REST API v2 is the best choose for you, if you're needing to use OpenCart with a mobile or other client app.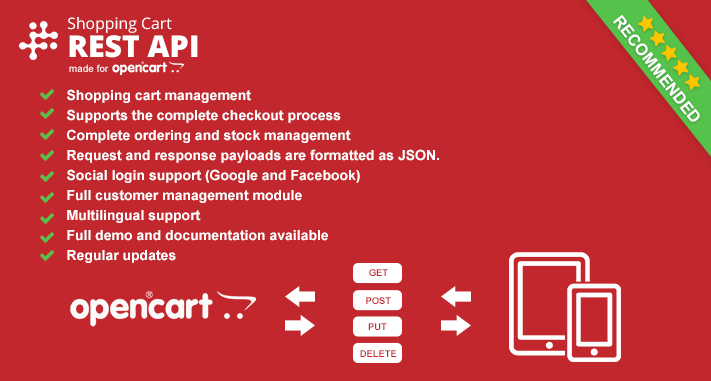 You can try the v2.0 services here:
v2.0 Demo site
For more information contact us: opencartapi@gmail.com
Opencart REST admin API
Opencart REST Admin API can help you to get up and running with eCommerce inventory & warehouse management systems.
This extension helps businesses reduce out of stocks and better handle their inventory.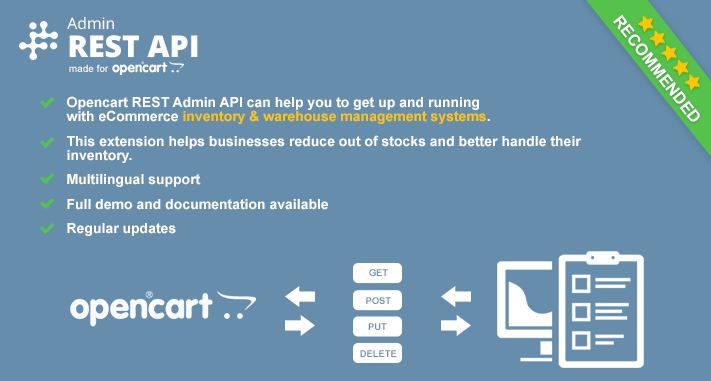 You can try the Rest admin API services here:
Rest admin API Demo site
You can try the v2.0 services here:
v2.0 Demo site
For more information contact us: opencartapi@gmail.com
New OpenCart native
High Quality iOS
application is available for
iPhone
,
iPod Touch
and
iPad
(in the nearest feature)
OpenCart iOS native mobile client
Opencart REST API v1.2
General Terms and Conditions