PLEASE buy one of our newer extensions , Restful API v1.2 is an old, outdated version.
The RESTFUL API extension adds the ability to remotely work with the OpenCart via the REST API.
This works & has been tested for Version 1.5.3 / 1.5.4 / 1.5.5 / 1.5.6 and
Opencart 2
.
If you develop
Android
/
Windows 8
/
IOS
apps, this is a great extension for you.
Opencart RESTful API V1.2 allows managing a number of features:


Managing customers

Managing orders

Managing products

Managing categories

Retrieving manufacturers

Retrieving language

Retrieving store

Retrieving payments

Retrieving countries

FULL LIST OF FEATURES:
CLICK HERE to check versions and features list
Support: opencartapi@gmail.com
Do you need shopping cart API, check our Opencart REST API v2 extension:
Opencart REST API v2 is the best choose for you, if you're needing to use OpenCart with a mobile or other client app.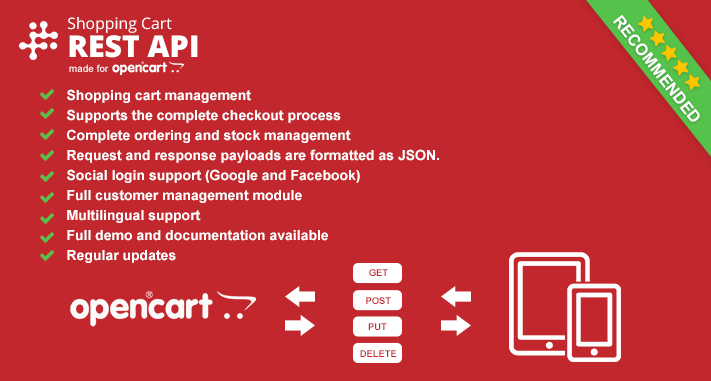 You can try the v2.0 services here:
v2.0 Demo site
For more information contact us: opencartapi@gmail.com
Opencart REST admin API
Opencart REST Admin API can help you to get up and running with eCommerce inventory & warehouse management systems.
This extension helps businesses reduce out of stocks and better handle their inventory.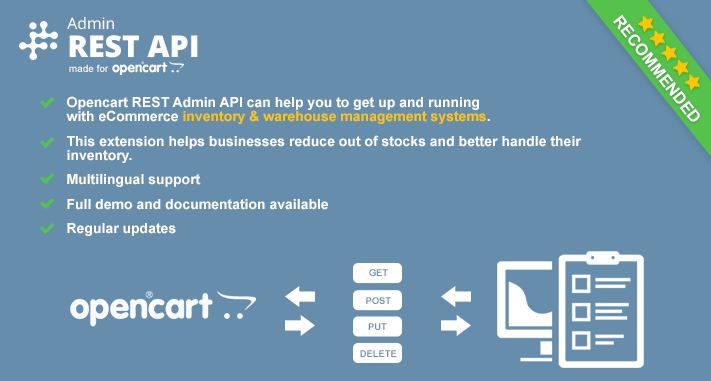 You can try the Rest admin API services here:
Rest admin API Demo site
For more information contact us: opencartapi@gmail.com
General Terms and Conditions
UPDATE
2014.11.04
UPDATE
2014.10.28


Added support for opencart 2.x