What is Video Product Tabs?
Video Product Tabs creates highly customizable private tabs with unlimited direct videos, for purposes such as reviews, guide, demo description and fontawesome icon set, Youtube and Vimeo integration. Especially convenient for the site which has many reviews, videos, multi function products to demonstrate.
"Video Product Tabs" makes your description shorter, and replaces it with thumbnails which contain all your videos. Viewers will be able to watch your videos without all those annoying mouse clicks.
+ Youtube.com, Vimeo.com
+ Expresss view video when input on admin page
+ Unlimited Video Link
+ Supported set Name And Description
+ Multi languages support
+ New tabs Video on product page
+ Easy setup
+ You set width and height of video frame

You may also be interested in: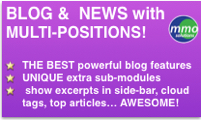 Installation document for Video product tabs -supports Name, Description