The "Call for Price" module is great for bringing the customer closer to your store.
The inquiry form will provide the seller with the possibility of a wider negotiation of their products.

O módulo "Sob Consulta" é excelente para aproximar o cliente de sua loja.
O formulário de consulta proporcionará ao vendedor a possibilidade de uma negociação mais ampla de seus produtos.


✔
Registered with " for price sale" to "0" and " Tax Group " NONE" = "Call for Price";
✔
By clicking the " Consult " button will open a form with validator and fields containing : Name (required ) Email ( required) Phone (not required);
✔
If the customer is logged fields will be filled automatically;
✔
The query will be received by email the board administrator registered in the Store settings ;
✔
VQmod (1.5.X) OCmod (2.X/3.X) files for quick and easy installation, no files replaced;
✔
When copying the files to the main directory of your store and register the product for sale with " 0 " and Group Tax " NONE " will activate the " Call for Price " function;
✔
Display "Call for Price" in:
- Featured
- Latest
- Bestseller
- Special
- Category
- Search
- Product Specials
- Products Manufacturer
- Product Page
- Products Related
- Products Compare
- Products Wishlist

✔
Produtos cadastrados com "Preço de Venda" com valor "0" e "Grupo de Impostos" VAZIO ficarão "Sob Consulta";
✔
Ao clicar no botão "Consultar" abrirá um formulário com validador de campos e contendo: Nome (obrigatório), e-mail (obrigatório) e telefone (não obrigatório);
✔
A consulta será recebida pelo e-mail do administrador cadastrado nas configurações da loja;
✔
Ao copiar os arquivos para o diretório principal de sua loja e cadastrar o produto com Preço de Venda "0" e Grupo de Impostos "VAZIO" será ativada a função "Sob Consulta";
✔
Arquivos vQmod (15X) e OCmod(2.X/3X em diante) para instalação rápida e fácil , sem arquivos substituídos;
✔
Exibir Sob Consulta em:
- Destaque
- Produtos Novos
- Mais Vendidos
- Especial
- Categoria
- Busca
- Produtos Especiais
- Fabricantes
- Página do Produto
- Produtos Relacionados
- Produtos Lista de Comparação
- Produtos Lista de Desejo
Update only version 3.X - image product and link in the email / Atualização somente para versão 3.X - imagem e link do produto no e-mail: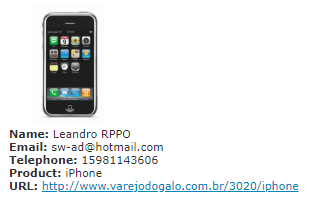 Demonstração Tema Default 15X:
Access/Acessar
Demonstração Tema Responsivo 15X:
Access/Acessar
Demonstração Tema Default Opencart 3.X:
Access/Acessar

✔
Leandro R.P.P.O - OpenCart Developer Specialist
✔
sw-ad@hotmail.com


✔
Developed in vQmod (15X) and OCmod(2.X/3.X);
✔
Easy Installation;
✔
Multilanguage;
✔
Control Panel;
✔
No overwritten file
✔
*Settings and adjustments in extra theme (that does not follow opencart structure) will be charged separately
;
✔
Sorry, but no support for any installation in Joomla !
✔
Note : On some issues you need to disable the promotion into the product that you want to leave " Call for Price " for the correct functioning of the extension.
✔
After purchasing the module it is forbidden to resell

✔
Desenvolvido emvQmod (15X) e OCmod(2.X/3.X);
✔
Fácil Instalação;
✔
Multilinguagem;
✔
Não sobrescreve arquivos nativos;
✔
*Configurações e adaptações em temas extras serão cobradas à parte;
✔
Desculpe , mas não há suporte para qualquer instalação em Joomla!
✔
Obs: Em alguns temas é necessário desativar a promoção inserida no produto que deseja deixar "Sob Consulta" para o funcionamento correto da extensão.
✔
Após adquirir a extensão é proibida a revenda