More Views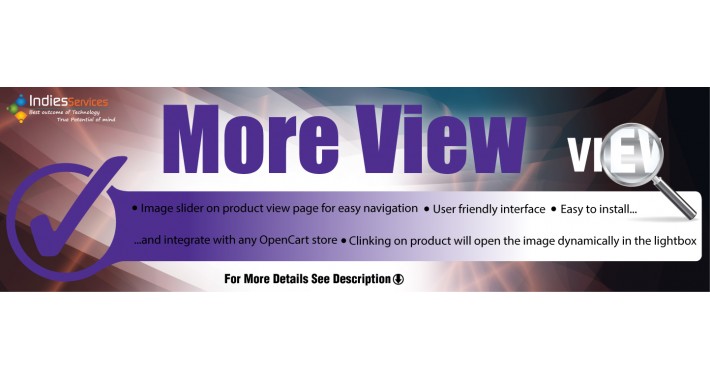 Open Cart More Views is a magnificent extension which will allow you to showcase multiple images of a product effectively in enlarged window to convince your customers.

Any customer would like to see every detail of the product he is buying. With Open cart More Views extension added to your store, whenever your customer will select a product, multiple images of the product will be there in navigation slider. Also enlarged image will be seen in Ajax window assuring that the customer can see the product minutely. An amazing thing here is that when customer clicks an image, it will directly open in the lightbox. Switching to lightbox will also provide navigation through various images one by one.

By using Open Cart More Views in your store you can convince more and more customers to buy products from you as they will not be in any dilemma how the product will be.

Features of Extension:

Image slider is on product view page for easy navigation.
Clicking on product will open the image dynamically in the lightbox.
Lightbox also allows the navigation through all images with navigation buttons.
Easy to install and integrate with any OpenCart store.
User friendly interface.


SUPPORT
You may contact us at service@indiesinc.com
Buy
---
Developed by OpenCart Community
Documentation Included
---
---
Compatibility
1.5.5.1, 1.5.6, 1.5.6.1
---
---
0 Sales