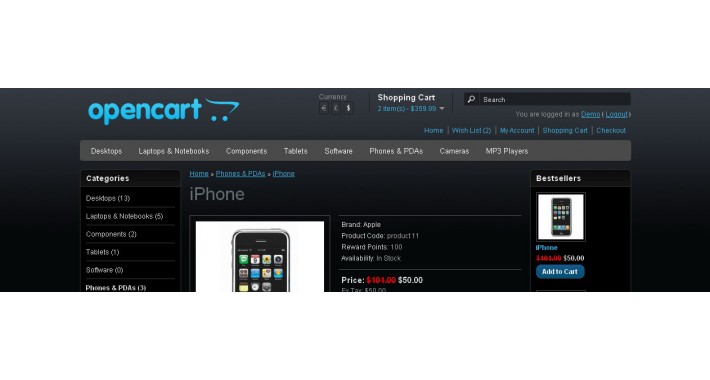 Main colors: black, blue, some gray and a lot of darkness
This theme shows OpenCart's true darkside. It is based on the 'default' theme, but everything about it is dark.
(For OC1.4: It features a nice product image preview using the Fancybox jQuery library and a different product page layout - the extra product images being placed right under the main image)

Demo: http://demos.cryoutcreations.eu/opencart/default-black/
Support page: http://www.cryoutcreations.eu/forum/

Installation:
Extract the contents of the archive then upload all files withing 'files_to_upload' folder to your OpenCart root folder and enable the theme from admin menu. Make sure the default OpenCart theme is still installed and available.

Browser support:
Firefox 3.6+, Chrome 7+, Internet Explorer 9+, Opera 9+

Compatibility:
View the download table below to choose the correct version for your OpenCart installation.
Note that the OpenCart 1.4.x branch is no longer maintained.