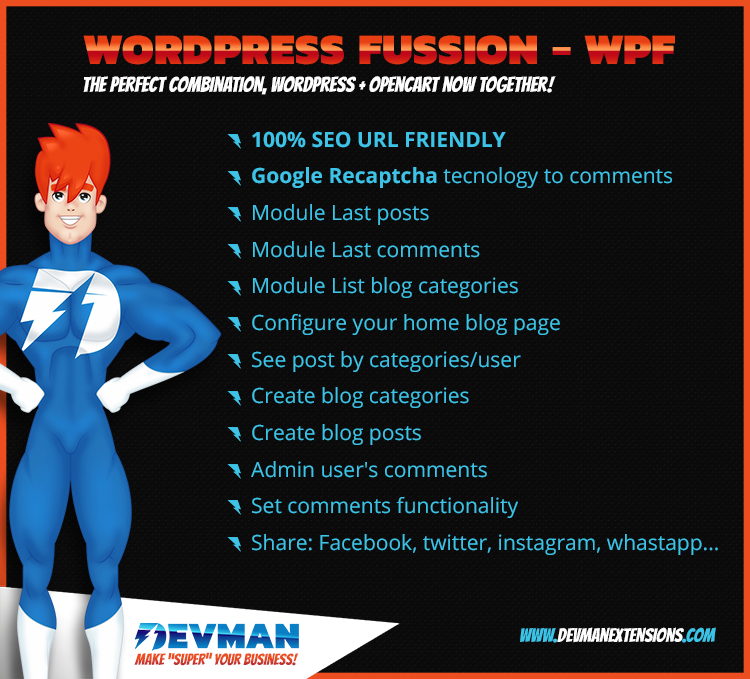 Comments are for pre-sale questions and ratings only. Read the extension store policy. To get support please open a ticket. Thanks.
WORDPRESS FUSION - OPENCART BLOG SEO
URL DEMO BLOG FRONT END
WORDPRESS FUSION CONFIGURATION
WORDPRESS MODULE RECENT POSTS CONFIGURATION
WORDPRESS MODULE BLOG CATEGORIES CONFIGURATION
WORDPRESS ADMIN - POSTS - CATEGORIES AND COMMENTS
Opencart Quality Extensions
has succeeded combine the 2 best CMS
Opencart + wordpress
!
With Wordpress Fusion you will have effectiveness and ease of
wordpress
inside your Opencart site.
✔
100% SEO URL FRIENDLY
.
✔
Last Google Recaptcha tecnology
to comments. Sayonara robots!
✔
Create
blog categories
.
✔
Create
blog posts
.
✔
Admin comments.
✔
Set comments functionality.
✔
Social Sharing
in posts! Facebook, twitter, instagram, whastapp etc...
✔
See post by categories.
✔
See post by user.
✔
Configure your home blog page.