THE most essential extension for any retail Opencart store. Your monthly sales will definitely increase through analysing pre-sale campaigns!
Version for Opencart 2.x coming soon
Tracking sessions real-time
"Google Analytics eCommerce Tracking" helps Google service track all your Opencart stores to get those all-important analytic results. AND real-time sessions! That's how you know how many people are there on your site, and where are they from.
Customer behavior observation by product
This extension will provide highly detailed data about customer behavior, such as language, age, gender, country, city, web browser, operating system and even mobile devices information. From there, you then focus on your leading product page to increase your revenue.
Pageviews performance by session
Customer behavior leads you to page-views performance analytics. After that, you need to look at crucial factors such as new vs return, frequency rate, time engagement, bounce rate, all incoming traffic and parameters which are concerned with page-view per pages (products, categories, manufacturers, search, contact, support). And with a connection to Google Adwords and Webmaster, you can expand your advertising campaigns more effectively from careful data analysis.
Sales revenue by checkout process
We can help you here: no difficulties in finding out your customer problems during their transaction process. For example, we can help if your customer has difficulty with your payment method (bank transfer, credit card, paypal, visa), or delivery method (flat shipping, delivery services), form-filling, transaction times, taxes, coupon code, gift code....
Monitor connection from social sharing
This extension tracks most important traffic such as direct, referral sources, organic search engines, social shares, promotion emails and other paid advertisement. Social network sharing articles usually brings very positive results and reduces your costs.
Setup goal completion by traffic channels
Funnel traffic-channels-analytics shows new and return rates; how your customers actually come to your stores. In an addition, this will allow you to create successful goals for each period of time, and send you scheduled reports by email.

Powerful features integration with Google Analytics
Google service provides excellent free tools to control your SEO analytics. In particular, you can observe statistics like affiliates, coupons, gift tracking based on your special code, etc. Ignoring sales statistics from your agents and
sub-agents can only lead to disaster! We can help in this crucial area.
[b] Intelligent event report by scheduled email notification
Google service provides a powerful notification solution for your selling stores. In the admin section of Google Analytics, you can set goal values for sub-divisions (all traffic sources, channel groups, ecommerce results, customer information details, and their system & behavior) and conditions (less, greater, increase, decrease, percents) to then get alerts by email.
Multi stores
Google Analytics eCommerce Tracking has the full options for setting up multi stores. You'll have no problems in managing and uninstalling modules out of all of your stores!

Multi languages
This module contains language files which can be replaced in any category. It's so easy to clone the English package iand modify to your personal satisfaction n your own language.

Why do you need this module?
Google Analytics eCommerce Tracking is THE perfect friendly solution with full analytics features to back up your ecommerce store. Monthly sales most definitely increase from analysing pre-sale campaigns from previous periods. This is how we can help you to consider short- and long-term selling strategies based on effective statistics.
*** Easy install with VQMOD and Google Analytics ID only
** FREE HELP INTEGRATION for ALL THEMES
******* Email support: support@mmosolution.com
1. Report Product
2. Report Category of product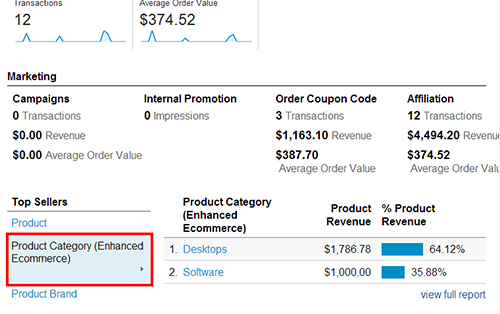 3. Report coupon of order and product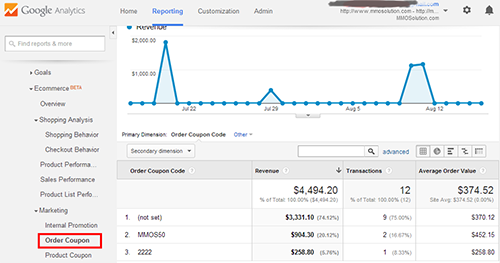 4. Report Product brand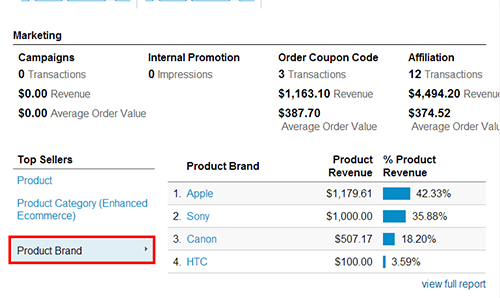 If you love our work, please remember to give us 5 stars!
_____________________
You may also like: