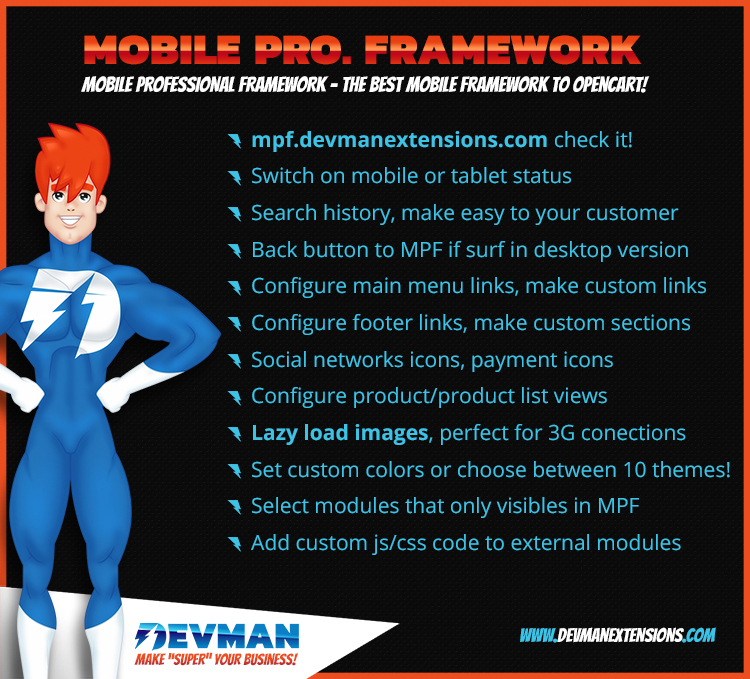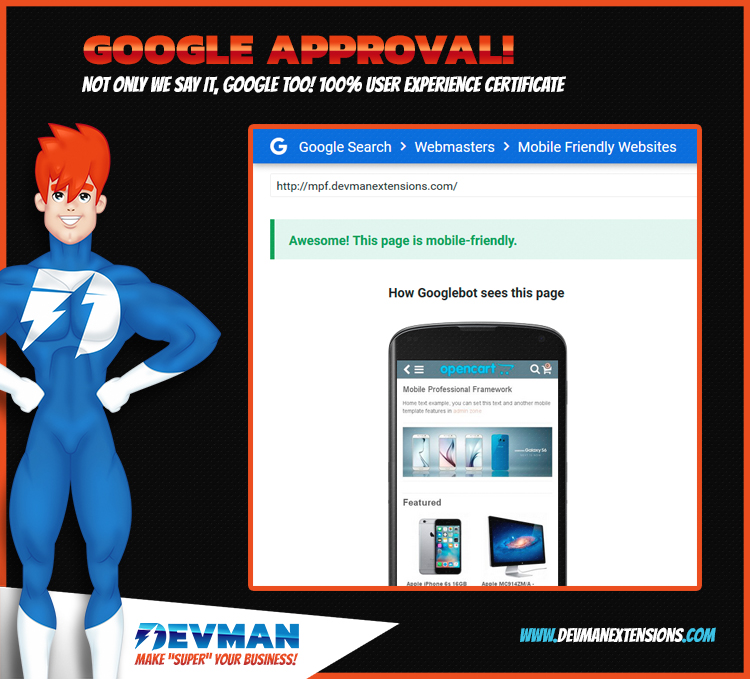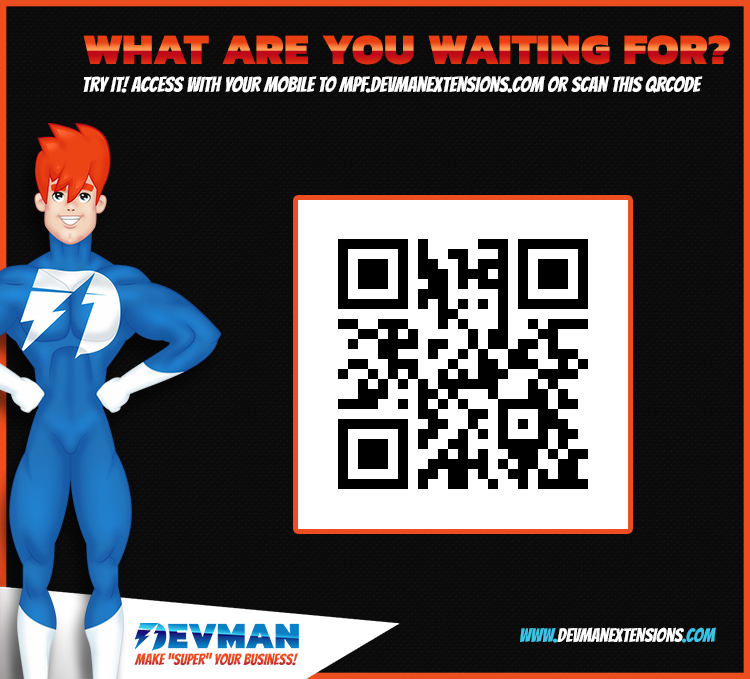 Comments are for pre-sale questions and ratings only. Read the extension store policy. To get support please open a ticket. Thanks.
MOBILE PROFESSIONAL FRAMEWORK - THE BEST MOBILE FRAMEWORK TO OPENCART
Unique license by shop
Some real examples (visit with your mobile device)
http://www.crownclinic.com.my/
Why Mobile Professional Framework?
Imagine that you have a splendid theme nicely displayed on a computer but not on
mobile
. With
Mobile Professional Framework
you have a
mobile version adapted and optimized
for
mobile
devices respecting the original theme when accessed through a computer.
I have extensions installed in my shop, then?
In theory you should have no problem if your extensions have a good code according to the CORE of Opencart, but don't worry, if you have some problem with one of your extensions our team from
Opencart Quality Extension
can help you, we'll do personal adaptations to your extensions,
fastest and cheapest
. If you have some question please
open a ticket
.
Will I know install by myself?
Of course. Extract extension files and upload all content from folder "upload" to your root site. However if you don't know the install and configuration is included in price.
Can I configure my framework aspect?
You can access to
administration demo zone
to see it by yourself.
Something is wrong, what do? DEV MODE!
You can see
Mobile Professional Framework
in your desktop browser even if the framework is disabled to see posible errors. This mode only will be active in your browser, nobody else will see it.
TO ENABLE:
Add the parameter "
&demo=true
" example: www.yourdomain.com/index.php?route=common/home
&demo=true
TO DISABLE:
add the parameter "
&demo=false
" example: www.yourdomain.com/index.php?route=common/home
&demo=false
However we are always willing to help.
Open a ticket
mobile, mobile framework, framework, theme mobile, mobile theme, professional mobile, professional mobile theme, mobile template, mobile responsive, mobile professional template, tema para móvil, tema móvil, modèle portable, cadre mobiles, thème sensible mobiles, handy-vorlage, mobil rahmen, mobilreaktions thema, мобилен шаблон, подвижна рамка, мобилен отзивчив тема, 移动模板, 移动框架, 移动响应主题, 移動模板, 移動框架, 移動響應主題, κινητό πρότυπο, κινητό πλαίσιο, κινητό ανταποκρίνεται θέμα, mobiele template, mobiele kader, mobiele responsieve thema, template cellulare, framework mobili, mobili tema sensibile, モバイル応答テーマ, mobili šablonas, mobili sistema, mobili reaguoja tema, mobilmal, mobil rammeverk, mobil responsive tema, șablon mobil, cadru mobil, temă sensibilă mobil, мобильный шаблон, мобильный рамки, мобильный реагировать тема