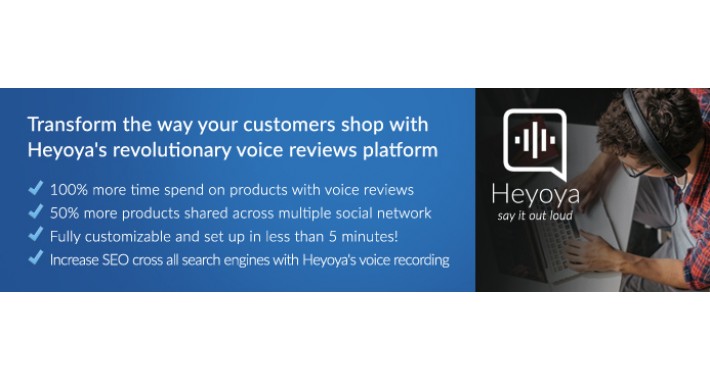 Give your customers a voice by adding Heyoya's revolutionary voice reviews platform to your e-store!

- 100% more time spend on products with voice reviews
- 50% more products shared across multiple social network
- Fully customizable and set up in less than 5 minutes!
- Increase SEO cross all search engines with Heyoya's voice recording patent pending technology.

**Increase Customer Engagement**
Increased time spent on each product page with customer reviews. Start the conversation by adding your own voice message to customers!

** Make Shopping More Personal**
Voice reviews add a human element and is one step closer to a face to face conversation. Allow potential buyers to hear from satisfied customers.

** Drive Sales Organically**
Product reviews are proven to increase sales. Voice reviews take this one step further and increase reliability of reviews, exponentially increasing sales.

Add Heyoya reviews to your site for Free!