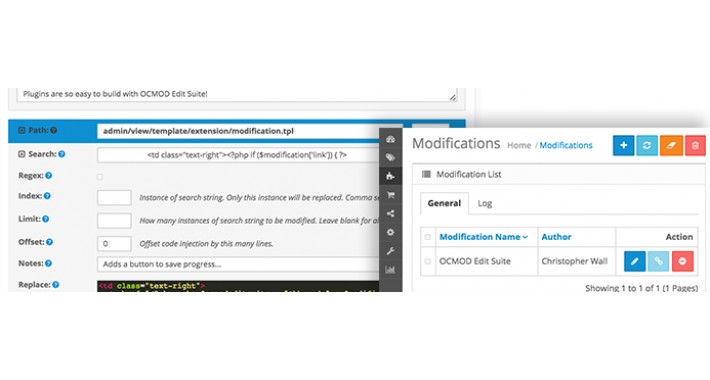 ** PLEASE CONTACT ME IF YOU ARE HAVING DIFFICULTY INSTALLING OR IF THE EXTENSION SEEMS TO BE STUCK IN A REDIRECT LOOP - I WOULD LIKE TO RESOLVE THIS ISSUE BUT I CANNOT REPRODUCE IT - CHRIS@HYPNOBOUTIQUE.COM **

Gracefully edit and build your own OCMODs.

A lightweight and powerful tool to edit and create new OpenCart 2.0 modifications using the new, integrated rewrite engine that ships with OpenCart 2.0.

Description
========

A direct replacement for similar VQMod tools that existed for earlier versions of OpenCart, this plugin makes it incredibly easy to add custom modifications and 'plugins' without interfering with OpenCarts source files. This makes it easier to update your version of OpenCart and to migrate your plugins to other OpenCart stores.


Support
======

I am very happy to help with any issues you may have with this plugin. Please email me at chris@hypnoboutique.com and I'll be sure to get back to you ASAP. I want your 5 star rating and I want you to be happy so please, get in touch! (Tip: the more descriptive you are with an issue you are experiencing, the quicker I can resolve it).


Updates/Improvements
==================

Planned updates are:

- Switching between XML and Modular interface
- Import/Export XML files
- Prettier syntax highlighting (possibly user selectable)
- Theme switching for text editor

If you would like to suggest an update, please email me at chris@hypnoboutique.com.