Bilingual in English and Chinese (Hong Kong 香港)
What it does?
Since Hong Kong does not apply any postal code, but we have many zones which is easy for the postman or courier to delivery the parcel correctly if you indicate it precisely.
My zones refer from the most common one we daily use in Hong Kong and similar to the Hong Kong Tourism Board. The
District Of Hong Kong
with 18 zones are not precise at all to indicate where you stay.
localisation 香港本地化 Zones (區域管理)
國家(Countries)
區域(Zones)
配送地區(Geo Zones)
系統管理(System)> 本地化(Localisation)>區域(Zones)
行政區管理
同您增加咗九龍區,香港島,新界和離島等等。(因為衣加冇錢開飯,趕緊做網站)
Add English for the zones which easily search from zone bar.
E.g.
Kwai Chung 葵涌
Kwai Fong 葵芳
Tsuen Wan 荃灣
(
以英文行先就可以輕易搜尋
。)
這模組主要自動增加香港嘅
96個分區
(唔識SQL也不怕啦),上年好忙,終於要今年才完成。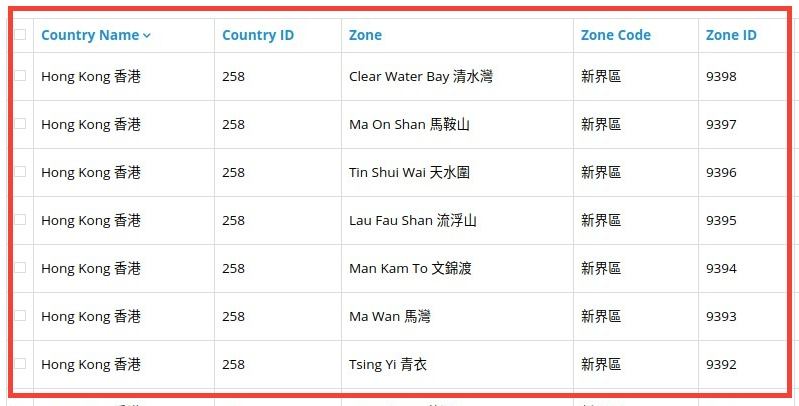 今年最近還成功本地化咗用HK SF Locker 香港 順便智能櫃及快速購買登記程序,Cash Back - 現金回贈 取代 Reward Points 積分獎賞計劃,這個是安裝和設置服務,有興趣問我。
*
Free Installation available and full support for paid customers
*
Please view my China Hong Kong Traditional Language Pack which has Bi-lingual in the system menu when switch to Chinese mode for Non-Chinese reading can manage it easily. If you need other languages as multi-languages admin page, please
contact me HERE
體驗一下 香港繁體 [ 我的開源購物車.香港] OC version 2.3
Demo Admin:
https://demo.myopencart.hk/admin
User:
demo
Password:
demo
了解更多Admin 【後台管理更輕鬆系列】Work Smarter Series
- 繁簡中文、英文三國語言前後台安裝
-
AdminLangSwitch 後台語言切換 PRO
-
Admin Quick Links 後台快速鏈接
-
Quick View Copy - PRO 後台快檢拷貝 PRO
-
Admin Dynamic Search Bar 後台商品快速搜尋
-
Search History Report 搜尋關鍵字報告
https://shop.myopencart.hk/
註冊接收更多支援及優惠。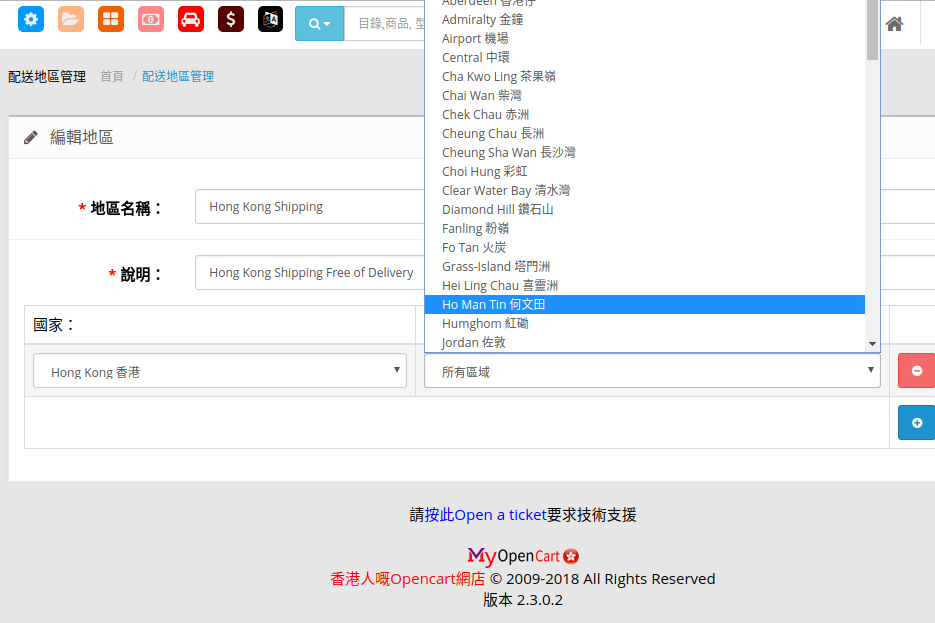 Remarks:
geo zones = 配送區域(Geo Zones)
*We have to assign Geo Zones in order to let the customer to checkout with.
Assign this geo-zone, we can easily to caculate the cost from your warehouse to destination.
*We do not support 1.5 or 1.6 version