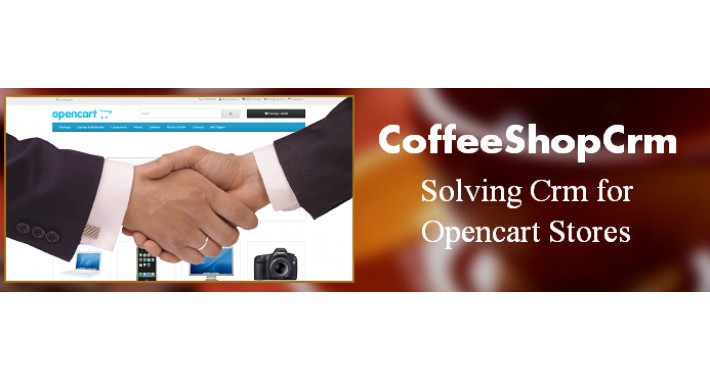 CoffeeShop Crm - Solving CRM for OpenCart stores.

Demo:
http://tiny.cc/cscdemo/

Site:
http://tiny.cc/cscrm/

Support and Contact:
cscrm-a1@outlook.com


Ahora tambien an español !
http://tiny.cc/cscrm-es/

и в русском !!

Dashboard broad view
Get a full summary of all pending Sales and Service issues, by their current stages and due period: past, present and future One click to take you to a detailed view of each case and another click to view the case specifics

One page customer view
Take action with any potential customer interest. record each interaction, update the lead stage and set a due date for follow up. Once realized to a pending order, link the lead to the order and keep track of it. OpenCart's own order history's note and stage updates are already integrated!

Service issues handling
Handle csutomer's feedbacks, questions and issues in one place. Set the issue, keep track of the interaction and link the case to the relevant order.


Широкий взгляд приборной панели
Получите полную сводку всех ожидающих решения продаж и обслужите вопросы, к их настоящие этапы и должный период: за, представьте и будущее один щелчок для того чтобы принять вас к детальному взгляду каждого случая и другого щелчка для того чтобы осмотреть специфические случая

Один взгляд клиента страницы
Примите действие с любым потенциальным интересом клиента. запишите каждое взаимодействие, уточните этап руководства и установите срок оплаты для следования. Раз осуществленный к ожидающему решения заказу, соедините руководство к заказу и сдержите след его. Истории заказа OpenCart обновления примечания и этапа собственной уже интегрированы!

Обслуживайте регулировать вопросов
Отрегулируйте обратные связи, вопросы о и вопросы csutomer в одном месте. Установите вопрос, сдержите след взаимодействия и соедините случай к уместному заказу.



Visión de conjunto del tablero de instrumentos
Consiga un resumen completo de todas las ventas pendientes y mantenga los problemas, por sus etapas actuales y período debido: más allá de, un tecleo presente y futuro para llevarle a una vista detallada de cada caso y otro tecleo para ver los específicos del caso

Una opinión del cliente de la página
Tome medidas con cualquier interés potencial del cliente. registre cada interacción, ponga al día la etapa de la ventaja y fije una fecha debida para la continuación. Realizado una vez a una orden pendiente, ligue la ventaja a la orden y no piérdala de vista. ¡Las actualizaciones de la nota y de la etapa de propia historia de la orden de OpenCart son ya integradas!

Mantenga la dirección de los problemas
Maneje las reacciones, las preguntas y los problemas de los csutomer en un lugar. Fije el problema, no pierda de vista la interacción y ligue el caso a la orden relevante.