DESCRIPTION:
With this extension, you can easily add your custom tab to all the products... You can also ignore the products, category where you don't want to show your tab(s).
You can assign easily assign tabs to
Store wise, Category wise, Manufacture wise, etc
Support All 2x and 3x Versions ♥ Multi-language support ♥ All Themes compatible
EXAMPLE:
You have 200 Products and you want to add the same tab to all your products... You can do this easily with this extension...
You can also assign the same tabs to specific category, manufacture, store, etc

* Add multiple custom tabs or Extra tabs in all the products as you wish.
* Fully Customization from admin side.
* Rich Textarea for tab contents.
INSTALLATION:
1. Admin -> Extensions -> Extension Installer -> Click on the Upload button.
2. Find Our ocmod Extension File => extra_product_tabs.ocmod
3. Under Modification Click on refresh button
4. Acess Permission from User group
5. Now Finally Catalog - >Extra Product Tabs - > ♥ Add Your Tabs ♥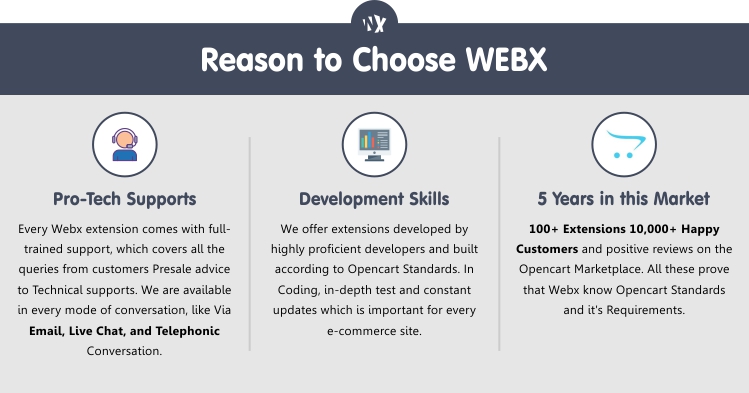 Email
: support@webreckon.in
Live Chat
at
Webreckon
Skype
: webmedialdh
Telephone
: +91 991540 9292
What customers say about Advance Custom Tabs or Extra Tabs in All The Products