Out of Stock
is a must have extension that
improves the sale process
by displaying the label
Out of stock / Sold out
on products when their stock quantity is 0 and by disabling the cart button.
Add to Cart button customization
The module can also replace the "add to cart" button with any text of your choice (Sold out, Out of Stock, Unavailable, etc.).
The options "display Out of stock label" and "disable cart button" can be activated/deactivated separately.
Out of Stock is multilanguage, texts will be translated automatically in all the languages installed in your shop. If you choose to disable the cart button but you don't want to customize the out of stock button text, just leave it empty and the extension will automatically show the stock status (out of stock, 2-3 days, pre-order, etc.).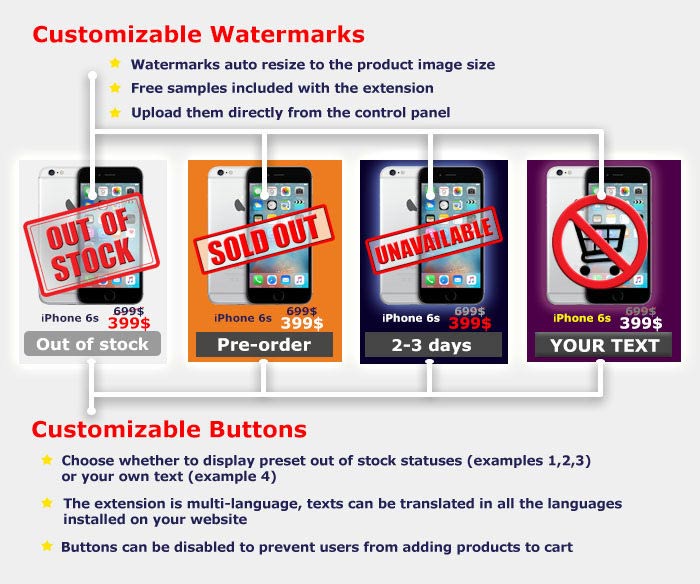 The watermark image can be uploaded directly from the backend and it auto resizes according to the product image size.
Out of stock and Image caching
The extension is lightweight, it's the only extensions that combines the watermark with product images and saves the resulting images in the cache, making it available every time the product quantity is 0.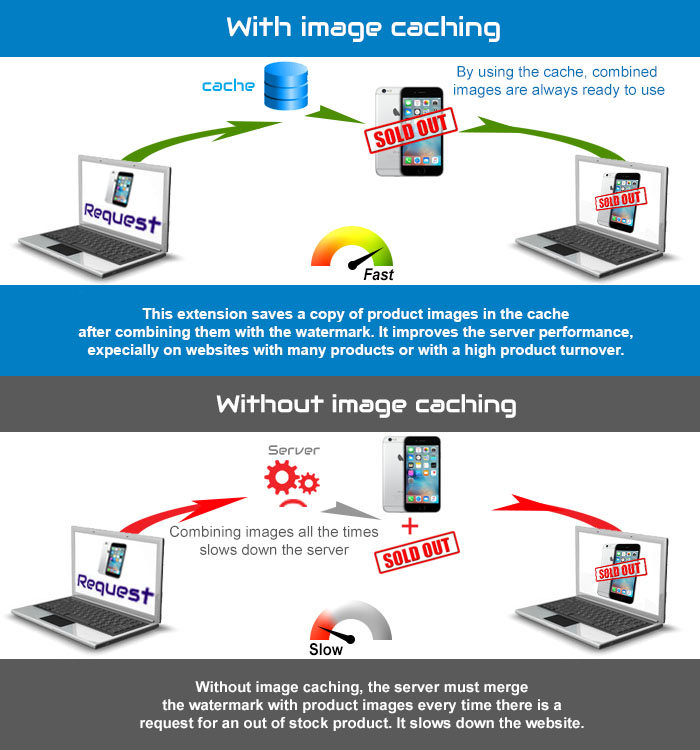 This way the server doesn't need to continuously apply the watermark on product images every time Opencart loads a zero quantity product.
Why you need Out of Stock
It happens frequently that products are unavailable. Most of the websites fail when they display out of stock items.
Many e-commerce sites just show the product page almost unchanged, with some fine print hard to spot. When no Out of Stock/ Sold out labels are clearly displayed in the product page, customers assume that the product is there, so they add it to cart and only when they checkout they find out (and they get annoyed of this!) that the product is sold out.
It's like displaying a product in your store window but not selling it. And what is even worse is
they can't checkout until they remove all the out of stock products from the cart
.
All of these things makes
the selling process complicated and frustating
,
increasing the cart abandonment rate
.
Out of Stock solves all these problems!
Features
★ It adds a label on product images when they reach 0 quantity, making it clear that the product is sold out / out of stock;
★ It allows to disable the cart button and to replace it with any text of your choice;
★ It removes the extra step of removing unavailable products from the cart, speeding up the sale process;
★ Multilanguage;
★ Out of stock labels can be uploaded directly from the control panel;
★ The out of stock watermark automatically resizes to the product image size;
★ It uses the image cache to save generated images;
★ Easy to install and configure;
★ It uses vQmod, no core files will be overwritten;
★ It works on every page/module of Opencart (
pages
: product, category, special, search, compare, manufacturer, account, wishlist -
modules
: featured, bestseller, latest, special);
★ Compatible with any theme;
★ FULLY TESTED and working successfully on more than 100 shops;
★ Free Out of Stock images included with the extension with different texts and styles;
★ Free Customer service;
Tips and Tricks
Here's a list of good practices that you should follow to turn out of stock product pages into powerful cross selling pages:


Do not hide/remove the product page completely and create a "not found" error page. It's a bad practice for SEO and customers.

Do not redirect users from the out of stock product page to the homepage.

Don't use extensions to display random products on a sold out product page. They are completely useless and they don't increase sales. Instead, take some time to configure related/similar products. You can do it from the edit product page in the Admin panel. This way the product page will still be useful to customers.

The regular price of
Out of Stock
is
35$
,
buy it now
and
SAVE 10$.The Promotion ends TODAY
.
The extension
doesn't replace any core file
and it is
100% compatible with any theme
.
FREE Technical Support Guaranteed
. Any questions? Contact us!

You might also be interested in the following bestselling extensions: