♦
Category Accordion Menu
♦
Description
♦ Category Accordion Menu is useful to create a vertically stacked list of categories.
♦ Each item can be "expanded" to reveal the sub-category associated with that main-category.
♦ Category Accordion Menu are often used as a website's main navigation.
♦ In this way, it acts much like Navigation Tabs, as menu items are collapsed when a Parent category is clicked.
♦ The Navigation Tabs are most often used horizontally, where as Accordion Menu are most often used vertically.
Features
♦ Multilevel Category - up to 5th Level
♦ Parent-Child Category Settings
♦ Collapse/Expand Settings
♦ Custom/Extra CSS Class Settings
♦ Font awesome Category icons
♦ Font awesome Collapse/Expand icons
♦ Unlimited Menu Color
♦ No changes in core files.[vQmod not required]
♦ Multistore Support
♦ RTL Support
♦ Easy to Use
Demo:


Username:
demo
Password:
demo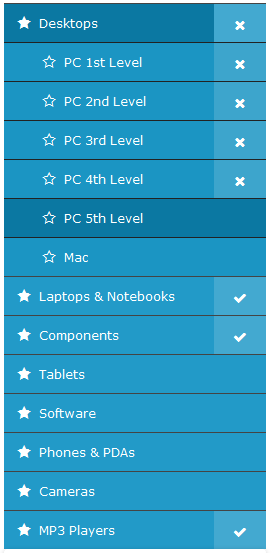 For more extensions
Troubleshooting
Compatibility OpenCart Versions: 2.0.x , 3.0.x
If you are still having questions, please contact me anytime by email at mobileworld.email@gmail.com or leave a comment on the extension's page.