Start massive sale in a click!
Mega Sales Pro
extension allows you to set special prices for entire product categories, manufacturers, products with specific filters, and their combinations (category & filter & manufacturer & customer group combinations) in seconds.
Extension features:
You can set specials for entire (and multiple) categories, manufacturers, products filters and their combinations.
Specials can be set for one or more customer groups at a time.
You can select when sale starts and ends (date), what type (percent or price off) and value discount is applied (for example - 30% off, $20 off, etc.).
There can be unlimited different sale combinations set - you will have a list of them in extension settings page.
You can remove one or more sales without affecting other.
You can edit sales without affecting other.
Extension does not require vqmod, ocmod or any other mod system - it is a standalone extension that does not change any other OpenCart files.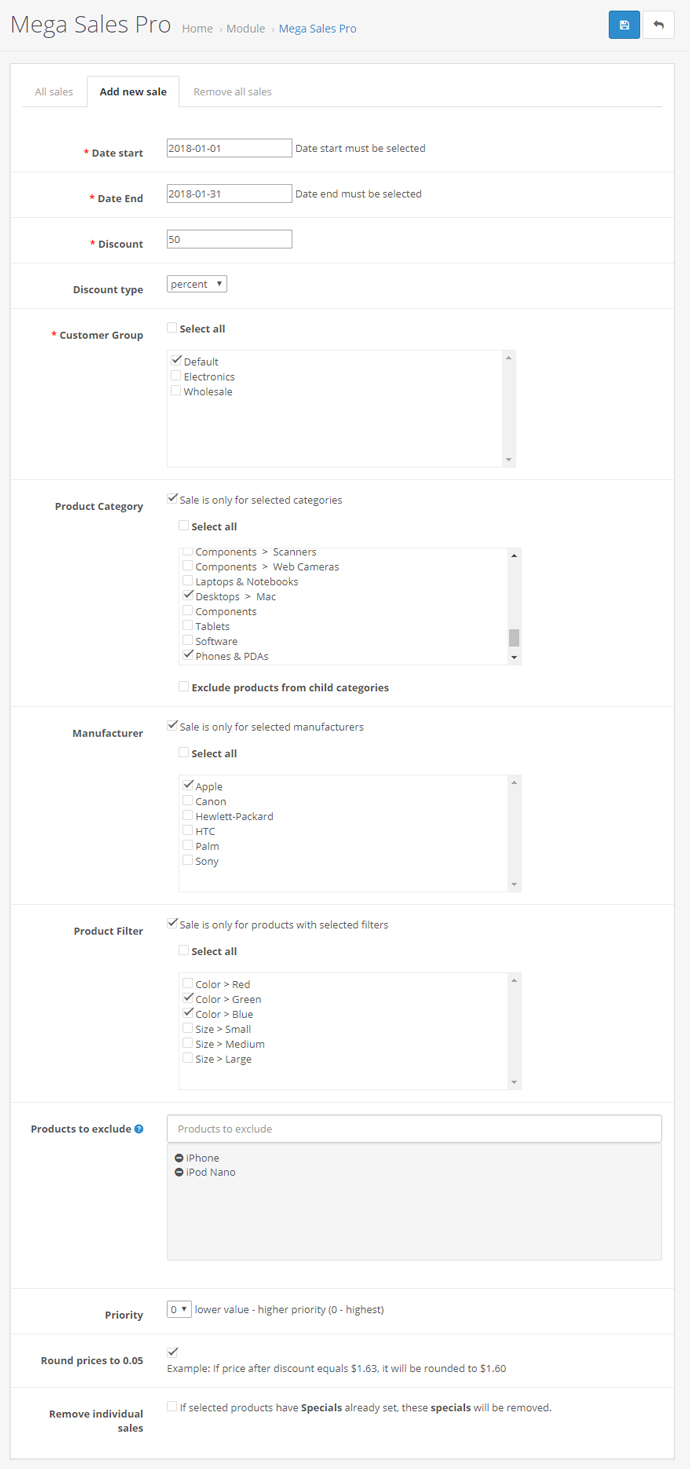 Username
demo
Password
demo
Go to
Extensions >> Modules >> Mega Sales Pro
to edit and view the extension.
-----------------------------------------------------------------------------------------------------------------
After 2018-01-08 update you can select multiple customer groups, multiple categories, multiple manufacturers, multiple filters and apply all of them in one sale (and have unlimited number of sales).
After 2018-01-08 update you can also exclude selected products from sale.

WARNING:
This extension should not be used for products where product options differ in price. The discount is calculated from the main product price (like the default OpenCart product specials), not the option prices.
Installation instructions and documentation is available in the download package.
LATEST CHANGES (2021-02-17):
Added support for OpenCart v3.0.3.7.
ALREADY HAVE THIS EXTENSION? Don't forget to rate it!
CHECK OUT MY OTHER EXTENSIONS: