An opencart extension designed to

provide your customers with free gift products based on their total

when they checkout

.
Free gift products based on cart total amount is an Opencart extension.
It has features to provide customers with FREE GIFTS based on their cart total amount.
The store admin can set different gift products based on different price range.
Multiple/Single gift products can be added to the different price range.
Check some example offers?
- Get free water bottle or earphones when the purchase is less than $150
- Get free sunglasses or watch when the purchase is between $150 - $300
- Get free suitcase when the purchase is over $300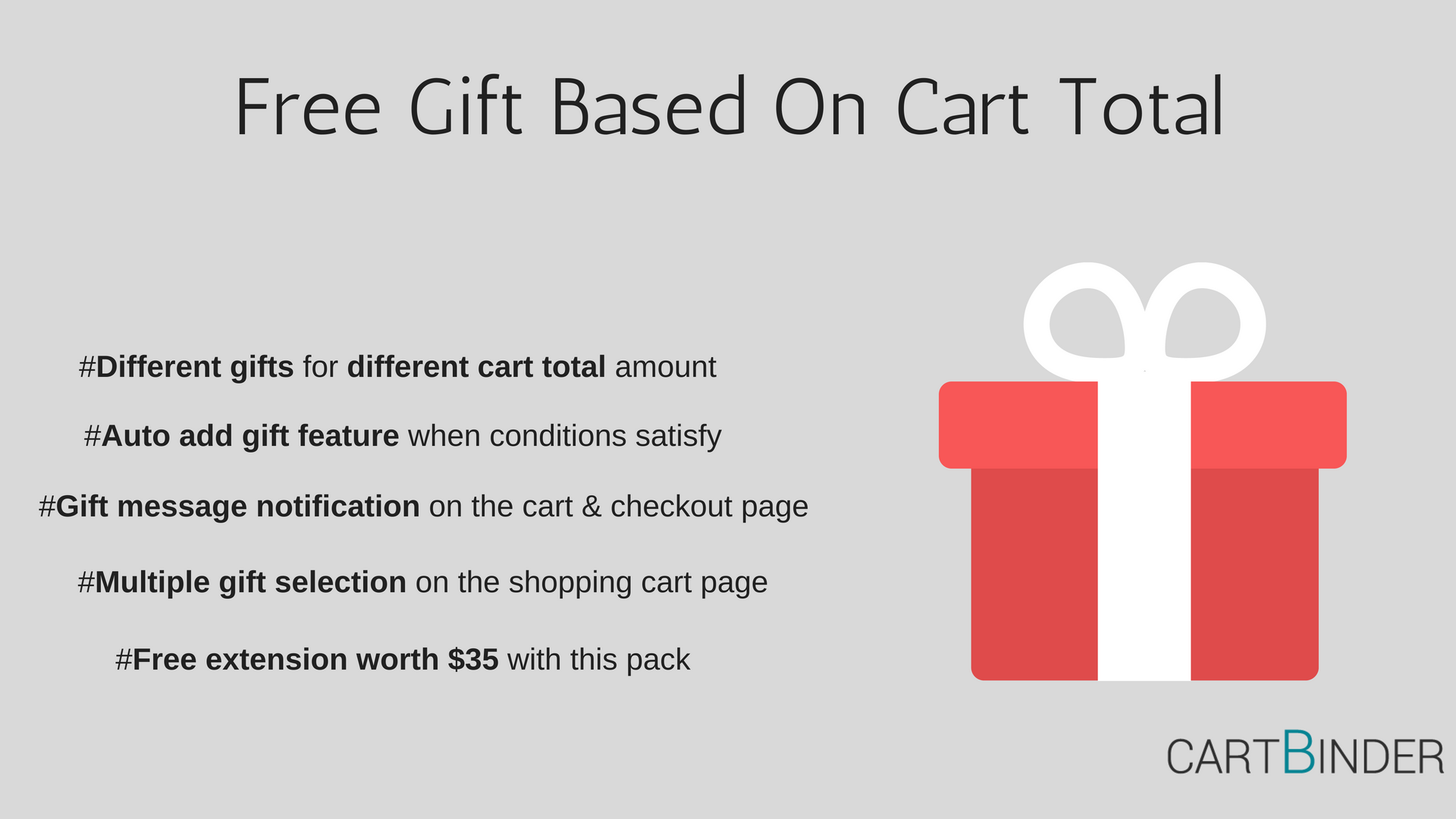 HOW IT WORKS?
Simple steps to set up the free gift products:
Step 1 : Adding gift products
1) Insert a new product in the admin and just tick this product as a gift product.
Step 2 : Creating the offer
1) You can create an offer in less than a minute.
2) Add offer name.
3) Add a range of price Ex: $100 - $200
4) The last step simply add the number of gift products the customer can buy.
Step 3 : Testing Time
1) In store front, based on cart total amount, customers shall have options to select the gifts.
2) If you enabled auto - add. The gift will be auto added.
3) Gift alert message displayed on the shopping cart and checkout page both.
4) So customer's would not miss the offer. It's 100% successful.

TRY LIVE DEMO
Username: demo
Password: demo
Admin Control For Free Gift Offers
On the link above you can see different gifts for a different range.
TESTING ON THE FRONT END
a) Go to the
Store Front
b) Based on the cart total, the gift will be available on the shopping cart page.
c) For range between $10 - $50, the gift will be auto added. As we have set up like that on the admin side.
d) For range between $51 - $80, the free jacket gift can be selected from the shopping cart page.
d) For range between $81 - $200, the free hoodie gift can be selected from the shopping cart page.
d) For amount about $200, the free watch gift can be selected from the shopping cart page.

WHY GIFT PRODUCTS INCREASES SALES?
Who doesn't like a free gift? Obviously mostly answer will be "NONE". As we all love free gift products when we buy something.
With this gifting extension, you can increase your online sales. As you are not only providing your client with the product but also giving them free gift products based on their total amount spent. A nice deal and choice for the customer to make.
Free gift product strategy
We are just using a simple strategy to make client purchase product from our site then from the competitor's site. The strategy is simply giving them something extra than the main product.
Giving them something more than what they were looking for and that too for free. It is a just human mentality that will make them purchase a product from your store instead of your competitor's store.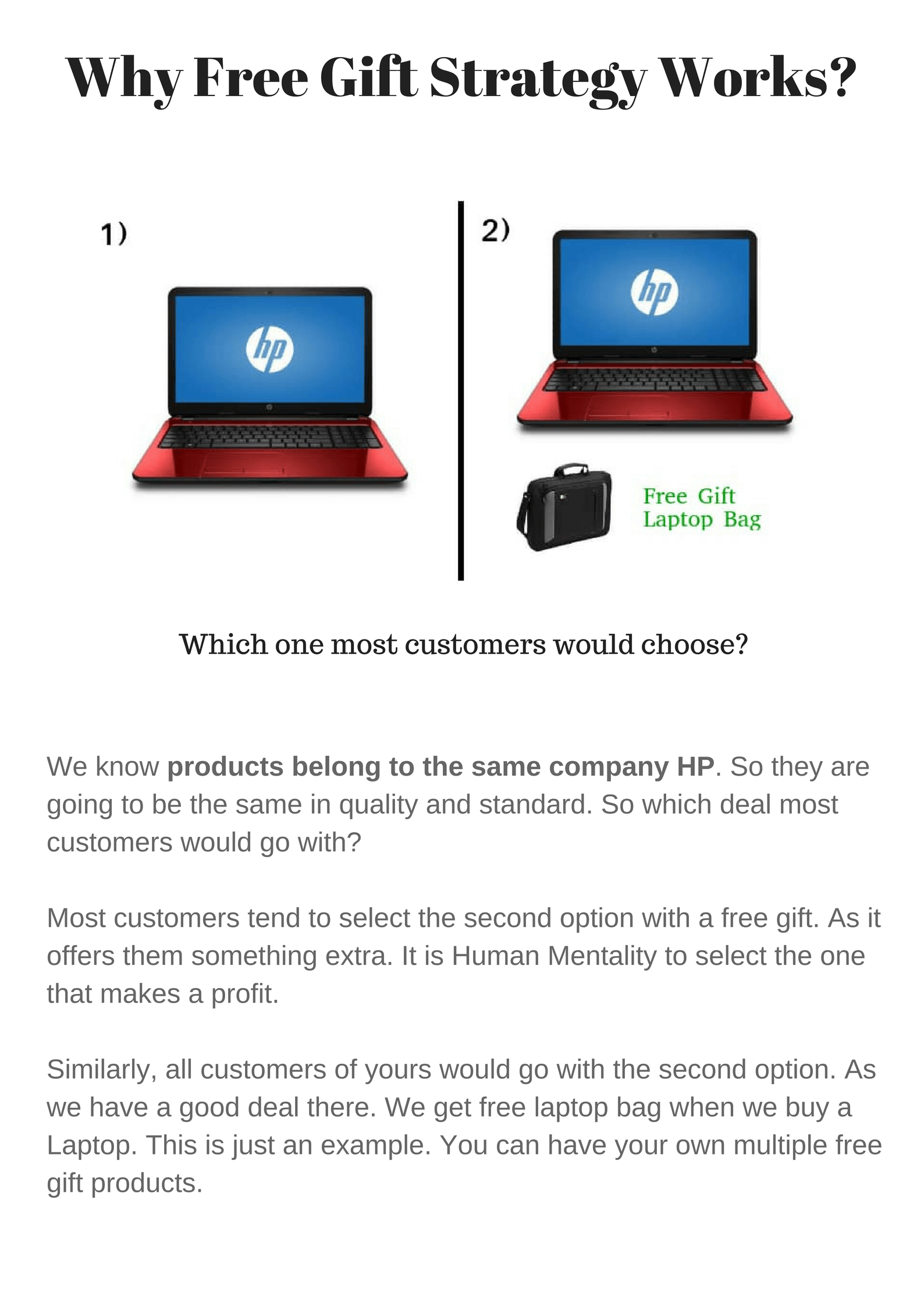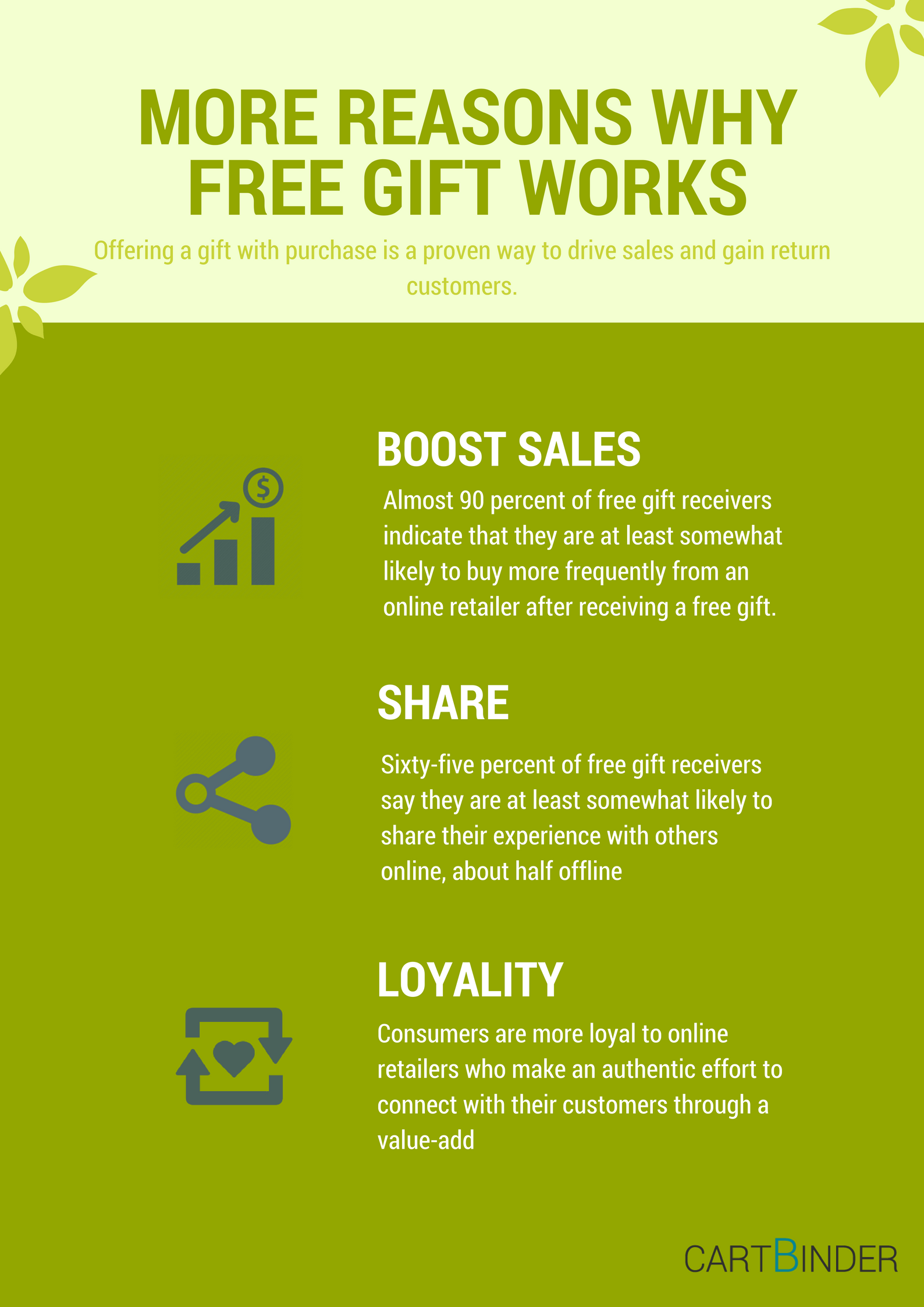 GET FREE EXTENSION FOR DISPLAYING OFFERS WORTH $35 WITH THIS EXTENSION
Offer Pages Creator : Free extension
a) All offers pages to see different offers running on the store.
b) Individual offer page to check details and rules about the offer.
c) SEO keywords for offer pages. It is SEO optimized.
d) Display offer messages on specific or multiple product/category.
e) An unlimited number of offer pages creation.
Check link below of
ALL OFFERS PAGE
display:
All Offers Page For Customer
Save $35 and start publishing your offers. This is similar to major eCommerce platforms like Amazon, Walmart, etc. They also have a separate offer page so it ranks well on Search Engines and provides their customers all detail about the offer including terms & conditions.

LATEST UPDATE & FAQ'S
- Auto add gift feature based on conditions.
- Free gift products only for a certain customer group.
- Improved offer pages creator.
- Code improvement for auto adding a gift.
Module is updated with time. Check full version history
Have a question?
please find your answer here:
FAQ'S
Not found your answer,
add your question below in the comment section
.
NOTES
No core files are changed.
Uses ocmod / vqmod.
Free installation is available.
License for a single domain.
CUSTOM THEME SUPPORT
Yes, it will work on all themes.
We provide support to work with all themes.
You can create a support ticket from the module setting page.
And our developer shall resolve it for you.
In case it does not work, FTP and Admin are needed.
If we fail to configure on the theme, the refund shall be given.
SUPPORT / CUSTOMIZATION / CONTANT US
Create a support ticket for further assistance:
Ticket:
Create support ticket on cartbinder
For any kind of further queries regarding purchase ,customization,etc :
Email: support@cartbinder.com
RELATED MODULES
1) FREE GIFT PRODUCTS BASED ON PRODUCT / CATEGORY ADDED
Free gift based on products /categories added to cart
1) COMPLETE SALES COMBINATION OFFERS : DIFFERENT BUY X AND GET Y TECHNIQUE.
Complete sales Combination