Modul Pembayaran Bank Indonesia & Internasional untuk OpenCart ini telah dibuat secara khusus dengan sedikit modifikasi agar lebih mudah digunakan. Modul ini menampilkan logo akun Bank tertentu pada daftar pilihan metode pembayaran saat checkout. Modul pembayaran support multibahasa. Dengan bahasa interface default adalah bahasa inggris.
APA YANG ANDA DAPATKAN:
- 34 Bank Transfer
- Display Logo Detail Pesanan
- Display Logo Print Faktur
- Display Logo Checkout
- Display Logo Order History
- Modifiksi Bank Transfer
INDONESIAN BANK
1. Bank ARTHA GRAHA
2. Bank BCA + QRku
(NEW)
3. Bank BII
4. Bank BNI
5. Bank BRI
6. Bank BTN
7. Bank Buana Indonesia
8. Bank Bukopin
9. Bank Bumi Arta
10. Bank CIMB Niaga
11. Bank Danamon
12. Bank Ekonomi
13. Bank Haga
14. Bank ICB Bumiputera
15. Bank Mandiri
16. Bank Mega
17. Bank OCBC NISP
18. Bank Sinarmas
19. Bank UOB
20. Panin Bank
21. Permata Bank
INTERNATIONAL BANK
1. KRUNGSRI BANK
2. KRUNGTHAI BANK
3. STANDARD CHARTERED
3. BANK OF SINGAPORE
4. BANK OF AMERICA
5. BANGKOK BANK
6. OCBC BANK
7. MAYBANK
8. ABN AMRO
9. UOB
10. SIAM COMMERCIAL BANK (SCB)
11. DBS BANK
12. CITIBANK
13. HSBC
English:
Payment Module for Indonesian Bank and International Bank has been created specifically with a few modifications to make it easier to use. This shipping module displaya the logo of a particular bank account in the list of payment option at checkout. Multilingual support payment module. The default interface language is English.
WHAT YOU GET:
- 34 Bank Transfer
- Display Logo Order Details
- Display Logo Print Invoice
- Display Logo Checkout
- Display Logo Order History
- Modified Bank Transfer
INDONESIAN BANK
1. Bank ARTHA GRAHA
2. Bank BCA + QRku
(NEW)
3. Bank BII
4. Bank BNI
5. Bank BRI
6. Bank BTN
7. Bank Buana Indonesia
8. Bank Bukopin
9. Bank Bumi Arta
10. Bank CIMB Niaga
11. Bank Danamon
12. Bank Ekonomi
13. Bank Haga
14. Bank ICB Bumiputera
15. Bank Mandiri
16. Bank Mega
17. Bank OCBC NISP
18. Bank Sinarmas
19. Bank UOB
20. Panin Bank
21. Permata Bank
INTERNATIONAL BANK
1. KRUNGSRI BANK
2. KRUNGTHAI BANK
3. STANDARD CHARTERED
3. BANK OF SINGAPORE
4. BANK OF AMERICA
5. BANGKOK BANK
6. OCBC BANK
7. MAYBANK
8. ABN AMRO
9. UOB
10. SIAM COMMERCIAL BANK (SCB)
11. DBS BANK
12. CITIBANK
13. HSBC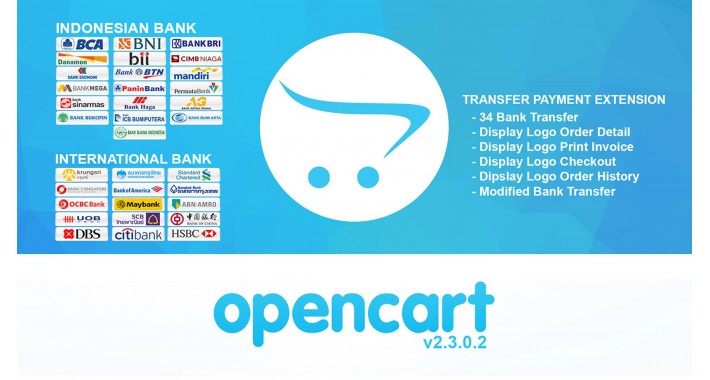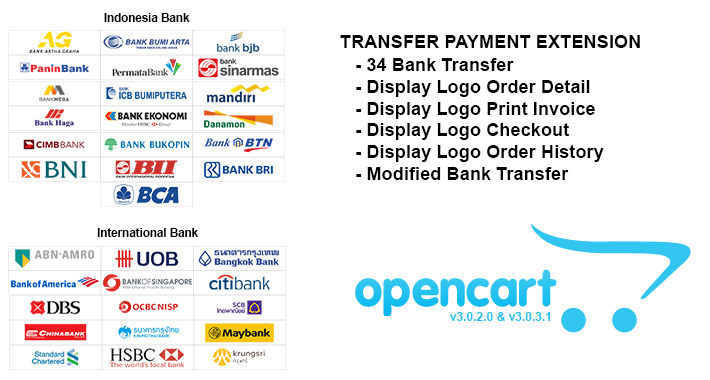 ----------------------------------------------------------------------------------------------------------------------------------------------------------------
Payment Transfer Gopay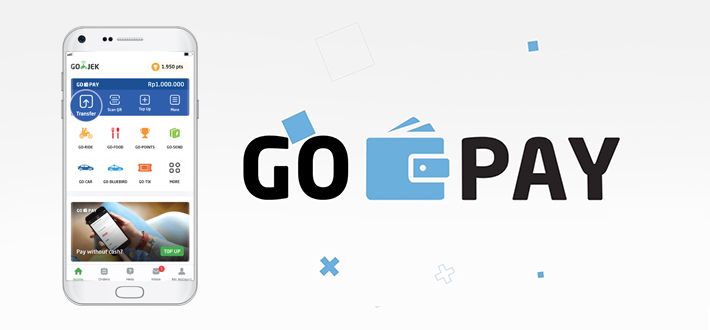 Payment Transfer OVO & Kirim Dana