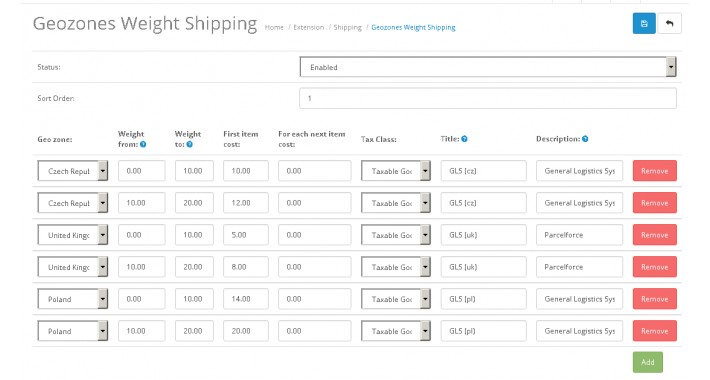 This extension allows you to set shipping rates based on the "geo zone", "weight" and item count.

If you set weight from/to equal 0, then weight constraint will be ignore (is equal -/+ infinity).

If you set "Title"/"Description" empty, then "Title"/"Description" will be get from language file.

You can set price for first and each next item.

Example: In the cart are 3 items. Sum of it weight is 10. We have rule "weight from: 5", "weight to: 10", "First item cost: 5", "For each next item cost: 1". The total shipping cost for this order is: 5 + 1 + 1 = 7.

INSTALLATION :
Upload contents of the .zip file to root folder of installed Opencart. Go to : Extensions -> Extensions -> Shipping -> Search for "Geozones Weight Shipping" - Click install icon.

PS: sorry for my poor english ;).