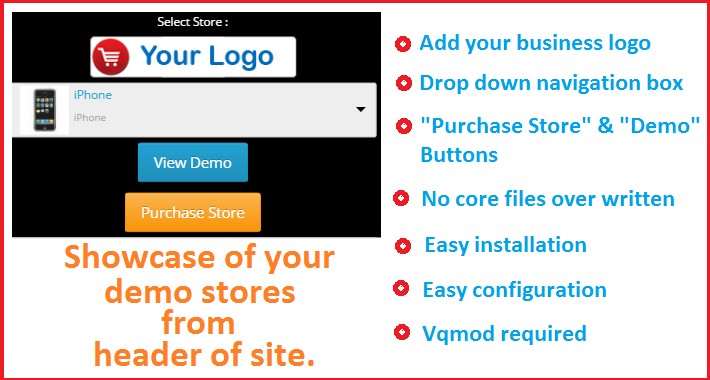 Are you a web developer of Open Cart stores?
Are you looking for the best solution to display your demo Open Cart stores in a easy and professional way?
Then this is the extension for you!
This extension allows you to setup a showcase of your demo stores via a drop down box that allows your clients to select from a range of your demo stores then redirects them to that particular store.
This extension has been designed for easy setup and configuration of your demo stores via the admin settings.
Features include:
1. Add your business logo in the menu bar to remind potential clients that they're still on your website.
2. Drop down navigation box in which potential clients see a list of your demo stores and can select which store they would like to view.
3. The "Purchase Store" button when clicked redirects your potential client back to your website and to the product page in which they can purchase the product they were viewing.
4. No core files over written.
5. Easy installation.
6. Easy configuration.
Installation steps:
1. Vqmod required.
2. Go to Admin > Extensions > Extension Installer > upload storedemo.ocmod.zip file.
3. Go to Admin > Extension > Extensions > Modules > Install Storedemo
4. Edit Storedemo module and configure it to your demo stores.
5. Enable the extesion via the status drop down box.
6. Thats it!
We also offer free friendly support and installation should you require it.

Demo: http://oc23.mitwebsolutions.com/
Admin : http://oc23.mitwebsolutions.com/admin
User: storedemo
Password: storedemo

Questions?
We have the answers and solutions.