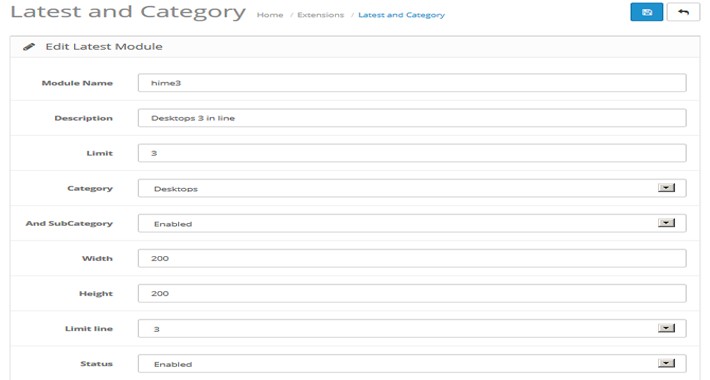 The module allows you not just to show the latest products added to the website, and selectively from a specific category or its subcategories. Allows to avoid the display of not priority goods, for example: there are 2 categories: "video camera" and "accessories" that would be the last added accessories are not pushed out of the video camera module, you need to choose in the module settings category "camera", and, optionally, subcategories of this category can be included in the output of goods. The module allows for each unit to make its name appear on the client side (on the website). You can switch the number of items in lines of 3 or 4 goods, originally displayed at the 4 products in the line, but as practice shows, when the right or left columns nicer display 3 product in a line.

Модуль позволяет показывать не просто самые последние товары добавленные на сайт, а выборочно из определенной категории или ее подкатегорий.
Позволяет избежать показа не приоритетных товаров, например: есть 2 категории "видеокамеры" и "аксессуары" что бы последние добавленные аксессуары не вытеснили из модуля видеокамеры, нужно выбрать в настройках модуля категорию "видеокамеры", а при необходимости и подкатегории данной категории можно включить в вывод товаров.
Модуль позволяет для каждого блока сделать свое название выводимое на сторону клиента (на сайт).
Можно переключать количество товаров в линии 3 или 4 товара, изначально выводится по 4 товара в линию, но как показывает практика, при включенных правой или левой колонках симпатичнее выводить по 3 товара в линию.