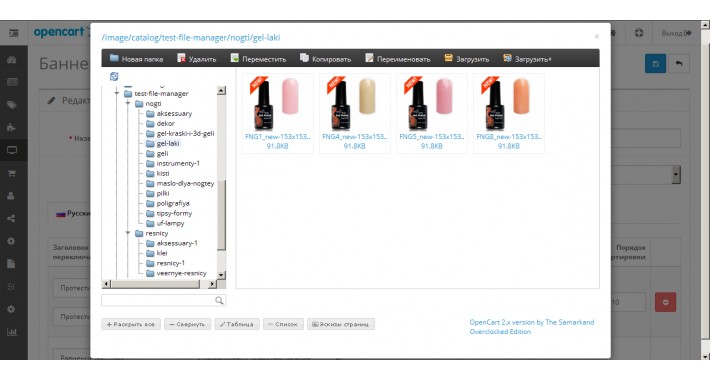 Features:
* Replacement for default image manager
* OpenCart 2.3.x compatible
* Free and open source
* Tree view
* Remembers last folder (cookies must be enabled)
* Multi-upload files
* Create folders, Delete, Move, Copy, Rename, Upload files
* Images, pdf and office files inline preview
* English, Russian and Ukrainian translations included

Please, support developing of this extension, donate 0.01 LTC!

On all sorts of indecent needs:
Lb5ogPiiF31y51F6RsoYg7u3578G92DXHi

Original version for OpenCart 1.5 by Villagedefrance:
http://villagedefrance.net/

Installation:
1. PLEASE, MAKE BACKUP COPY OF filemanager.php and filemanager.tpl BEFORE INSTALL!
2. Unpack all files to your store root.
3. If you don't have vQmod installed, you must additional install file_manager_shortcut.vqmod.ocmod.xml from vqmod/xml using OpenCart extension installer. After this you must click on "Refresh Cache" button.

Uninstall:
1. Restore original filemanager.php
2. Disable file_manager_shortcut.xml in your vqmod manager (or in the OpenCart extension installer, if you don't have vQmod).

It must work with any OpenCart 2.x store, but currently it tested ONLY with OpenCart 2.3.x and ocStore 2.1.0.2.1.
If you can test it in other versions of OpenCart and it works or not, please let me know.
Journal 2 theme and OpenCart 3.x are not supported (please, write, if they must be).

If it not works for you, please, contact me via email (visit http://samarkand.000space.com/).
At now, support is free.

Changelog:
12.12.2017 - fixed duplicated event listeners, now compatible with old versions of CKeditor
18.10.2017 - now compatible with ocStore 2.1.0.2.1
20.07.2017 - code rewritten, fixed empty icons, fixed checking file type and mime
09.07.2017 - now maximum file size (>3 Mb) is controlled in OpenCart settings (parameter "Max File Size")
18.06.2017 - fixed bug: last folder was not remembered and dialog was not closed (thanks, Mtjcart).
14.06.2017 - fixed bug with Summernote.
13.06.2017 - now compatible with CKeditor.
30.05.2017 - now compatible with IIS on Windows-based servers.
17.04.2017 - code rewritten.
25.03.2017 - edit fields in dialog boxes was uneditable, fixed.
08.03.2017 - not working on fresh installation, fixed.
What customers say about File Manager 2.1.11 by The Samarkand