Work with all version of Open Cart 1.5x, 2x and 3x (Multi store Support)
Google Analytics 4 (GA4) beta is available for download for OC2.3 and 3x.
We are different because we just don't sell the extension, we will make extension work for you no matter how complicated your install or theme is. Guaranteed Free Installation, Setup, and Testing.
Everyone knows how useful Google Tag Manager is but due to its complexity it is not always easy to implement and take full advantage. We offer drag and drop solution that is packed with all the featured a store owner require, and our extension is updated on regular basis adding new features and new tags.
How it Works:
We provide Tag manager container import file, just import the file in to your Tag Manager and Publish. The rest is taken care by our extension.


Admin : demo
Password: demo



Full Google Analytics tracking with Enhance eCommerce with Google Tag Manager.

GDPR Compliant Cookie Consent

Google Ads Conversion Tracking (previously Google Adwords)

Google Ads Remarketing / Dynamic Remarketing

Facebook Pixel Tracking with events Now support Content Id's and Category as well

Hotjar Tracking using Google Tag Manager

Twitter Analytics

Pinterest Analytics

Snap Pixel Tracking

Bing Ads Universal Event Tracking

Google Measurement Protocol support (v4) for 3rd Party Payment Gateways. "You won't miss a transaction now"

Google Optimize

Google Customer Satisfaction review

Google Trusted store

Skroutz Ecommerce Analytics

Zen Chat Widget

Hubspot Chat

Multi Store support for OC 2.3x and 3x
Each store can have different Tag Manager, with different Analytics, and Google Ads Tracking.
One of the simplest and easiest to implement Google Analytics and Tag Manager in the market. We provide free installation and support 247.
Installation ETA within 24 hours.
Support hours: 9am to 6pm GMT
FEATURES


Google Analytics Tracking (Page Views / Enhance eCommerce) via Google Tag Manager Data Layers

Google Ads Conversion Tracking with Tag Manager

Google Ads Dynamic Remarketing with Tag Manager

Google Analytics Remarketing with Tag Manager

Google Ads Remarketing Support standard Parameters Event, Value, Id and Custom Parameters i.e. dynx_itemid, dynx_totalvalue, ecomm_prodid, ecomm_totalvalue, ecomm_pagetype.

Google Measurement Protocol support

Google Optimize Container tags * just initializing Optimize container

Bing Ads Universal Event Tracking

Bing Ads Conversion Tracking

Twitter Analytics

Pinterest Analytics

Snap Pixel Tracking

Hotjar Tracking

Skroutz Ecommerce Analytics

Zen Chat Widget

Hubspot chat

Facebook Pixel Tracking with all events, integrate with Facebook Catalog feed

Define Facebook catalog id in extension admin to map products

Alternate currency for Unsupported currencies for Pixel tracking


- NEW Facebook Pixel Product Catalog tracking



Event Tracking

Track Page Views

Track Product Impressions

Track Product Clicks

Track Product Add to Cart / Add to Wishlist / Add to Compare / Remove Cart

Transaction Tracking

Support Multiple Currencies

Goal Funnel

Product Detail View

All Successful Transaction Data in Google analytics

Abandon Cart

Checkout Steps

Data layer with Product, category and brand variables for Enhance eCommerce

Coupon Code tracking

EU Cookie Consent with Cookies Control

Cookie enforce mode for GDPR Block all Analytics and Marketing tag firing until user accept cookies

Multi Currency Support

Disable Analytics for Admin Views

Enable or Disable Google Ads Conversion tracking

User-ID tracking for multiple devices (logged in customer_id is used for unique identifier)

Product Unique Identifier selection for mapping with Merchant feed for Dynamic Re-marketing

Product Title Modifier


Remarketing tags for Home, Category, Special, Brand, and Search Pages



Webkul AMP Tag Manager support for Products / Categories *(Outdated will be removed from future version)

Support Custom Checkout route

Support Custom Success route

Work with default theme effortlessly. Event code installed to all listing pages and modules.
Plug n Play:


Journal 2 Theme

Journal 3 Theme

Quick Checkout

Journal One Page Checkout

AJAX Quick Checkout

Best Checkout by Xtension

Order Success by Xtension

Simple Checkout

MP Checkout

Klarna

Seva etc.

SO Themes

Fastor Themes

Boss Theme

Pavo themes

Smilepay

Nitro Pack, Nitro.io

Lightening Cache (lscache)

Turbo Cache

Your extension/module not listed about don't worry either it will work or we will make it work for FREE.
Installation
- OCMOD so just upload via Extension installer from Admin or Upload the files in upload folder via FTP.
- Refresh the Modification Cache
- Set User Permission
- From Extension- > Module install the module, and enter Google Tag Manager Workspace Code i.e GTM-XXXXXX, and enable the module.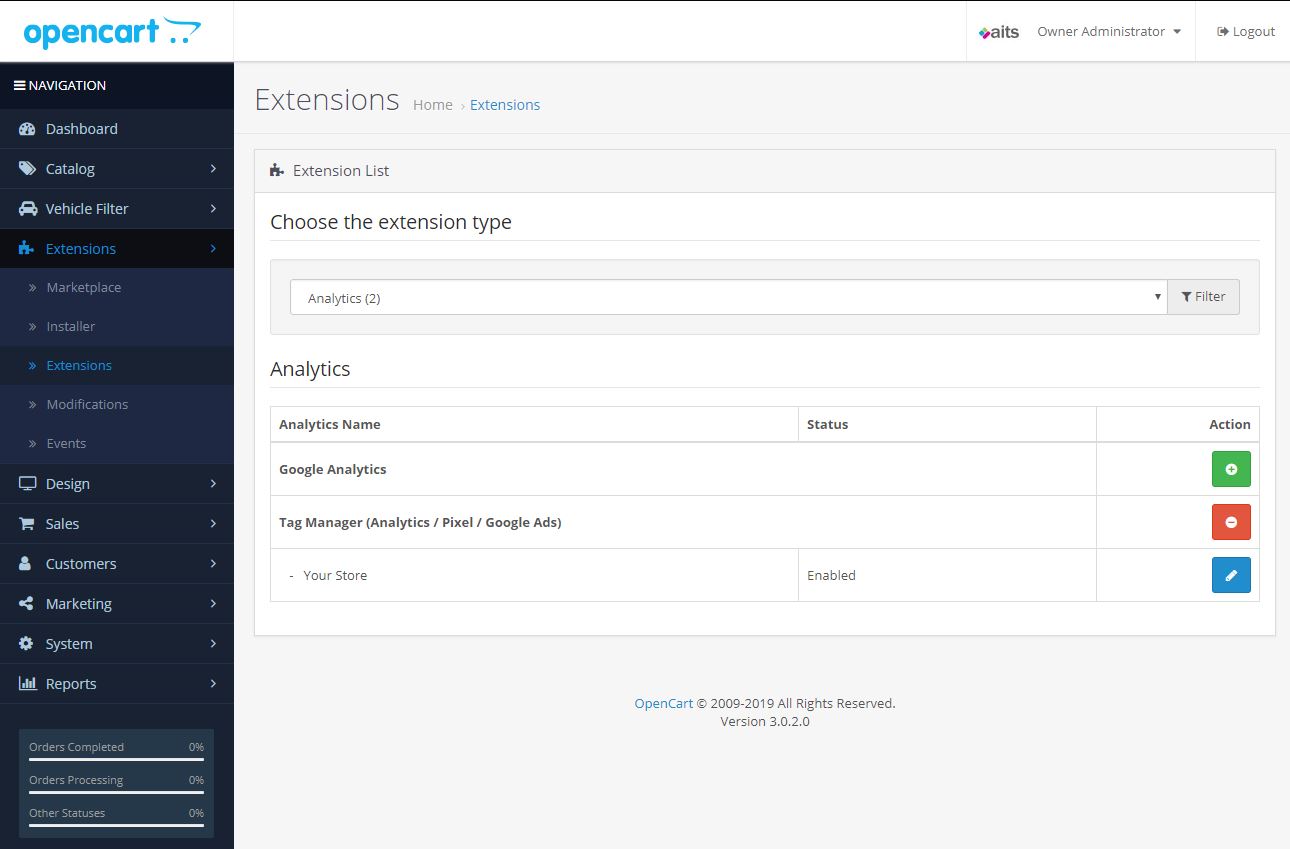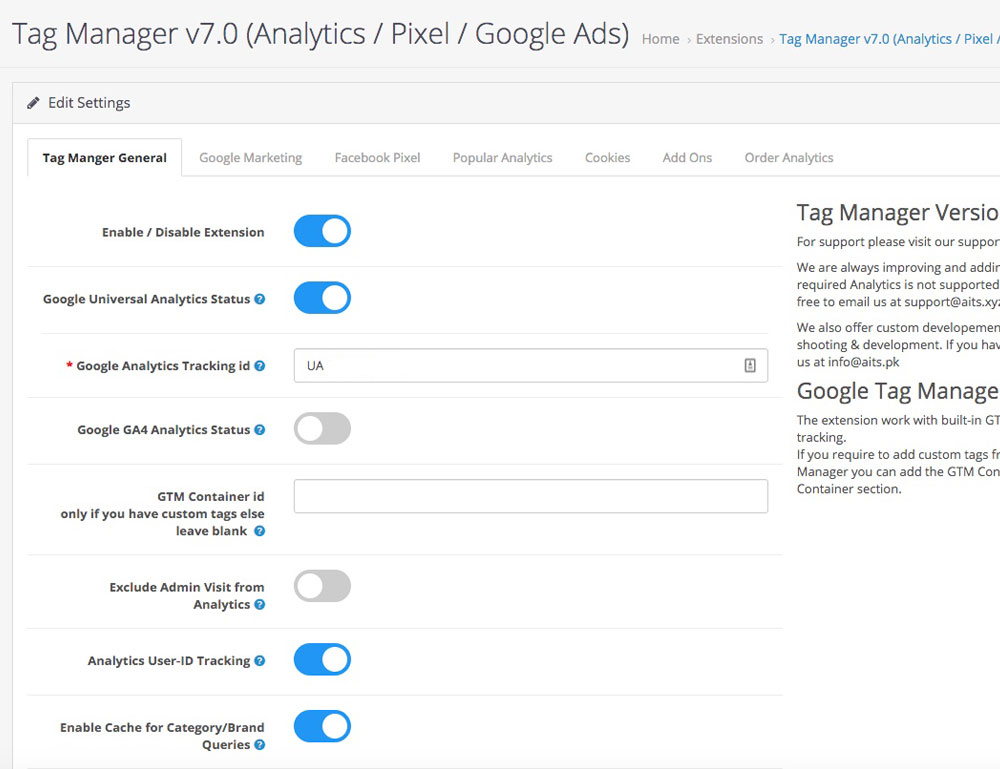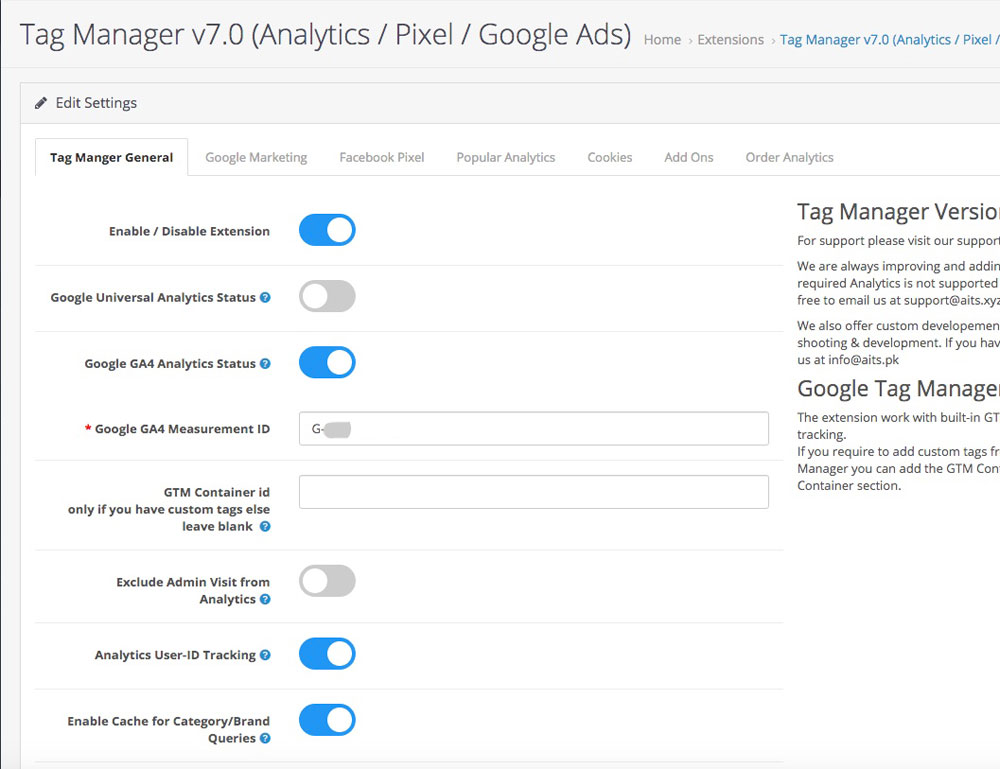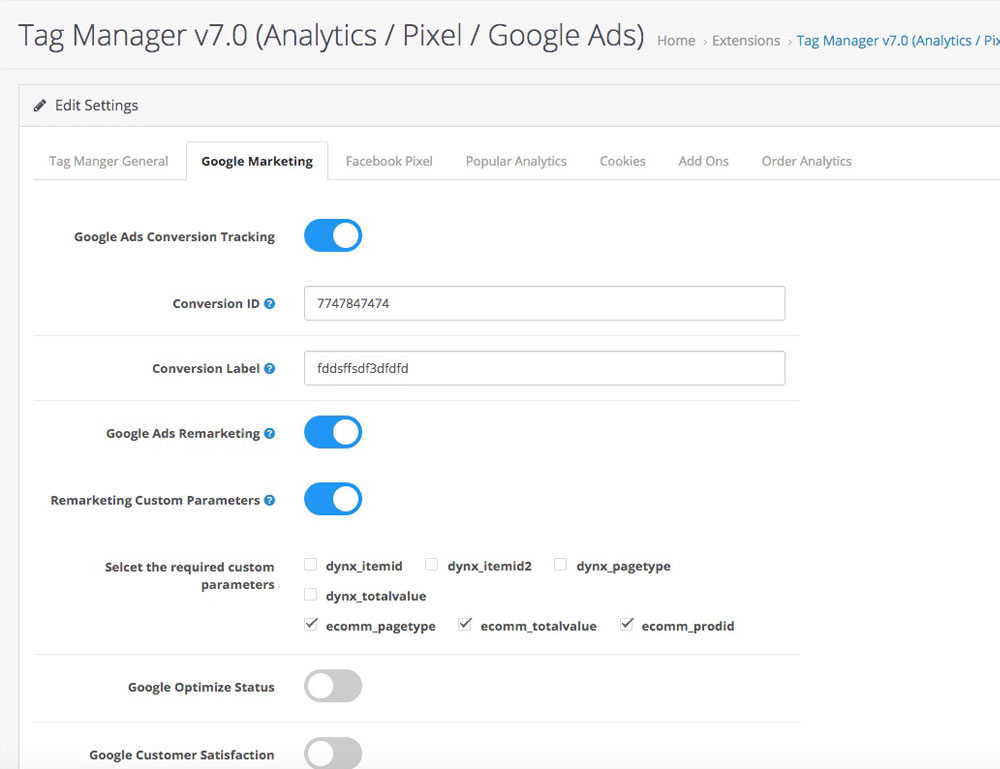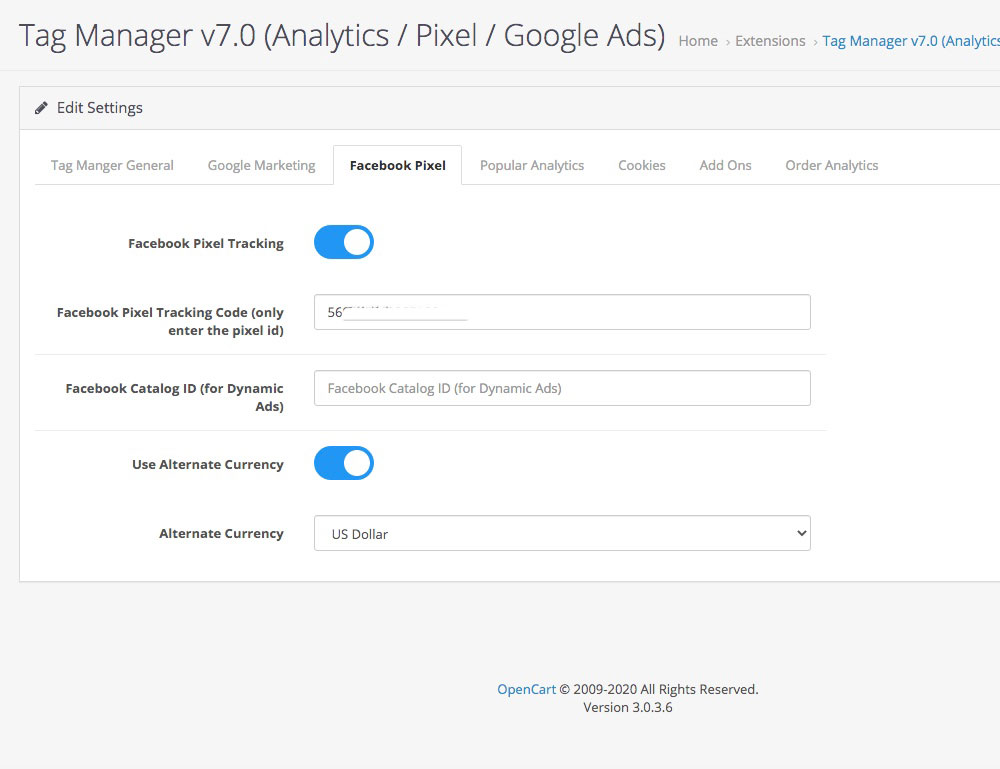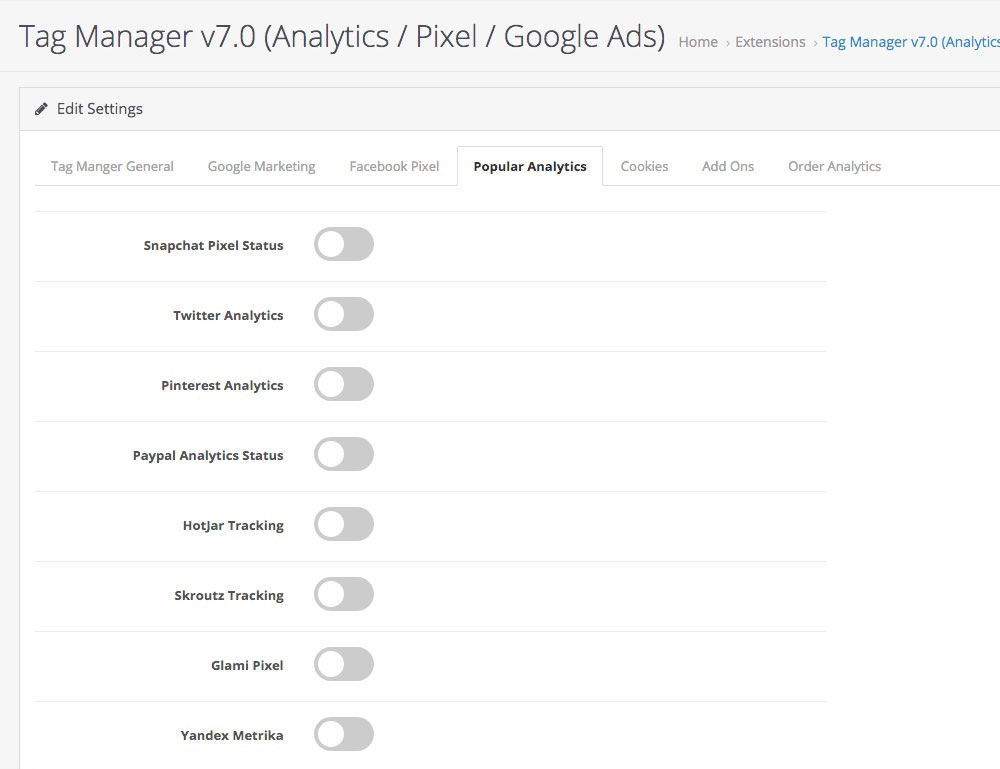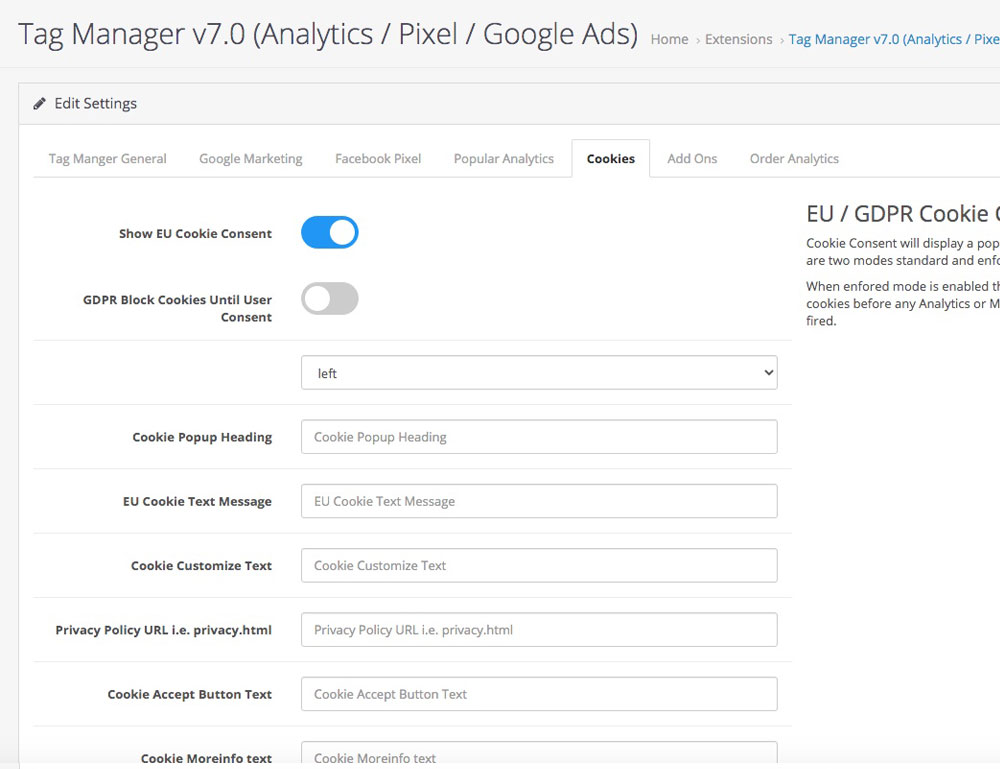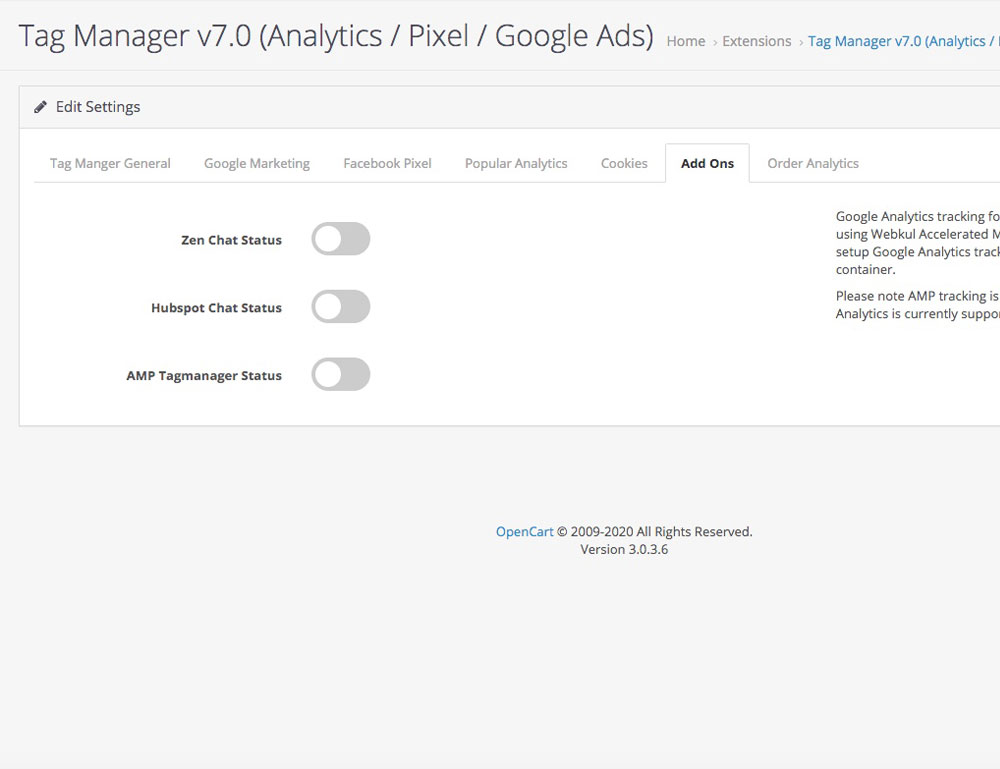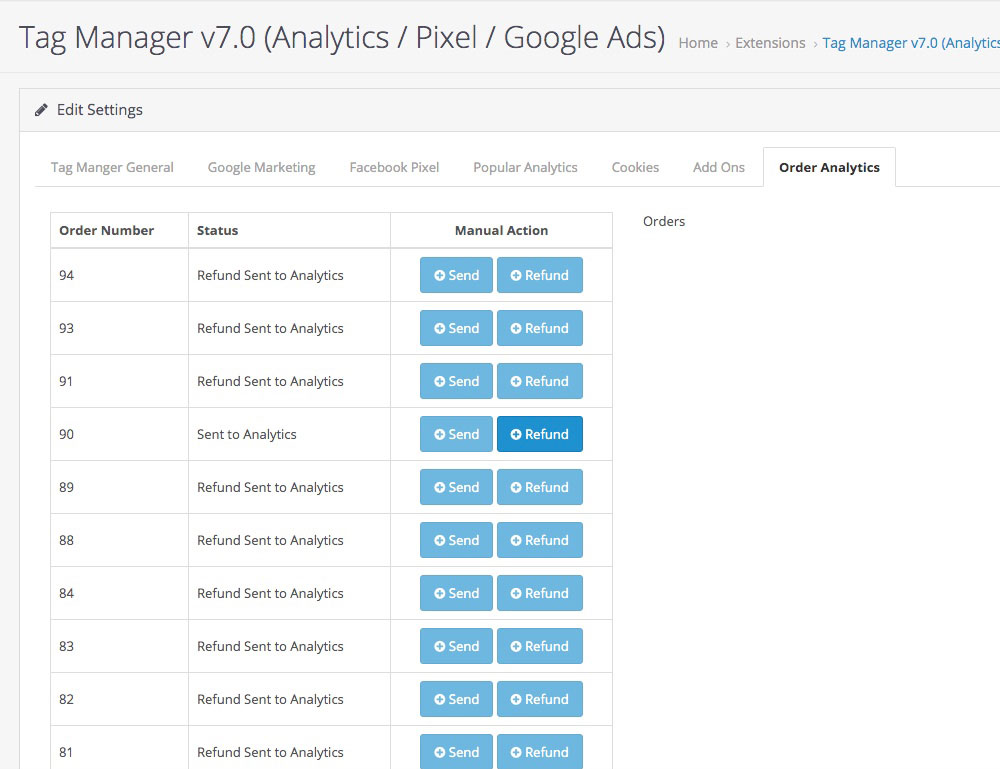 Additional
- Google Analytics with Enhance Ecommerce enabled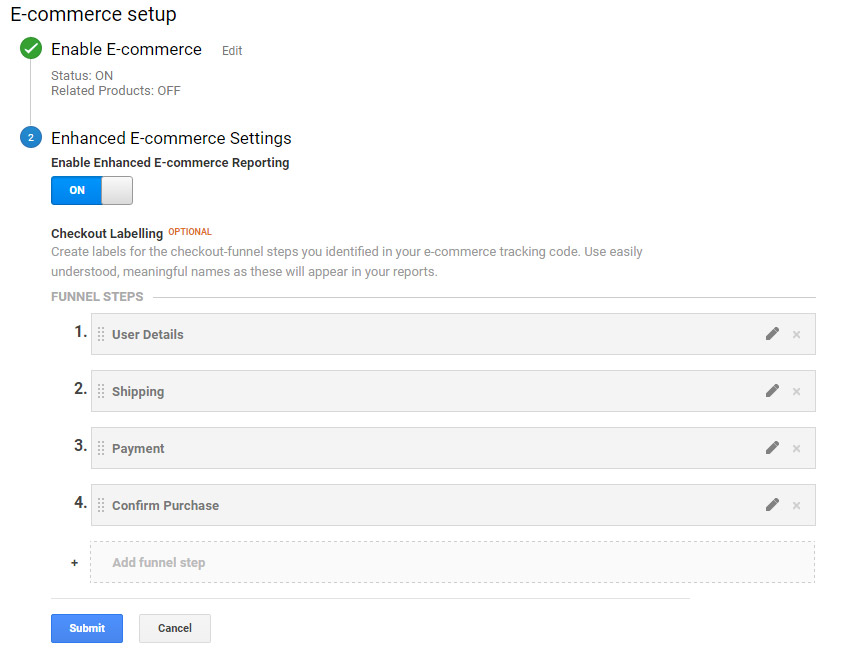 - For Goal tracking, setup Goals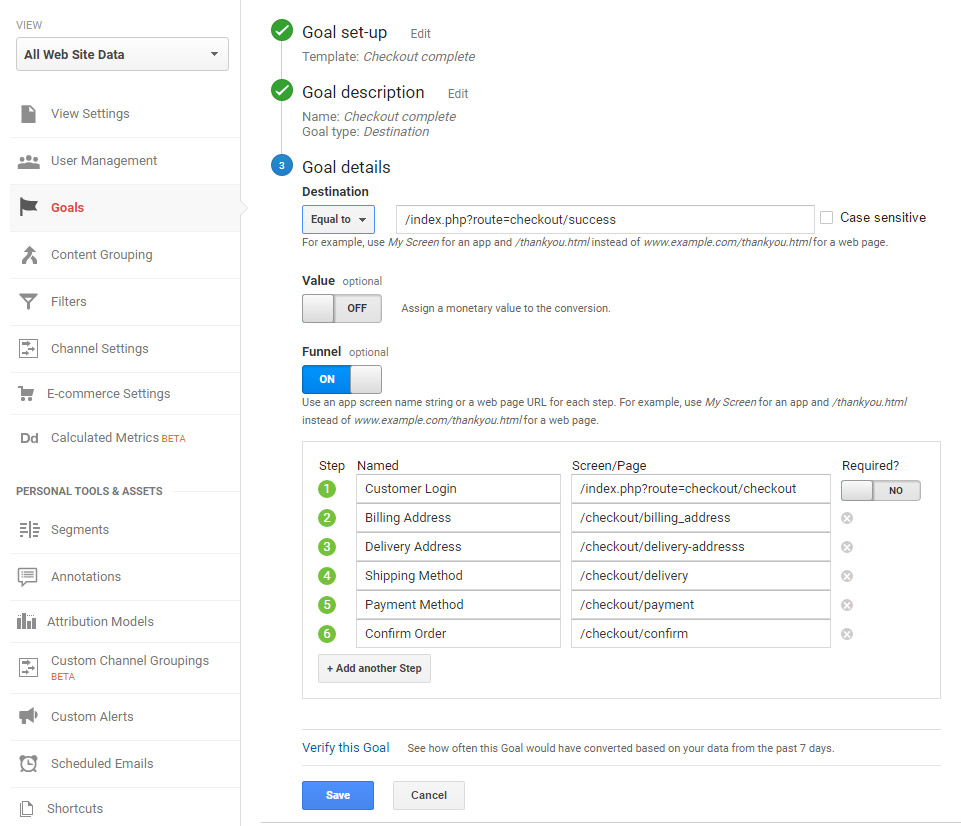 - If you already have Google Tag manager account than login and import the JSON setting files to import the script to setup the Tag Manager Tags, Triggers and Variables.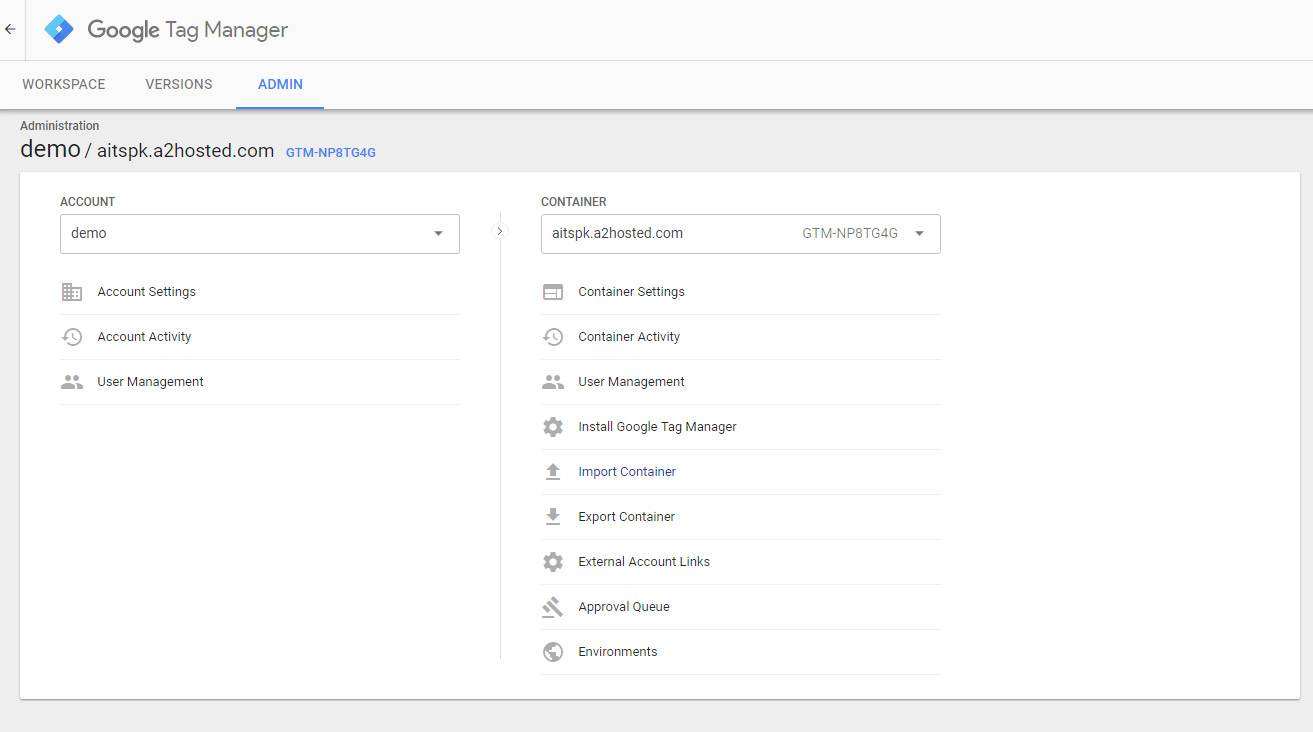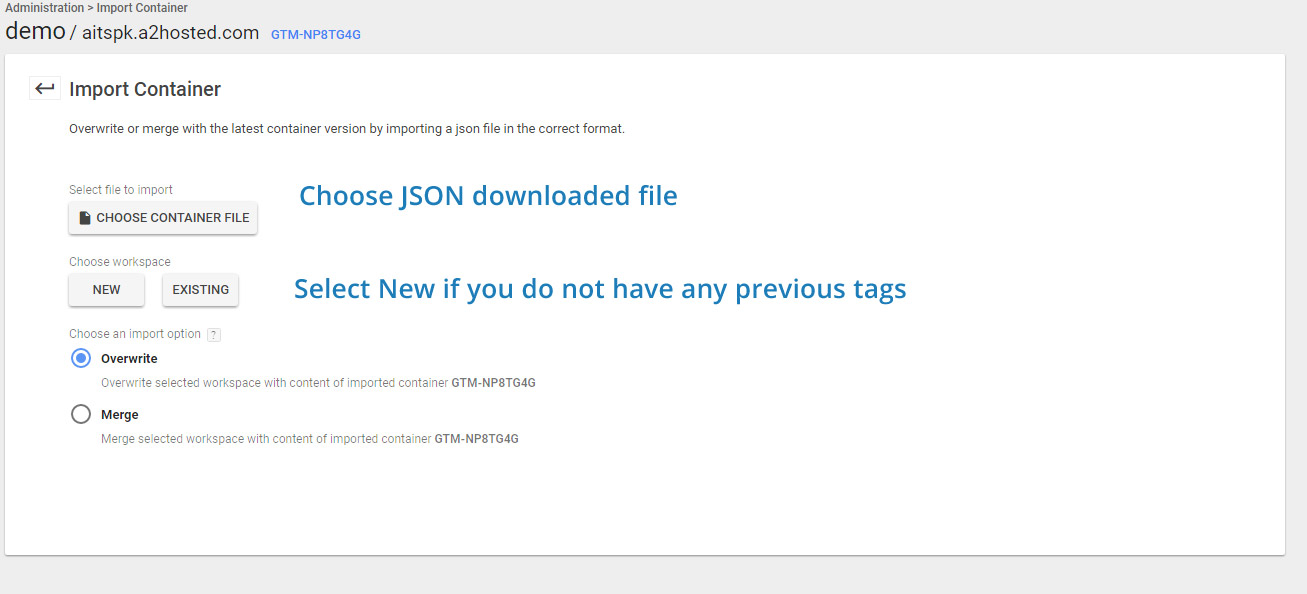 For support / installation / customizing according to your theme visit our Support Center

*Note Our extension do not upload or generate product Feed file of any kind it's an Analytics module only so don't assume we have a feed generator in it too :)
LIMITED TIME OFFER FREE THEME SETUP
We will install and setup the extension for you on any theme i.e. Pavotheme, Journal, Themeforest, Template Monster etc.

For Tag Manager Debug Preview
Have a question before buying
click here to reach us
Telegram Chat Support: aitspk
Extension Support
Free Installation Request Click here
Attn: We take security seriously, All the information is sent encrypted, the information provided is encrypted on server before storing. This is way more secure than sending an email.
Please fill the form with following information
Your Order ID
Website Admin login and Password
FTP Login and Password
Google Analytics ID
Google Adword Conversion id/label (if you want to setup Adword conversion tracking)
Facebook Pixel Id (If you want to setup Pixel tracking)
IMPORTANT
----------------
Add our user support@aits.xyz to TAG Manager with publishing rights(required to debug tag firing)
In case you need assistance is setting up Google Analytics Goals and Enhance Ecommerce tracking add our user support@aits.xyz
Your feedback is helpful, we are always listening, and adding new feature on request. If your required Analytics is not supported by our extension give us a ping at support@aits.xyz.
* Multi Store support for Opencart 1.5x, 2.1, 2.2, 2.3x and 3x onwards only. 2.0x is not supported for multi store at the moment.
* AMP support for Opencart 2x, 2.3x, 3x only 1.5x do not support AMP.