This extension shows VAT 0% and €0,00 amount for companies outside your country but within EU VAT Zone.
Intra-Community Orders, Vat shifted.
Read documentation (added in file) how to add Geo Zones and Apply to Tax Rates 0%.
Available languages: English, Dutch, German, French
But you can add more languages if needed.
Note: You can use custom field (customer in backend) to add VAT and asign to account and customergroup. This extension do not auto validate customer VAT number.
--
Deze extensie toont btw 0% en bedrag €0,00 voor bedrijven in buitenland, binnen de EU btw zone
Intracommunautaire bestelling, btw verlegd.
Lees de documentatie (zie tab domumentatie) hoe je de Geo zones moet toevoegen en koppelen aan het Btw tarief 0%.
De volgende talen zijn toegevoegd: Engels, Nederlands, Duits, Frans.
Maar je kunt meer talen toevoegen als dat nodig is.
Notitie: In de backend kun je via custom field het btw-nummer toevoegen en koppelen aan account en klantengroep. Deze extensie controleerd niet automatisch het btw-nummer van de klant.
CHANGES
EN - Version 3.0.3.6: the text is shortened and placed on one line
NL - Versie 3.0.3.6: de tekst is verkort en op één regel geplaatst.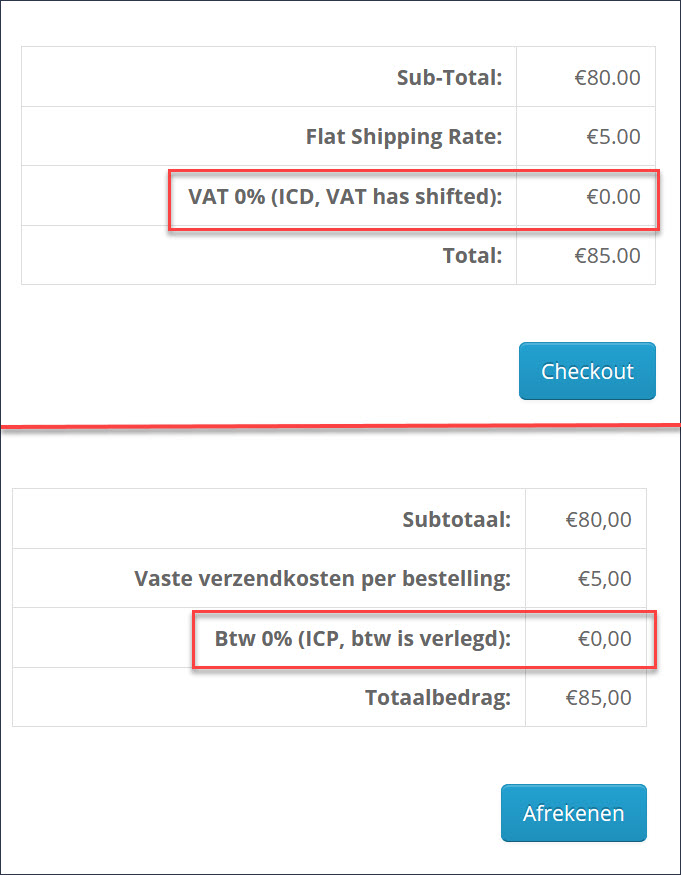 Bekijk onze andere extensies
HIER