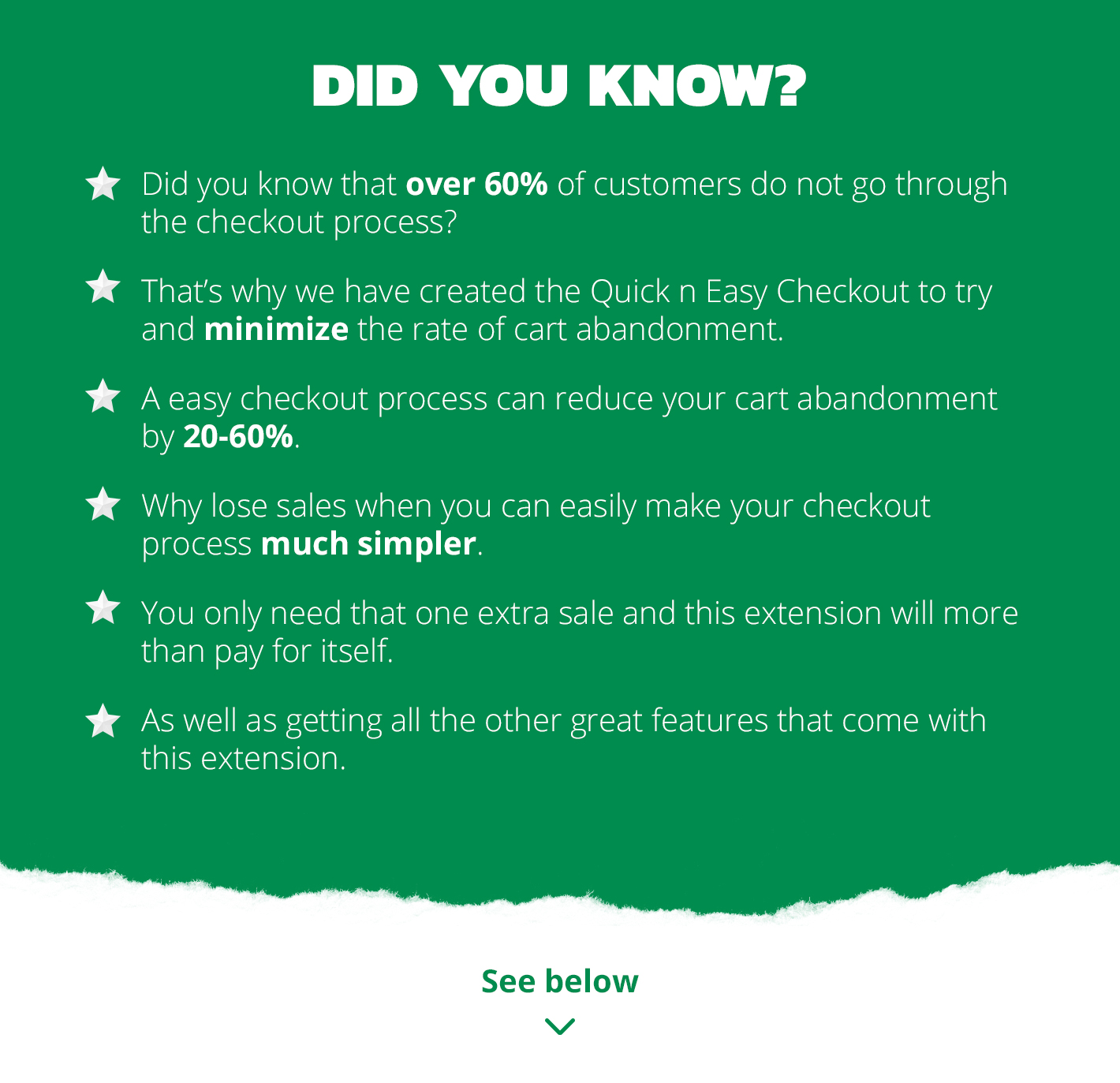 ★
Super easy install in
few seconds
->
VIDEO
★
Compatible with all external payment methods
★
Layout 100% customizable: Change your colors, positions, icons to where and how you want them.
★
Optimized to fit a mobile phone, tablet or computer for a quick checkout.
★
You can have a different layout for Guests or Logged-in users.
★
Forms are 100% customizable.
★
Interface is 100% translatable in the administration.
★
Sign-In with: Facebook, Paypal, Linkedin or Google+.
★
Autocomplete addresses with Google Maps API.
★
Auto detect client's Country/Zone by GEO IP on their first visit in checkout.
★
You can choose a pop up window for address forms.
★
Customizable images for payment/shipping methods.
★
Compatible with custom fields.
★
Animated steps in top.
★
Intuitive step validations.
★
Go to checkout just after add a product to shopping cart.
★
Custom code zone area in admin zone.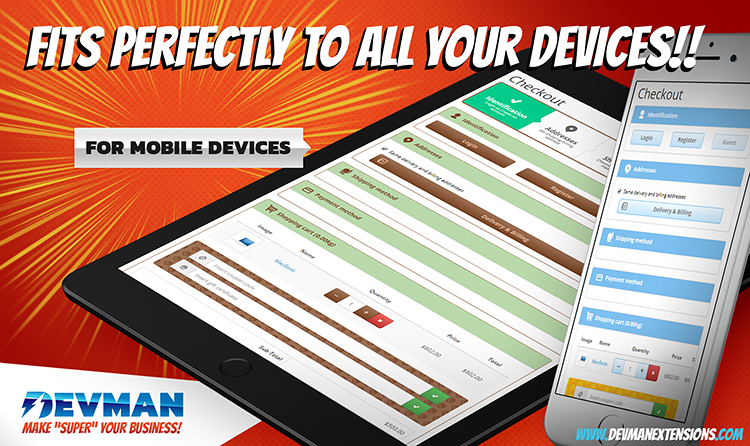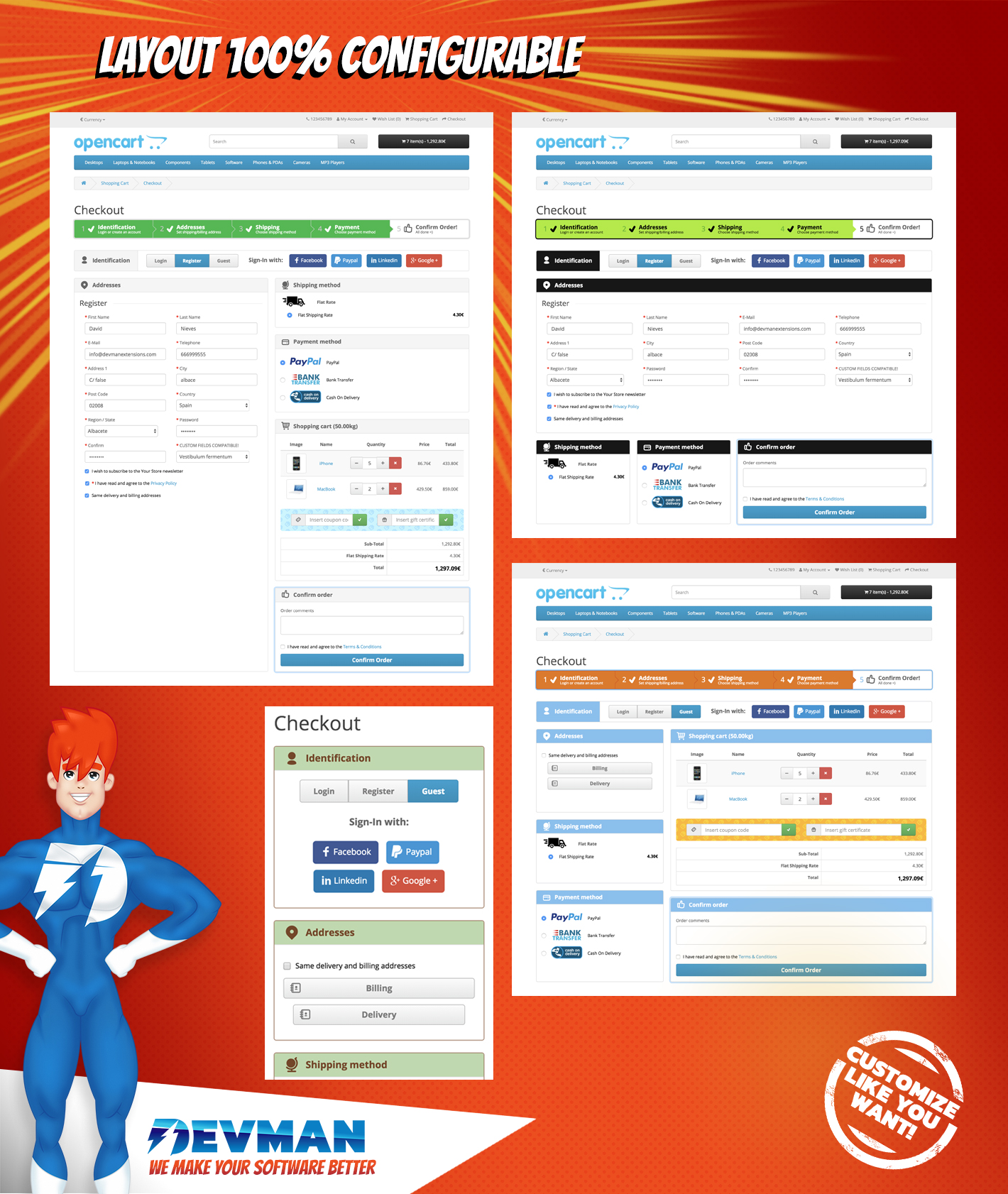 TAGS: perfect one checkout, ajax checkout, ajax quick checkout, super checkout, checkeout one step, one step checkout, ajax, live checkout, best checkout, checkout, checkout process 1 step, one step, the best checkout, checkout process, responsive checkout, mobile checkout friendly, checkout phone, checkout mobile, checkout phone 1 step, checkout mobile 1 step, quick checkout, quick buy, one step checkout, ajax checkout, fast checkout, compra en un paso, compra rápida, fast checkout, checkout, purchase fast,
SEO, Google Analytics, Devman Extensions, Opencart developer, Opencart extensions