Order downloads on success page
displays purchased files in the checkout success page.
Front Demo
Add the product in demo to the cart and complete checkout steps, you will see product's downloads on checkout success page.
You can use demo@demo.demo email and 123456789 password to login as a customer or create a new account.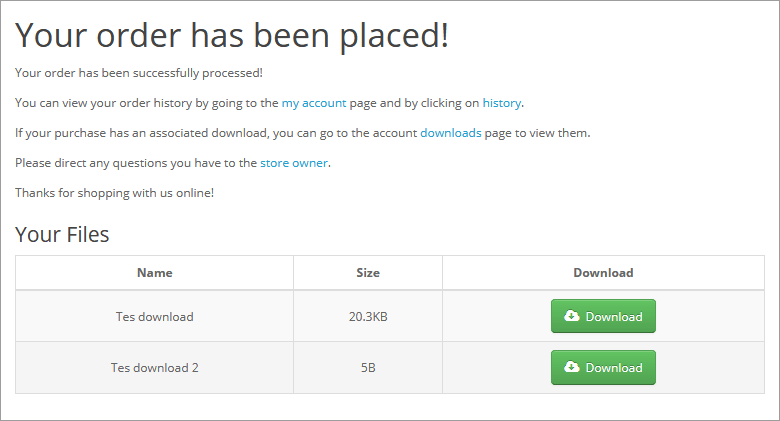 Note: If order status does not match complete order statuses, the downloads will not be visible.
Free Installation and Support
Install Instructions - OpenCart 2 VQMod
- If you don't have vQmod, you must
download
and install it.
- Login to your OpenCart admin panel
- Go to Extensions > Installer and upload the extension (or manually upload contents of upload folder to your OpenCart root.)
Install Instructions - OpenCart 2 OCMod
- Login to your OpenCart admin panel
- Go to Extensions > Installer and upload the extension
- Go to Extensions > Modifications > click Refresh
Install Instructions - OpenCart 3 OCMod
- Login to your OpenCart admin panel
- Go to Extensions > Installer and upload the extension
- Go to Extensions > Modifications > click Refresh
- Go to Extensions -> Extensions -> Module -> Digitcart - Order Downloads on success page -> Install -> Enable it